February Celebration 2012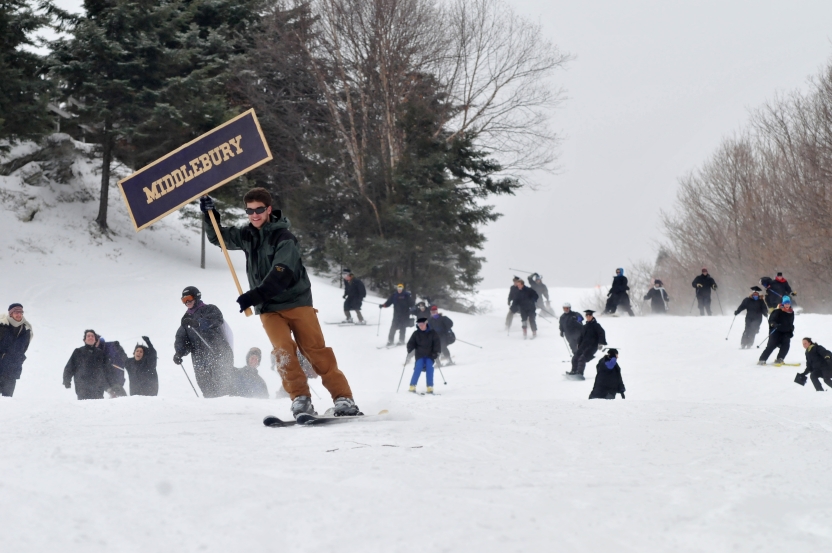 If it's February at Middlebury, it must be time for the annual Feb Celebration for seniors who have completed their academic requirements. And with it comes a jam-packed few days of enjoyably commemorative activities—including the infamous and always impressive ski-down at the Middlebury College Snow Bowl.
On Thursday, February 2, students kick things off by meeting and mingling with faculty at a festive reception in the McCullough Student Center's Crossroads Café from 5:30 to 7:30 p.m.
During the day Friday, the seniors and their families are invited to the Snow Bowl for a free day pass. Later that evening, from 4:30 to 6:30 p.m., President Liebowitz welcome the seniors and their guests to a special reception at the Kevin P. Mahaney '84 Center for the Arts, where Atwater Commons Dean Scott Barnicle will be the guest speaker.
On Saturday morning at 9 a.m., President Liebowitz will address the seniors, friends, and family, in Mead Memorial Chapel and present each student with the customary and well-earned Gamaliel Painter cane.
Following that, the entourage heads up to the Middlebury College Snow Bowl, where the ski procession will take place promptly at noon. A casual lunch for families will be served back on campus at Proctor Dining Hall until 3:30 p.m.
All in all it promises to be an exciting array of events that allows the Middlebury seniors to relish their college achievements before they head out into the world to accomplish even greater things.
For More Information