Former CEO of Save the Children begins executive residency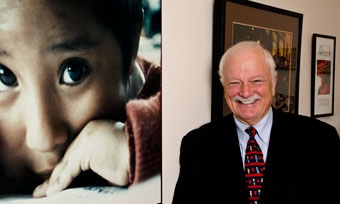 MIDDLEBURY, Vt. — Charles MacCormack, a 1963 graduate of Middlebury College and longtime president and chief executive officer of the international humanitarian organization Save the Children, will be an executive in residence at Middlebury for the next year.
MacCormack, who received an honorary doctorate from the college in 1982, expects to spend about two weeks of every month in Middlebury where he looks forward to working with "interested students, faculty and staff at an academic institution that has long been at the forefront of research and teaching in languages and international studies."
In line with Middlebury's emphasis on strengthening curricular and co-curricular opportunities for its students, President Ronald D. Liebowitz has asked MacCormack to investigate ways to build upon what students learn in the classroom through connections to worldwide initiatives addressing global health, food and nutrition, economic development and other issues.
"This residency will give our students, faculty, and staff a chance to benefit from Charlie MacCormack's expertise, insight, and wisdom when it comes to doing work on behalf of others," said President Liebowitz. "The work he has done throughout his career touches on so much of what we are trying to do here. To be a truly global institution and prepare our students to face the challenges of the 21st century, we know we will have to combine the power of a traditional liberal arts curriculum with hands-on learning."
MacCormack, whose office is in Munroe Hall, said Middlebury "has been ahead of the curve and very forward leaning" on languages and international studies, and became committed long before others to immersion, practical engagement, and study abroad. He hopes to help as Middlebury takes the next step, emphasizing links across geographical and disciplinary sectors. He will be reaching out to faculty and staff to see how he might be able to add value to their courses and programs. He's especially interested in working with the new Middlebury Center for Social Entrepreneurship, which will support and teach young social entrepreneurs. "I've spent the 50 years since I graduated from Middlebury applying the lessons I learned here," MacCormack said. "Now I'm looking into what I can do to support Middlebury's leadership in international studies, language studies, and the liberal arts."
Rather than adding courses to the curriculum, MacCormack said, he expects that Middlebury will want to integrate project-based learning into its students' overall education. "If a course touches on public health, we might ask how we can apply what  that course has taught the students and get them involved, for example, in the battle against malaria. You could think of it as creating a laboratory for a number of courses, continuing to strengthen Middlebury's tradition of linking strong academic programs with life experience. We can also pull in outside speakers who are active in public health around the world, in person or via technology like video conferencing.
"Making these kinds of connections, networking with people in the field, is crucial to Middlebury students. We may have to work a little harder here than at, say, New York University, Columbia or Georgetown, places that are located geographically at global crossroads. But our students need to have the same kind of engagement."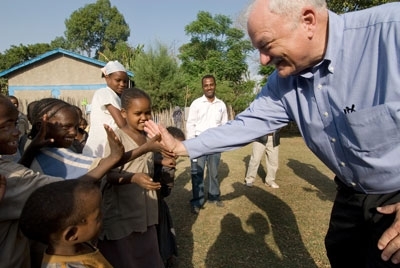 Charles MacCormack, former CEO of Save the Children, visits with Ethiopian children in 2008. - Courtesy STC.
MacCormack is also interested in adding the theory and practice of global leadership to the Middlebury student experience. For example, he said, "You might be able to have an interdisciplinary course or two available to all those who have leadership on global issues as one of their targets."
In addition to his residency at Middlebury, MacCormack will spend 2012 working as executive chair of the Millennium Development Goal Health Alliance, a private entity created to support United Nations Special Envoy Ray Chambers and other world leaders in achieving the UN's "Every Woman, Every Child" health goals for newborns, children and women. He will also be a senior fellow at InterAction and a number of other think tanks, helping to create a series of summits on how private entities can better contribute to global health and development.
MacCormack was president and CEO of Save the Children from 1993 to 2011. Save the Children is an independent nonprofit humanitarian child assistance organization with programs in the U.S. and more than 50 other countries, an annual budget of $550 million, and more than 6,000 staffers. Before joining Save the Children, he had served as the chief executive officer of World Learning (previously known as the Experiment in International Living), in Brattleboro, Vt. He received his doctorate and master's degree from Columbia. He was a National Science Foundation Fellow at the Universidad Nacional Autonoma de Mexico in Mexico City and a Fulbright Fellow at the Universidad Central de Venezuela in Caracas. MacCormack is a member of the Council on Foreign Relations.
When he's not at Middlebury or traveling the world, MacCormack lives in Easton, Conn., with his wife, Susan Ross, who recently stepped down after 15 years as president of the Fairfield County Foundation. They have two children, Cameron and Fraser.
At Middlebury College, MacCormack shares the title executive in residence with James Douglas, Class of 1972, former governor of Vermont.
For More Information