Middlebury College, Vermont Law School sign agreement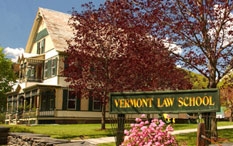 MIDDLEBURY, Vt. –– Vermont Law School (VLS) and Middlebury College have signed an agreement that guarantees qualified Middlebury students and graduates admission to VLS.
Both institutions will benefit ― VLS administrators anticipate an increase in the number of strong applicants and Middlebury students will have a wider range of opportunities following graduation.
The agreement is one of several steps that VLS has taken in recent years to expand coordination with undergraduate institutions. Those efforts also include full scholarships for one or two students from Middlebury and five other schools. There is no limit as to the number of Middlebury students or alumni who may apply to VLS.
"The agreements are good recruiting tools for these undergraduate schools and they keep VLS on the radar of pre-law advisors and faculty and top students who may be interested in law school," said Kathy Hartman, VLS's associate dean for enrollment management.
"It's a natural fit given Middlebury's strong environmental studies program and student involvement in sustainability issues as well as VLS's ranking as the No. 1 environmental law school in the country," said Nan Jenks-Jay, Middlebury College dean of environmental affairs. "As students are thinking more in advance about attending graduate and professional schools, these collaborative institutional relationships become attractive options for them."
The agreement also applies to students who have completed graduate degrees from one of Middlebury's programs or schools, including the Monterey Institute of International Studies, Middlebury Language Schools, and Bread Loaf School of English.
"For example, it's an ideal match for Monterey graduates in the international environmental policy program," added Jenks-Jay. "What we are really doing is providing additional opportunities for all of our students following graduation."
VLS has signed similar agreements with 11 undergraduate schools and another two are in progress. The contract with Middlebury is unusual since it includes students and alumni of the undergraduate college as well as those who have completed Middlebury's graduate programs. The agreements are intended to improve coordination between VLS and undergraduate schools whose students are interested in attending law school. Under the agreements, students and graduates at the undergraduate institutions are guaranteed admission to VLS if their GPA and LSAT credentials are equal to or stronger than the median for VLS's entering class. Their undergraduate files must also contain no evidence or concerns about their character that would make them inappropriate candidates for law school. Ten students have enrolled at VLS under the agreements since the program started in 2004.
VLS has similar agreements with Assumption College, Burlington College, Champlain College, Green Mountain College, Lake Forest College, Middlebury College, Northland College, Schreiner University, The Sage Colleges, Wilson College and Woodbury College (now the Woodbury Institute of Champlain College). Agreements are in progress at Dartmouth College and Hampshire College.
VLS also started an Environmental Law Scholarship program with six undergraduate institutions in fall 2011. The "feeder school" program provides a full-tuition scholarship to one or two top students or graduates from six schools each year who have a significant record of environmental and public service, a GPA of 3.65, and an LSAT score of 160 or higher. The program includes candidates for a law degree, an environmental law and policy master's (MELP), and a joint law-MELP degree. The participating schools are Middlebury, Dartmouth, Oberlin, Lake Forest, Hampshire and Colorado College. The first students in the Environmental Law Scholarship program will enroll in fall 2012. Middlebury and the other participating schools determine which of their students to nominate for a scholarship. Vermont Law School has the final decision on whether or not a scholarship will be awarded.
The inaugural Middlebury scholarship recipients are Marie Horbar, a member of the class of 2009, and Nora Greenglass, a 2003 graduate. After her time at Middlebury, including a post-grad year as the assistant crew coach, Greenglass earned a Master of Environmental Management from the Duke University Nicholas School of the Environment. She then began her current job at the Woods Hole Research Center in Massachusetts, where she had interned during the previous summer. As a research associate, Greenglass focuses on climate policy and the interactions between land use and land use change, climate change, and sustainable development. She hopes to continue studying those interactions at Vermont Law School and says, "I am especially interested in the tools and pathways available to help decision makers formulate robust policies that are good for both people and the environment."
Horbar moved to Washington, D.C., after graduating from Middlebury, and dove right into the law and policy of national environmental issues, interning first with Sen. Patrick Leahy and then with Rep. Peter Welch. For the past two years, she has been at the United States Institute for Environmental Conflict Resolution, where she works on complex environmental mediations involving federal, tribal, state, local and nongovernmental interests. She describes her work as fascinating and says it is "often an example of the important role that environmental law and mediation together can play in balancing competing interests while protecting the rights and needs of the less powerful." With the knowledge and experience she gains at Vermont Law School, Horbar says she hopes to "work for environmental protection and social good in her home state of Vermont and beyond."
Vermont Law School, a private, independent institution, has the top-ranked environmental law program and one of the top-ranked clinical training programs in the nation, according to U.S. News & World Report. VLS offers a Juris Doctor curriculum that emphasizes public service, a Master of Environmental Law and Policy degree and two post-JD degrees, the Master of Laws in Environmental Law and the Master of Laws (LLM) in American Legal Studies (for foreign-trained lawyers). The school features innovative experiential programs and is home to the Environmental Law Center and the South Royalton Legal Clinic. For more information, visit www.vermontlaw.edu.
This story was updated on May 9, 2012, to include information about the first Middlebury participants in the Environmental Law Scholarship program.