Class of '12 Has Record Number of Fulbright Recipients

Postgraduate Awards  |  Undergraduate Awards

Eight Students Awarded Fulbright Fellowships

The Fulbright Program is the flagship international educational exchange program sponsored by the U.S. government and is designed to increase mutual understanding between the people of the United States and the people of other countries. The program offers fellowships for U.S. graduating college seniors, graduate students, young professionals and artists to study, conduct research or be an English teaching assistant abroad for one academic year.
Eight Middlebury undergraduates have been awarded Fulbrights this year.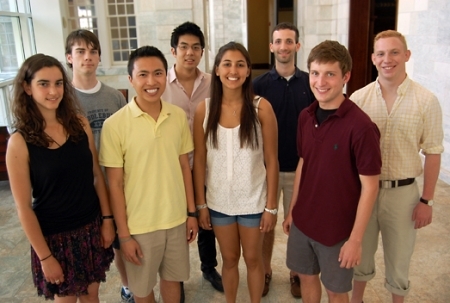 2012 Middlebury Fulbright recipients: Front, left to right: Hillary Aidun, Quan Pham, Divya Dethier, Matt Steffens;  Back, left to right: Kristofer Ogren, Arthur Choo, Jarrett Dury-Agri, Tucker VanAken
Hillary Aidun: As a Political Science major, Hillary is interested in examining how policy affects the lives of individuals and vitality of communities, and she is deeply committed to identifying effective policy initiatives that mitigate the impact of climate change.  Having interned last summer at the US Embassy in Quito, Hillary is returning to Ecuador with a Fulbright grant to study successful coordination between conservation organizations and indigenous communities that reduces deforestation in the Ecuadorian Amazon.  While at Middlebury, Hillary was co-president and organizer for the College Democrats, participant with the Sunday Night Group, and volunteered at a local senior center during her year studying in Cordoba, Spain.  She also contributed to the Roosevelt Institute Policy Journal, and was Policy and Advocacy Coordinator, as well as English Language Tutor, for Juntos Migrant Outreach.
Arthur Choo: Arthur declared a double major in Sociology and Political Science before his sophomore year and just completed two senior honors theses.  Studying ideological transformation and transitional justice, Arthur's research interests revolve around the relationship between the experience of North Korean refugee resettlements and the laws/legal institutions that govern the reintegration process.   Arthur was just awarded a Fulbright grant to continue his work, examining how state decisions regarding North Korean refugees are codified into laws that manage the resettlement process and ultimately effect the types of lives that North Koreans can live in the South. Last summer while beginning his research, Arthur established the North Korean Outreach Association, which connects North Korean communities with distinct needs to specialized volunteer and activist organizations.  He established an English Teaching Program at transitional reintegration institutions; began a scholarship program for children of North Koreans to attend international academies; and sought ways to connect sports to cultural integration.  At Middlebury, Arthur co-chaired the community judicial board, was an Admissions Fellow, started the Center for Social Research, and was president of the Korean Student Association. 
Divya Dethier:   A Neuroscience and Anthropology double major, Divya plans on attending medical school and pursuing a career in medicine and public health.  She will spend next year on a Fulbright grant to Mauritius, to study how stigma towards AIDS affects generational behaviors and attitudes towards the disease.  Last summer in Lima, Divya designed and conducted a large-scale survey of poor, urban adolescents and their mothers on nutrition, health, and lifestyle choices.  She has interned at the National Cancer Institute, and worked as a research and teaching assistant in Psychology and Biology, respectively.  Divya taught neuroscience to high school students, was Captain of the national champion Water Polo team, and is a classical pianist.
Jarrett Dury-Agri:   Jarrett is heading to Germany on a Fulbright English Teaching Assistantship.  He plans to use his passion and experience as an artist to lead a creative and collaborative after-school or volunteer project with the students and local community where he is assigned.   A double major in Literary Studies and Philosophy, Jarrett has been working on a book of poetry and photography and is eager to see what contributions will come out of his Fulbright year.  At Middlebury, Jarrett edited and managed Sweatervest Literary Magazine, was a First-year Seminar mentor and Intro to Modern Logic tutor.  He participated in many organizations, and was a member of the German Club, as well as several outdoor and intramural sports clubs on campus. 
Kristofer Ogren:   Kris was a Physics and Spanish double major, and aims to use both towards public problem solving and improving lives. Kris's Fulbright grant will allow him to spend next year as an English Teaching Assistant in Colombia, where he believes acquisition of English can enhance economic opportunity and address inequality.  While studying in Chile his junior fall, Kris interned with the scientific education organization, EXPLORA.  Returning to Chile last summer to earn his TESOL (Teachers of English to Speakers of Other Languages) certification, Kris remained in Santiago to teach English, math and science to disadvantaged students.  Kris has been an elementary school mentor, a Physics Department teaching assistant, and a girls' hockey coach.  He plans to put all of his experience to use next year in Colombia, where he will investigate the role and reporting of science in Colombian society, as well as coach school sports and mentor and tutor disadvantaged children, especially in science.
Quan Pham:  Next year, Quan will pursue a Fulbright English Teaching Assistantship in Viet Nam.  He was born there, moved to the US with his family when he was three, and is excited about rediscovering his heritage and homeland, and helping Vietnamese students discover themselves.   Quan majored in Molecular Biology and Biochemistry and minored in Global Health.  Imbued with an infectious smile and a passion for service, he helped create and has continued to work for the past three years as co-chair of the Middlebury Service Cluster Board. Beyond our campus, Quan served as a Community Friend to two Middlebury area children, taught Japanese in a Vermont elementary school, participated in a service trip to Nicaragua, led a service trip to the Cherokee Nation in Tennessee, volunteered in a hospital in Ecuador and worked on Organic Farms in Japan.  Quan won the First Year Achievement Award in 2010, the John M. McCardell Jr. Public Service Leadership Award in 2011, and the Middlebury College Public Service Leadership Award in 2012, and more! He was a summer public health fellow at UNC Gillings School of Global Public Health and as a Global Impact Fellow for Unite for Sight — a global health delivery organization in Ghana – and fundraised over $2,000, collected 500 pairs of reading glasses, screened over 1330 patients and observed over 60 cataract surgeries.  Quan plans to pursue a Masters of Public Health, focusing on health policy and management with an emphasis on leadership.
Matthew Steffens:   Matthew was a German and History double major, so it is quite fitting that he earned a Fulbright English Teaching Assistantship grant for next year in Germany.  Matthew studied in Mainz his junior year, and interned at the Johannes Gutenberg Museum during his stay.  He has also traveled and interned in Haiti, Dominica, Austria, and the Czech Republic.  Matt ultimately intends to continue his studies in twentieth-century European history or international relations, as he is very interested in and committed to deepening US-German relations and cultural understanding.  Matt was President of the German Club and research assistant in Anthropology, as well as ongoing member of the Volunteer Service Organization and cellist in the College Orchestra. 
Tucker VanAken:  An International Politics and Economics major, Tucker was awarded a Fulbright grant to study successful energy policy in Chongqing, China.  He received a Mellon grant last spring to research energy policy implementation in Beijing, Xi'an, and then Chongqing, conducting over 40 interviews with Chinese business and government officials, and saw in Chongqing a successful balance between their twin goals for prosperity and environmental sustainability.  Tucker's Fulbright research will investigate the enabling relationships and conditions of the "Chongqing model" and their ability to be replicated elsewhere.  He was the Theatre Production Assistant throughout his time at Middlebury, founded the Chinese Language interest group, and was a member of the International Students Organization.  Tucker aims to eventually work in an NGO or consultancy that facilitates exchanges on energy issues within China and across borders.
Student earns National Science Foundation fellowship
The National Science Foundation (NSF) is an independent federal agency created by Congress "to promote the progress of science…" The NSF Graduate Research Fellowship program recognizes and supports outstanding graduate students in science, engineering and mathematic disciplines who are pursuing research-based advanced degrees.
Moria Robinson: As a field biologist, Moria studies butterflies and moths and their role as ecosystem engineers. She studied abroad in Mexico, and participated in research projects in Costa Rica, Ecuador, California, and Arizona. Though a recent February graduate, Moria has amassed a long roster of professional accomplishments in field biology.  She has given presentations at a number of conferences and symposia, and received grants and awards to support her research on the topic of biodiversity, with a special lens on butterflies and moths. Her stunning photographs have been widely published, recently in Middlebury Geographic.  Also at Middlebury, she was awarded the Ward Prize for Writing, and has been a teaching assistant for the Biology department. Moria is further distinguished as the second Middlebury student in recent history to be awarded an NSF during the senior year. Moria will commence a PhD program at the University of California, Davis in Entomology and Population Ecology in fall, 2012.
---
Two students awarded Watson fellowships
Thomas J. Watson Fellowships enable seniors of unusual promise to engage in focused independent study and travel abroad after graduation.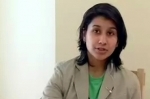 Rhidaya Trivedi '12

Hidaka (Rhiya) Trivedi  is an Environmental Studies major from Toronto.  For her project titled "Cooking Two Birds With One Stove: Slowing Climate Change and Building Empowerment Across the Developing World With Stove Technology," Rhiya will travel to Guatemala, Bolivia, Malawi, Mozambique, and India, exploring programs to stem cooking-fire-produced black carbon, which has proven to be a serious environmental and respiratory health hazard. She will focus on programs that offer stove distribution and the historic challenges to successful programs. Rhiya believes that unprecedented potential exists for previously disempowered nations to take back the climate.


Zaheena Rasheed '11

Zaheena Rasheed  is a political science major and Davis United World College scholar from Maldives. Zaheena's project, titled, "Profiles of Courage and the Craft of Nonviolent Action," will bring her to Chile, South Africa, Serbia and Egypt to study people all around the world who are embracing disciplined nonviolence. She wants to help Maldivians, herself included, find the courage to speak up for their rights and stay vigilant as new issues emerge in democratic transition. She will spend her Watson year in four countries that have waged very successful nonviolent movements against entrenched dictatorships: Chile, South Africa, Serbia, and Egypt. There she hopes to experience firsthand the day-to-day organizational and operational considerations of a nonviolent movement, and to be inspired by and document stories of individual courage.
---
Vermont Law School Scholarships

Two recent Middlebury alumnae have been awarded full scholarships to attend Vermont Law School. Earlier this year, Vermont Law School and Middlebury signed an agreement guaranteeing admission to qualified Middlebury graduates. The scholarship program is an additional initiative by Vermont Law to reach out to undergraduate institutions. Marie Horbar '09 and Nora Greenglass '03 are the recipients of the scholarships.
---
Five students earn U.S. Department of State Critical Language Scholarships

The United States Department of State's Critical Languages Scholarship program provides fully funded, group-based intensive language instruction and structured cultural enrichment experiences.  CLS program participants are expected to continue their language study beyond the scholarship and apply their critical language skills in their future professional careers.
The scholarships are highly competitive. More than 5,200 students applied for the 631 awards. The following Middlebury students have been awarded these scholarships for summer of 2012:
April Dodd '13, Russian
William Mackey '12, Indonesian
Rachel Sider '14, Arabic (Morocco)
Connor Wakayama '14, Russian
Rachel Woods '14, Russian
---
Two Middlebury students awarded Udall scholarships

Sam Koplinka-Loehr '13
(4/12/12) Two Middlebury students have been awarded scholarships by the Morris K. Udall and Stewart L. Udall Foundation.
Abigail Borah '13, a conservation biology major from Belle Mead, New Jersey and Sam Koplinka-Loehr '13, an independent scholar from Ithaca, New York earned the awards.
Udall scholarships are awarded nationally to "sophomore and junior level college students committed to careers related to the environment, tribal public policy, or Native American health care." Established by Congress in 1992, the Udall Foundation will award 80 undergraduate scholarships of up to $5,000 this year. 
Check back here for more news of fellowships as they are announced.