His Holiness the Dalai Lama to give lectures Oct. 12-13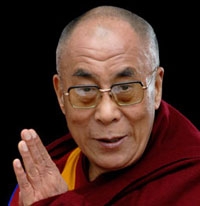 Update: Tickets to see His Holiness the Dalai Lama are sold out. Live video feeds will be provided to both Dana Auditorium and the McCullough Student Center Social Space during both of his talks.  Seating for these on-campus video viewing areas is free and open to the public, and is available on a first-come, first-served basis. The lectures will also be streamed live online. This link will be live a few minutes before the lectures begin: http://go.middlebury.edu/dlstream.
MIDDLEBURY, Vt. ― Do spiritual and religious traditions offer guidance that inspires action? His Holiness the 14th Dalai Lama, the spiritual leader of Tibet and winner of the 1989 Nobel Peace Prize, will explore this thought-provoking subject when he visits Middlebury College to deliver two lectures ― one to the campus community and another to the public ― on Oct. 12-13.
Middlebury faculty, staff and students may attend his talk, "Educating the Heart," at 1:45 p.m. on Friday, Oct. 12.  His lecture at 9:30 a.m. on Saturday, Oct. 13, "Finding Common Ground: Ethics for a Whole World," will be open to the public. Tickets for both events, which will take place in Nelson Arena, will be available through the Middlebury College Box Office.
The theme of his visit, "Cultivating Hope, Wisdom, and Compassion," encompasses both of his lectures. According to Middlebury College President Ron Liebowitz, the purpose of the talks is to help people explore resources for hope, optimism and cooperation, while challenging them to lead lives of courage and engagement.
"We are deeply honored that the Dalai Lama, a man of peace who embodies these qualities, is coming to Middlebury," said Liebowitz.
"The problems that face humankind today, and that this generation of students will be called upon to address, will necessitate not only knowledge and technological ingenuity, but also compassion, determination and sacrifice," said Liebowitz. "These human attributes and virtues have long been fostered and sustained by the world's religious, spiritual and philosophical communities."
In a 2010 opinion piece in The New York Times, the Dalai Lama wrote, "Finding common ground among faiths can help us bridge needless divides at a time when unified action is more crucial than ever."
"The Dalai Lama understands that the challenges we face in healing our planet require many peoples to come together as one if we are to be successful," said Middlebury College Chaplain Laurie Jordan, who helped to organize his visit. "We are interested in exploring how activists and everyday citizens alike can draw strength from each other and from cultivating their own inner lives."
The Dalai Lama's visit this fall will be his third to Middlebury. He was previously on campus for two symposiums — in 1984 for "Christ and the Bodhisattva," and in 1990 for "Spirit and Nature: Religion, Ethics and Environmental Crisis."
A steering committee at the college has been working under the guidance of the Venerable Lama Tenzin Dhonden, personal peace emissary for His Holiness the Dalai Lama, to arrange this fall's events.
Born in Tibet 77 years ago, Tenzin Gyatso was named the 14th Dalai Lama when he was 2 years old, becoming the successor in a line of political and spiritual leaders spanning six centuries. In 1959 he escaped after a failed Tibetan uprising against China. Since then he has been living in Dharamsala, in northern India, the seat of the Tibetan political administration in exile.
In 1989 he was awarded the Nobel Peace Prize for his nonviolent struggle for the liberation of Tibet. He also became the first Nobel Laureate to be recognized for his concern for global environmental problems.
The Dalai Lama has received many awards, honorary doctorates and prizes in recognition of his message of peace, inter-religious understanding, universal responsibility and compassion. The author of numerous books, he makes frequent speaking engagements around the world.
More Information
More information about the Dalai Lama's visit is available here:  http://www.middlebury.edu/studentlife/services/chaplain/hhdl.