College honors students for leadership and public service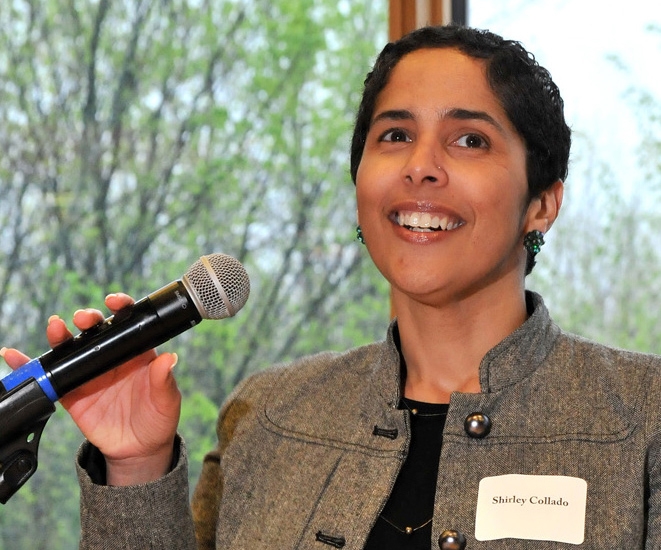 MIDDLEBURY, Vt.—The 2012 Dean of the College Student Leadership Awards, Public Service Leadership Awards, and Student Government Association Awards – a total of 26 honors – were presented to Middlebury College students, advisors and organizations at a ceremony on May 8 at Atwater Dining Hall.
President Ronald D. Liebowitz greeted the gathering of students, faculty, staff and community members, and, in his opening remarks, said that Middlebury has a long-standing tradition of fostering student leadership in academic excellence, activism, community service, creativity and innovation, and spiritual and religious engagement.
Dean of the College Shirley Collado joined the president at the podium and asked all of the nominees to stand for a round of applause.
Student Leadership Awards
The Angels Award, for a sophomore woman of color who demonstrates leadership, scholarship and activism, was presented to Daniela Barajas '14 of Houston, Texas, by Associate Dean Karen Guttentag and by three previous recipients of the Angels Award: Mukui Mbindyo '11, Janet Rodrigues '12, and DaVia Walker '12.
The Barbara J. Buchanan '62 Memorial Prize for a senior woman who represents Buchanan's academic excellence and ideal of service was presented to Brittany Gendron '12 of Severna Park, Md., and Janet Rodrigues '12 of Brooklyn, N.Y., by Dean of the College Shirley Collado.
 
The First-Year Achievement Prize for academic excellence and the ability to relate well to others was presented to Karen Liu '15 of New York, N.Y., by Dean Collado. 
 
The Carri A. Smith '98 Award for Outstanding Intercommons Council Member, which goes to a student who exemplifies the ideals of the commons system, a passion for the college and a commitment to student life, was presented by the faculty head of Brainerd Commons, Professor Roman Graf, to Supriti Jaya Ghosh '12 of Seattle, Wash., and Nadia Schreiber '12 of New York, N.Y.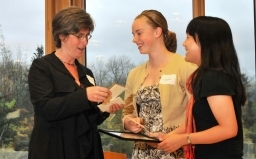 g '12.</p>" title="edna_katie_ellen_5859_1000" width="256" height="159" />
Ellen McKay (left) with Katie Pett '13 and Edna Tang '12
The Interfaith Cooperation Award of the Charles P. Scott Center for Spiritual and Religious Life was presented to three leaders of the InterVarsity Christian Fellowship: Joyce Ma '14 of Brooklyn, N.Y., Katie Pett '13 of Saginaw, Mich., and Edna Tang '12 of Santa Clara, Calif. Presented by Chaplain Laurel Macaulay Jordan '79 and Program Coordinator Ellen McKay, the award goes to students who actively promote and facilitate interfaith understanding, communication or programming.
The Religious Life Innovation Award of the Charles P. Scott Center for Spiritual and Religious Life was presented by Associate Chaplain Ira Schiffer to students who show unusual originality in the development of religious activities on campus. This year's recipients were: Nadia Schreiber '12 of New York, N.Y., and David Yedid '15 of Port Washington, N.Y., for their work on Hillel's Challah for Hunger campaign; and Patrick Hebble '13 of Sudbury, Mass., Marc Delaney '12 of Wading River, N.Y., and Matthew Johnson '12 of Cranbury, N.J., for the "metafoodical" program they organized called "Kung Pao and Christ."
The Spiritual Life Leadership Award of the Charles P. Scott Center for Spiritual and Religious Life was presented to Brenna Kearns '12 of Apple Valley, Calif. The award for advancing the spiritual lives of others on campus was presented by Chaplain Jordan.
The Alexander Twilight 1823 Diversity and Community Leadership Award was presented to Sam Koplinka-Loehr '13 of Ithaca, N.Y., for exemplifying Twilight's leadership and determination in a way that transcends boundaries of race, class and gender. The award was presented by Jennifer Herrera, special assistant to Dean Collado and senior advisor for diversity.
The Franklin G. Williams 1913 and Sarah H. Williams 1912 Memorial Award was presented to Lindsey Hunt '14 of Arlington, Va., by Dean Collado. It is awarded to a sophomore on the basis of natural kindness, perceptivity to the needs of others, and an abiding sense of personal responsibility. 
Public Service Leadership Awards
The Public Service Leadership Awards were presented by Tiffany Sargent '79, director for civic engagement at the Center for Education in Action, who credited Patrick Durkin '79 for starting the PSLA program at Middlebury in 1993.
The John M. McCardell Jr. Public Service Award goes to a student or students whose efforts bring the college and the town of Middlebury closer together. For 2012 the award was presented to Jessica Appelson '12 of New York, N.Y., Lea Calderon-Guthe '12 of Chapel Hill, N.C., and Alice Urban '12 of Millers Falls, Mass., for their extensive coordination efforts that enabled students to volunteer their time in the nearby communities hardest hit by Tropical Storm Irene.
The Bonnie McCardell Public Service Award is presented to a student or students for excellence in outreach in literacy, youth and family services, or the special needs of at-risk youngsters. It was presented to Emma Burke '12 of Dallas, Texas, who started a new student initiative called NOM – short for Nutrition, Outreach and Mentoring – which hosts weekly dinners where student volunteers and community members cook and eat together, and where they can explore healthy and cost-effective meal ideas and techniques.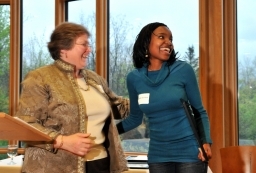 ly-tif_5816_1000" title="ansally-tif_5816_1000" width="256" height="173" />
Ansally Kuria '12 with Tiffany Sargent '79
The Dana Morosini Reeve '84 Memorial Public Service Award is bestowed on a student with spirit and determination from the heart that has far-reaching and effective public service. It was presented to Ansally Kuria '12 of Nairobi, Kenya,for her work as both a volunteer at, and fund raiser for, the Nairobi Women's Hospital's Gender Violence Recovery Center. Will Reeve '14, the son of the late Dana Morosini Reeve and Christopher Reeve, helped present the award that honors his mother.
For exemplary service to the community, six additional Public Service Leadership Awards were extended to students. The recipients were: Samuel Miller '12 of Needham, Mass., for his leadership in maintaining the tutoring program between members of the College's cross-country team and students at Middlebury Union High School; Danny Loehr '14 of Andover, N.H., for his service as a leader of MAlt (Middlebury Alternative spring break) trips and as a member of the board of Juntos, the student group that assists migrant workers in Addison County; and Quan Pham '12 of Honolulu, Hi., for his role in the development of the Service Cluster Board, his work as a Community Friend, and his leadership on a recent MAlt trip.
Also receiving Public Service Leadership Awards were: Yuan Kang Lim '12 of Singapore, for volunteering hundreds of hours to support the food and housing programs of the Middlebury Community Care Coalition; Rachel Sider '14 of Fort Wayne, Ind., for her tireless efforts to engage students to work together on behalf of the campus group Juntos, the Somali-Bantu ESL program in Burlington, and the national student organization J Street U; and Harriet Napier '13 of Middlebury, for her involvement as a volunteer and board member at the John Graham Shelter in Vergennes for the homeless.
Student Government Association (SGA) Awards
SGA members Caroline Cordle '12 and Vincent Recca '12 presented the Student Government Association awards.
The Outstanding Campus Leader Award recognizes a junior or senior for innovation, motivation, initiative and perseverance, and the 2012 recipient was Rhiya Trivedi '12 of Oakville, Ontario, for her involvement with the Sunday Night Group, her powerfully written articles for the Middlebury Campus student newspaper, and her work in starting JusTalks, a new program for first-year students.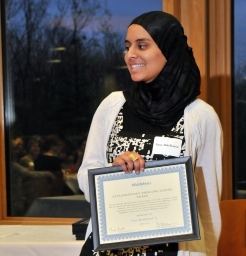 id '15</p>" title="rana_5910_1000" width="246" height="256" />
Emerging leader Rana Abdelhamid '15
The Extraordinary Emerging Leader Award goes to a first-year student or a sophomore for outstanding leadership and involvement in the campus community. The award was presented to Rana Abdelhamid '15 of Flushing, N.Y., for starting a chapter of Amnesty International on campus, and for her service to SGA as one of two senators elected by the first-year class.
The Baumgarten '98 and Udzenija '99 SGA Memorial Award honors a sophomore who personifies academic achievement, the passion for learning, compassion for others, and involvement in student activities. The recipient was Alison Lewis '14 of Boulder, Colo.,for her service as a MAlt trip leader and as a peer writing tutor in the course "Writing to Heal."
The Exceptional Advisor Award goes to the mentor of a student organization who delves into the work of the organization, improves quality, connects with students, and contributes significantly to the Middlebury community. Receiving the award for 2012 was Ashley Calkins '06, who as the community engagement coordinator in the Center for Education in Action served as advisor to the Service Cluster Board.
The Extraordinary Initiative Award recognizes an exceptional program, cultural event, guest speaker or production that is conceived and carried out by a student or students. The 2012 recipient was Middlebury Hurricane Relief, the student-led organization that mobilized over 500 volunteers and provided nearly 2,800 hours of service to area residents who were affected by Hurricane Irene.
The Outstanding Leader of a Student Organization Award is presented each year to a student who has brought honor to a student organization through his or her leadership and selflessness. The 2012 recipient was Alice Urban '12 of Millers Falls, Mass., leadership in promoting and propagating the growth of the Community Friends organization.
The Outstanding New Organization Award goes to a newly formed, SGA-recognized campus group that addresses a need or community issue that had not previously been supported. The 2012 recipient was Poor Form Poetry – an organization that inspired creativity and individuality by organizing poetry slam events on campus, and by participating in college-level poetry competitions across the country. Accepting the award on behalf of Poor Farm Poetry were: Rae Colombo '13 of Mosgiel, New Zealand.; Anna Gallagher '12 of Worcester, Mass.; Cody Gohl '13 of Carrollton, Texas; and Maya Goldberg-Safir '13 of Oakland, Calif.
The Outstanding Overall Achievement Award recognizes one organization for sustained contributions to the campus and student life. This year's recipient was the Service Cluster Board, which oversees the service-related activities of other clubs at Middlebury. The Service Cluster Board allocates the funding so dedicated students can launch their own initiatives, and it encourages existing organizations to develop new leaders so initiatives will thrive from year to year.
In closing, Dean Collado thanked everyone who works so tirelessly to support Middlebury students in their leadership development, and to the graduates she said: "As you begin whatever new phase that follows your graduation, we know that you will take with you the personal tradition of leadership and community engagement that you have established here at Middlebury, and will make it part of the rest of your life."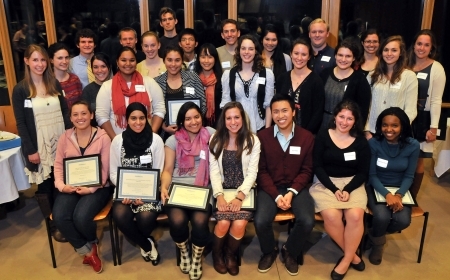 "group_5939_2000" title="group_5939_2000" width="450" height="280" />
Recipients of the 2012 awards for leadership and public service
Photographs by Trent Campbell