College volunteers recognized by United Way of Addison County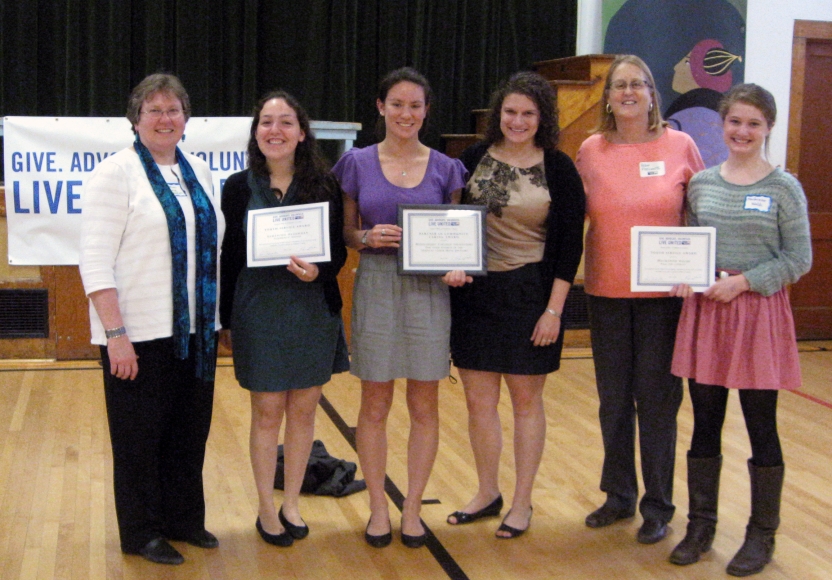 Samantha Wasserman '14 and Mackenzie Walsh '14 each received Youth Service Awards at the United Way of Addison County Celebration of Community on May 2. The two volunteers were recognized for their individual contributions to the local community.
In addition, the Center for Education in Action's civic engagement director Tiffany Nourse Sargent '79 and community engagement coordinator Ashley Calkins '06, and student leaders Ali Urban '12 and Jessica Appelson '12 were recognized for work coordinating Middlebury College volunteers during the Hurricane Irene relief efforts.
Wasserman was recognized specifically for her leadership as a student coordinator for EIA's Community Friends program, which connects college students with the greater Middlebury community by providing friends, mentors and positive role models to local school children. She became involved with the program as early as her first year at Middlebury, and has been an active recruiter in helping to grow the program.
Walsh is the program coordinator for Page One Literacy, a student organization also advised by EIA. As an active leader, she maintains communications with local schools and designs 4-6 week literacy programs for fellow Middlebury students to teach. Her behind-the-scenes work ensures the sustainability and positive impact of the organization in the community.