Strickland to class of '12: Big challenges need creative solutions
Addressing 557 Middlebury seniors under breezy blue skies, commencement speaker William E. Strickland Jr., CEO of Manchester Bidwell Corporation, traced his successful career to one moment when a teacher changed his life. "Once upon a time, I was an inner-city public school student, failing academically and totally adrift," Strickland said, "and was lucky enough to meet an art teacher named Frank Ross who was an accomplished potter. I saw him make a ceramic vessel in class one day and it was a defining moment and magical experience that altered my life permanently."
See the speakers from commencement
Commencement speaker William Strickland
Student speaker Alyssa Limperis
Strickland, who went on to graduate with honors from the University of Pittsburgh and later win a MacArthur "Genius" award for his work with disadvantaged youth, impressed upon the graduates the importance of an entrepreneurial approach to the pressing social issue of failing schools. Strickland said that, despite the bleak outlook for many public schools, in which guards, metal detectors and a prison-like atmosphere have become commonplace, there is some good news: the conditions are capable of remediation
"The reason I know this is true is that I run a school that is successful at educating students from poverty circumstances and a school that is creating a climate of hope and safety rather than one of fear and failure."
Prior to taking over the ailing Bidwell Training Center in Pittsburgh, Strickland had started the Manchester Craftsmen's Guild, an inner-city arts program he says was modeled after his own life. The program took clay and photography and "used them as tools to rebuild the lives of kids who had been pushed aside." When he started at Bidwell, he says children outside the entrance were swapping money in a game he didn't recognize. One of his employees told him they were betting on how long he would last at his new job.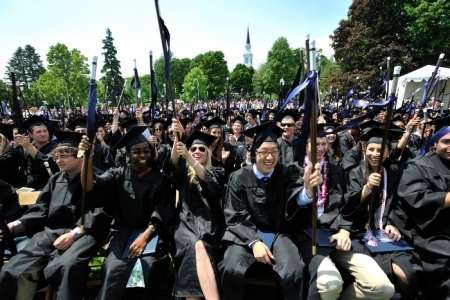 Graduates raise their canes in the air.
Student speaker Alyssa Limperis.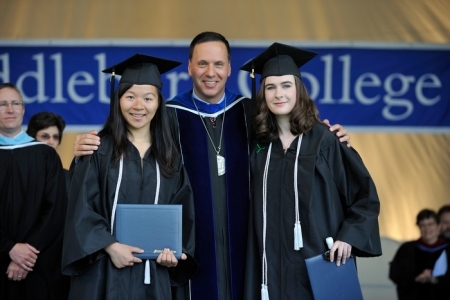 President Ron Liebowitz with valedictorian Nora Fiore (right) and salutatorian Ying Zhuo.
Photos by Brett Simison
That was 1972. Today, Bidwell is a different story, operating in world-class facilities with state-of-the-art equipment and materials. Strickland noted that now, in 12 months time, students from poor and dysfunctional homes are capable of performing beyond industry standards, and that Bidwell alumni are filling the ranks of research technicians at Bayer, BASF, Alcoa and other high profile companies.
"By creating an environment of hope," he said, "and creating physical space that reflects the human imagination and assembling teachers who live those convictions, we can train poor people to be successful in virtually any industry that we are given an opportunity to be a part of."
In concluding his talk, Strickland invited the seniors to join in his cause of improving communities through creativity and education. "This is a school that cares about its students and the community surrounding it," he said, "which is why I felt particularly drawn to the invitation to address the graduating class. I hope that in some way, many of you will join me in the effort to reverse the drift in our country and allow it to regain world leadership in education, economic innovation and the improvement of living conditions for the chronically poor."
Earlier in the ceremony, student speaker Alyssa Limperis delivered a funny and thoughtful reflection on how Middlebury's tight-knit community forced her class to find their best selves.
"I'm thankful that we weren't allowed to run and find the next success or beauty that might fulfill us," said Limperis, "but rather we were forced to dive inward and bring the successes and beauty that were already inside to the surface. Middlebury kept us for just long enough that we couldn't evade its power and its prowess to push us and that we were obliged to stop, to soul search, and to figure out what made us stand apart from the rest and why we were selected to be part of the class of 2012."
Strickland, who received an honorary doctor of humane letters degree, was one of six to receive honorary degrees. The others were educator and philanthropist Sarah Bright Alturki, doctor of humane letters; Middlebury trustee and outgoing chair of the board Frederick M. Fritz '68 and his wife Martha Siegfried Fritz, both doctor of humane letters; Bach and Mozart scholar Christoph J. Wolff, doctor of arts; and Castleton State College President and former Vermont Commissioner of Education David S. Wolk '75, doctor of letters.
In keeping with tradition, President Ronald D. Liebowitz handed out the first diplomas to valedictorian Nora Fiore, a double major in French, and film and media culture, from Pawlet, Vt., and salutatorian Ying Zhuo, a double major in mathematics and economics from Nanjing, China.