Trustees grant tenure to eight professors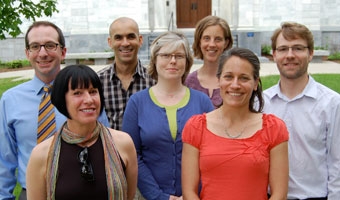 MIDDLEBURY, Vt.—Eight members of the Middlebury College faculty have been promoted to the rank of associate professor without limit of tenure.
The board of trustees, at its meeting in May, accepted the recommendations of President Ronald D. Liebowitz and the board's educational affairs committee in promoting: Jeffrey Buettner (music), Molly Costanza-Robinson (chemistry and environmental studies), Kim Cronise (psychology), Juana Gamero de Coca (Spanish), Cláudio Medeiros (theatre), Emily Proctor (mathematics), John Spackman (philosophy), and Christopher Star (classics).
Their promotions from assistant professor to associate professor took effect July 1, 2012.
Jeffrey Buettner joined the music department in 2007 as director of choral activities and assistant professor of music. During his time at Middlebury, Buettner has re-energized choral music at the college as conductor of the College Choir and Women's Glee Club, received a Fulbright grant to teach choral music and conduct at a university in Ukraine, served as music director of the Middlebury Bach Festival (founded in 2010) and accepted the post as founding conductor of the Vermont Youth Orchestra Chorus. A graduate of St. Olaf College with a concentration in church music, Buettner holds a master of music degree in choral conducting from the University of Cincinnati and a doctor of musical arts degree in choral conducting from Michigan State University. He teaches courses in conducting, musicianship, performance and music theory.
Molly Costanza-Robinson brings together two related disciplines—chemistry and environmental studies—in her teaching and research. Since joining the faculty in 2005, Costanza-Robinson has received grant support for seven research projects, including "Sustainability in Europe: The Limits of Possibility" from the Mellon Foundation and "Measurement and Microtomographic Imaging of the Air-Water Interface in Unsaturated Porous Media" from the National Science Foundation. She teaches courses in environmental chemistry, instrumental analysis and natural science. Costanza-Robinson earned a bachelor of science degree in chemistry and German literature at the University of Wisconsin and a doctorate in soil, water and environmental science at the University of Arizona. She also is the co-author of the book "Write Like a Chemist: A Guide and Resource" (Oxford University Press, 2008). Students working in her lab have received awards from the Environmental Protection Agency, Eastern Analytical Association and Vermont Genetics Network, which is a testament to her support for student-driven research.
Kim Cronise joined the psychology department in 2004 as a visiting assistant professor and transitioned to a tenure-track position within the department in 2006. She earned three degrees from the University of South Carolina: a bachelor's degree in psychology and master's and doctoral degrees in experimental psychology and behavioral neuroscience. Cronise has served since 2009 as the principal investigator on a $200,000 grant funded by the National Institutes of Health (NIH) titled "Is Tolerance An Enabling Factor for Greater Alcohol Consumption?" She also was the lead scientist from 2009 to 2011 on an NIH/Vermont Genetics Network grant called "Does Gender Influence the Effect of Tolerance on Alcohol Consumption?" Cronise, who was a post-doctoral fellow at Oregon Health & Science University for three years prior to Middlebury, teaches courses in physiological psychology, conditioning and learning, and the creative mind.
Juana Gamero de Coca received a doctorate from the University of Wisconsin in 2004 and, just a few months later, was teaching courses in intermediate Spanish, Hispanic film and Hispanic literature within Middlebury's Spanish and Portuguese department. She has also offered a course on love in modern Spain and a first-year seminar on heterosexual relationships. The author of two books written in Spanish and published in Spain, Gamero de Coca has published numerous articles and given frequent presentations at conferences. Her work is said to have contributed greatly to the field of contemporary literary and cultural studies of the Iberian Peninsula. In addition to her doctorate, she holds a bachelor's degree from the University of Pittsburgh and a master's degree from New Mexico State University.
Cláudio Medeiros, who graduated summa cum laude from Middlebury in 1990, worked as a stage director in Massachusetts and an ESL instructor in his native Brazil before enrolling in graduate school at the University of California, Berkeley. While pursuing his master's and doctorate in dramatic art, he returned frequently to Middlebury as a visiting lecturer and guest artist. In the fall of 2004 Medeiros received a tenure-track position in the theatre department, and over the ensuing eight years he has directed 10 plays including "Necessary Targets" by Eve Ensler '75, "Cabaret" and "Big Love." His courses include Greek tragedy in performance, gay and lesbian drama, and the creative process. He was commended by the administration for "collaborating with colleagues in other departments to expand the reach of theatre into the broader curriculum," and his 2004 article published in Theatre Journal was nominated for the Kahan Prize from the American Society for Theatre Research.
Emily Proctor is a native Vermonter who graduated from Bowdoin College and earned her master's and doctoral degrees in mathematics from Dartmouth College. A member of the Middlebury faculty since 2005, her research concerns Riemannian geometry, Lie groups and orbifolds. Proctor teaches courses in geometry, algebra, and calculus, and on two occasions has taught the Winter Term course "The Shape of Space," which she designed. Intended for non-math majors, the course explores the assumption that "our three-dimensional universe goes on infinitely far in every direction, much as a two-dimensional plane does," she explains. Proctor has received grants from the Mellon Foundation and the National Science Foundation, and most recently she received the 2012 Perkins Award for Excellence in Teaching from Middlebury College.
John Spackman, whose primary teaching and research interests are the philosophy of the mind, language and religion, has been a valuable addition to both the philosophy department and the program in neuroscience. A graduate of Grinnell College, he holds advanced degrees from Yale University—including master's and doctoral degrees in philosophy— in addition to a master's degree in religion from Columbia University. He served four-and-a-half years as a visiting assistant professor at Middlebury before receiving a tenure-track post in 2005. Spackman recently received a grant from the National Endowment for the Humanities to participate in a summer institute on "Investigating Consciousness: Buddhist and Contemporary Philosophy Perspectives." His teaching is appreciated by philosophy majors and non-majors alike, or as one student said, "Every science major should take a course with John Spackman."
Christopher Star of the classics department had two years of teaching experience at the University of Chicago and two more at Temple University before joining the Middlebury faculty at the assistant-professor level in 2005. Star has a bachelor's degree from Bates College, a master's degree from the University of Cambridge, and both master's and  doctoral degrees in classics from the University of Chicago. His first book, "The Empire of the Self: Self-Command and Political Speech in Seneca and Petronius," is forthcoming from Johns Hopkins University Press, and his second book, "Seneca," is scheduled for release in July 2013 by I.B. Tauris Publishers as a volume in its "Understanding Classics" series. Among Roman classicists Star is considered one of the foremost interpreters of Neronian literature, and among his Middlebury students he is appreciated for his clarity, expertise and ability to make the most complex works engaging.