Middlebury establishes program in India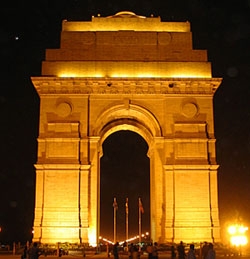 MIDDLEBURY, Vt. ― Middlebury College has established a new program in India, the newest C.V. Starr-Middlebury School Abroad and the first in South Asia. Located in Delhi, the program will begin offering classes in the fall of 2013. Students will attend the University of Delhi's St. Stephen's College or its Lady Shri Ram College for Women. While the language of instruction is English at both colleges, all students will also study intensive Hindi at the American Institute of Indian Studies. Middlebury plans to enroll eight students initially, and students from any college or university may apply.
With a metropolitan population of about 16.7 million residents, Delhi is a large metropolis that includes the capital of India, New Delhi. Continuously inhabited since the 6th century B.C., Delhi is rich in history and architecture. Today's Delhi is also a bustling and diverse city, home to both ancient monuments and a modern arts, business and culture scene.  
"This program will be a great asset to our South Asian Studies majors," said Acting Dean of International Programs Paul Monod. "It also expands opportunities for other students interested in India who attend Middlebury or another institution. Since there is no language prerequisite, they can consider living and studying in a culture that is very different than the one they have experienced as college students in the United States."
According to Monod, those who enroll for a full academic year will have the opportunity to complete an internship and receive course credit for it, further immersing themselves in Indian daily life.
Middlebury was drawn to Delhi for several reasons. "We've been discussing a program in India for several years and our South Asian studies faculty fully support it," said Middlebury College Vice President of Language Schools, Schools Abroad and Graduate Programs Michael Geisler. "The two colleges are preeminent institutions of higher education in India, with combined offerings in the humanities, social sciences and physical sciences."
The C.V. Starr-Middlebury Schools Abroad have more than 50 years of experience in providing academically challenging immersion programs and, with the addition of the site in Delhi, will operate programs in 37 cities and 16 countries. Students come from a wide range of academic fields and take courses in most disciplines, often alongside host-country students; intern or engage in volunteer work; and often live with a family or other local residents. At every juncture, students are encouraged to immerse themselves in the host culture.
For more information, visit http://www.middlebury.edu/sa/ or contact Middlebury College International Programs at internationalprograms@middlebury.edu or 802-443-5745.