Liberal arts colleges launch new strategy for diversifying faculty, partner with research universities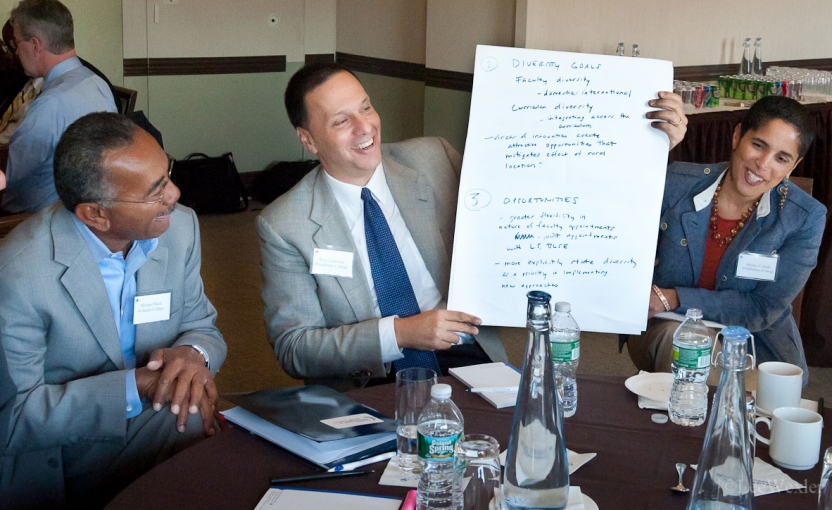 MIDDLEBURY, Vt. ― Three liberal arts colleges ― Middlebury, Williams and Connecticut College ― have joined together to launch a new strategy to increase diversity among faculty. These institutions will lead a three-year project, known as the Creating Connections Consortium (C3). Supported by a $4.7 million grant from The Andrew W. Mellon Foundation, C3 will implement its strategies to accelerate recruitment of faculty with historically underrepresented backgrounds (first-generation college students, or students who have succeeded despite societal, economic or academic challenges). A fourth institution will join Connecticut College, Middlebury and Williams to lead the initiative in year two of the project.
Working with the other 23 member colleges of the Liberal Arts Diversity Officers Organization (LADO), C3 will formalize a reciprocal relationship between these institutions and Columbia University and the University of California, Berkeley.
For years relatively isolated liberal arts colleges have struggled to find ways to hire and retain diverse faculty. At the same time research universities have faced a similar dilemma trying to recruit diverse graduate students from liberal arts colleges, where a lack of underrepresented faculty mentors reduces the likelihood of these students choosing to pursue careers in academia.
"We recognize now that trying to do this alone doesn't solve the problem. Middlebury, Williams, Connecticut College and the other LADO schools are all committed to creating a more diverse faculty. Studies have shown that the quality of education is enhanced with a greater diversity of ideas and perspectives that come with a diverse faculty," said Middlebury College President Ron Liebowitz. "Now we have a strong, effective, multi-faceted strategy rooted in collaboration, and we're very grateful to the Mellon Foundation for recognizing its potential."
"Liberal arts colleges and research universities do not typically work with one another," he added. "By bringing these two types of institutions together and sharing our resources, we're creating a clearer and wider pathway to the professoriate for underrepresented groups."
The C3 project includes the following strategies:
Networking: C3 will host an annual summit at a LADO college where underrepresented students from LADO institutions will meet with doctoral candidates from Berkeley and Columbia to learn firsthand about research and challenges they face in the academic environment. Faculty from LADO schools will conduct mock interviews and discuss current employment opportunities with these graduate students.
Cohorts of Postdoctoral Fellowships on Liberal Arts Campuses: Three to four two-year post-doctoral fellowships on three to four LADO campuses will allow talented faculty members to immerse themselves in the liberal arts environment with strong support from their cohort and faculty mentors.
Internships for Undergraduates: Underrepresented students from LADO campuses may apply for eight-week summer research internships at Columbia and Berkeley, working closely with a faculty mentor of a similar background.
Faculty Exchange Program: All LADO schools will explore exchange opportunities so that underrepresented faculty members from the university partners can provide lectures, collaborate in research, and possibly serve as visiting faculty across LADO campuses.
Adding New Partners: C3 plans to add a third research university partner by 2014 as a step toward raising the number to five once the program is well established.
Assessment: The C3 initiative includes a partnership with the Center for Institutional and Social Change at Columbia Law School.  The Center will provide assessment strategies for C3 colleges and university partners and help identify ways to implement successful recruitment and retention practices so they become routine at the participating institutions.
A detailed description of C3's strategies is available here.
Administrators at Columbia and Berkeley expressed their enthusiasm for the C3 project and the opportunities it creates.
"UC Berkeley is pleased to be part of this innovative program to improve diversity in the academy at all levels," said Anthony Cascardi, Irving and Jean Stone Dean of Arts and Humanities at Berkeley. "We believe this multifaceted approach can become a valuable model for many other liberal arts colleges and research universities across the United States."
"The Graduate School is thrilled to join this inventive partnership with Berkeley and LADO colleges," said Carlos J. Alonso, dean of the Graduate School of Arts and Sciences and vice president for graduate education at Columbia. "In a tough job market, C3 will allow us to forge new relationships with first-rate liberal arts colleges to expand and redefine teaching and scholarly opportunities for Columbia's graduate students, while also opening paths to Columbia for a wider range of talented underrepresented scholars. The faculty exchange program boldly pledges our collective commitment to diversity in higher education."