Colleges will work together to help control costs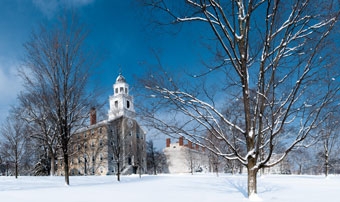 MIDDLEBURY, Vt. — Three Vermont private colleges have announced they plan to form a consortium to reduce costs associated with purchasing supplies and services common to all three institutions.
The chief financial officers of Middlebury College, Champlain College and Saint Michael's College will direct the creation of the Green Mountain Higher Education Consortium (GMHEC). The group's focus is to find common areas and ways to increase effectiveness and efficiency when purchasing supplies, and other business and administrative services common to all three institutions. Similar consortia exist in other areas of the country including Boston and Amherst, Mass., and Claremont, Calif. These partnerships have proven to be beneficial forums for sharing ideas and collaborating.
"We are simply envisioning ways to improve our efficiencies and help drive down administrative costs in areas common to all three colleges," said David J. Provost, senior vice president for finance and administration at Champlain College. "A consortium will allow us to pool our purchasing power and significantly reduce costs at each college."
"The consortium has the potential to slow rising administrative costs by leveraging the combined buying power of the three colleges, and by sharing common administrative services. Our intention is to create a successful consortium that will address the issue of cost over the long term," said Patrick Norton, vice president for finance and treasurer at Middlebury College.
Neal E. Robinson, vice president for finance at Saint Michael's College, added, "I very much look forward to working with our friends at Champlain and Middlebury. The consortium gives us the platform to accomplish many things that would not be possible otherwise."
Both Saint Michael's and Champlain have about 2,000 traditional undergraduate students and Middlebury has 2,450 students. Through cooperative planning efforts, the three colleges expect to directly address areas of rising costs and continue to strive to make higher education accessible and affordable to all students.
* * * * * * * *

About Champlain College
Since 1878, Champlain College has provided career-focused education to students from its hilltop campus in Burlington, Vt. Champlain's distinctive educational approach embodies the notion that true learning only occurs when information and experience come together to create knowledge. Champlain offers traditional undergraduate and online undergraduate courses, along with online certificate and degree programs and eight master's degree programs. Champlain offers study abroad programs at its campuses in Montreal, Quebec and Dublin, Ireland. Champlain College is included in the Princeton Review's The Best 377 Colleges: 2013 Edition. Champlain was named a "Top-Up-and-Coming School" by U.S. News & World Report's America's Best Colleges and is ranked in the top tier of 2013 Regional Colleges in the North. For more information, visit www.champlain.edu
About Middlebury College
Middlebury College, one of the country's leading liberal arts colleges, offers a rigorous liberal arts curriculum that is particularly strong in languages, international studies, environmental studies, sciences and literature. About 2,450 students attend Middlebury, which was founded in 1800 and is located in the town of Middlebury in Vermont's Champlain Valley. With the Green Mountains to the east and the Adirondacks to the west, Middlebury has established itself as a leader in campus environmental initiatives, with an accompanying educational focus on environmental issues around the globe. The college's strong international dimension has extended its borders beyond Addison County, and includes Middlebury's Language Schools, Schools Abroad, Bread Loaf School of English, Bread Loaf Writers' Conference, and the Monterey Institute for International Studies. For more information, visit www.middlebury.edu
About Saint Michael's College
Saint Michael's College, the Edmundite Catholic liberal arts college, provides education with a social conscience, producing graduates with the intellectual tools to lead successful, purposeful lives that will contribute to peace and justice in our world. Founded in 1904 by the Society of St. Edmund and headed by President John J. Neuhauser, Saint Michael's College is located three miles from Burlington, Vt., one of America's top college towns. Identified by the Princeton Review, 2013 as one of the nation's Best 377 Colleges, and included in the Fiske Guide to Colleges 2013, Saint Michael's has 1,900 undergraduate students and 500 graduate students. Saint Michael's students and professors have received Rhodes, Woodrow Wilson, Pickering, Guggenheim, Fulbright, and other grants. The college is one of the nation's top-100, Best Liberal Arts Colleges as listed in the 2013 U.S. News & World Report rankings.  For more information, visit www.smcvt.edu 
For more information:
Stephen Mease, Champlain College
802-865-6432 or smease@champlain.edu
Buff Lindau, Saint Michael's College
802.654.2536 or blindau@smcvt.edu
Sarah Ray, Middlebury College
802-443-5794 or ray@middlebury.edu