MIL, Middlebury College launch Vermont World Language Initiative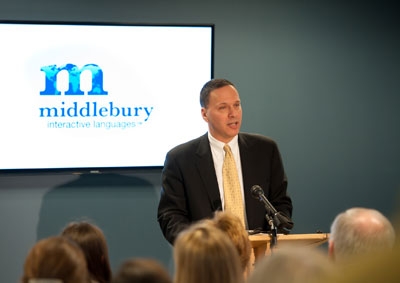 MIDDLEBURY, Vt. — Governor Peter Shumlin, Middlebury College President Ronald Liebowitz, Middlebury Interactive Languages CEO Jane Swift and other business and political leaders gathered at Middlebury Interactive's new headquarters on January 14, 2013, to celebrate the company's local job creation and a new $2.6 million Vermont World Language Initiative to boost language education in the state.
Middlebury Interactive, the leading provider of virtual and in-person world language courses for K-12 students, has tripled the size of its Vermont  staff over the past year and projects that it will double its current Vermont workforce by 2015. 
Middlebury Interactive and Middlebury College today announced an initiative that will expand the state's skilled workforce pipeline by providing up to 30 Vermont schools with deeply discounted, unlimited access to Middlebury Interactive's web-based world language courses in Chinese, French, German, Latin and Spanish.
"This is a great day for the Vermont economy and our public schools and students," said Shumlin. "With its innovative global focus and close ties to Vermont institutions, Middlebury Interactive is precisely the type of company we want to set down roots and grow here. The new initiative with the college will also help more Vermont students gain the language skills they need to prepare for the global economy."
Middlebury Interactive was created in 2010 as a joint venture of Middlebury College and Herndon, Va., based K12, Inc., the nation's largest digital education provider. Middlebury Interactive's courses were developed by Middlebury College professors based on the college's immersive language instruction method.
"Over the past century, the Middlebury College Language Schools have transformed the way adults learn languages," said Liebowitz. "Today, Middlebury Interactive is doing the same for K-12 students, and we want to ensure that Vermont students benefit from Middlebury's proven approach to language learning and cultural understanding."
Middlebury Interactive started 2012 with seven Vermont workers and now employs 22 in the Green Mountain State. The company projects it will double its Vermont workforce again by 2015, according to Swift. Middlebury Interactive also has a significant number of workers in Provo, Utah, as well as regionally-based employees throughout the country. But Swift noted that the new headquarters will strengthen the company's ties with Middlebury College and enable future growth in Vermont. 
"Middlebury Interactive is a unique employer in that it boosts the Vermont economy while helping prepare the state's future workforce," said Swift. "We believe that the market for world language learning is blossoming and that demand will fuel our expansion in Vermont for years to come."
Under the new Vermont World Language Initiative, Middlebury Interactive will provide the courses and support at a deep discount, while Middlebury College will donate the funds to help pay for the content and for professional development for teachers. In all, participating Vermont schools will save up to $2.6 million over four years while providing students and teachers with access to superior world language instruction and support.   
Under the Vermont World Language Initiative:
Any Vermont public or private secondary school is eligible for the program on a first-come, first-served basis. The program is currently capped at 30 schools statewide.
Middlebury Interactive will provide the courses at a significant discount to Vermont schools. This discount represents the equivalent of up to a total of $1.9 million, depending on the number of schools that participate. Schools will pay about $6,000 annually.
Middlebury College will cover $3,000 for course content and $2,750 for on-site teacher professional development training for each participating school per year―a total commitment of up to $690,000.
Middlebury Interactive's new headquarters, located at 23 Pond Lane in Middlebury, includes 11,000 square feet of office and conference space.  Burlington-based Redstone served as the company's commercial leasing broker and the building is owned by J.P. Carrara & Sons of Middlebury.
About Middlebury Interactive Languages
Middlebury Interactive is the academic leader in world language instruction for K-12 students. A joint venture between Middlebury College and K12 inc., Middlebury Interactive provides access to superior language programs and prepares students with the skills and cultural understanding to compete in the 21st Century global marketplace. Middlebury Interactive has taken Middlebury College's renowned world language curriculum, developed and refined over the past 100 years, and translated it to the digital and K-12 setting. Middlebury Interactive also offers in-person language immersion summer academies for middle and high school students.