Ambassador Dennis Ross to speak at Middlebury College March 12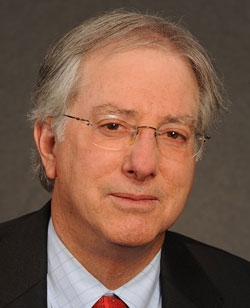 MIDDLEBURY, Vt. ― Ambassador Dennis Ross, one of the world's leading experts on Middle East politics, will give a talk, "Israel, the Peace Process, and the Implications of the Arab Awakening," on Tuesday, March 12, at 8 p.m. in Mead Chapel. For more than 12 years, Ross played a major role in shaping United States involvement in the Middle East peace process and dealt directly with the parties in negotiations. The event is free and open to the public.
Ross was the U.S. point person on the peace process under both Democratic and Republican administrations, serving in this role for both Presidents George H. W. Bush and Bill Clinton. Ross was instrumental in assisting Israelis and Palestinians in reaching landmark agreements, including the 1995 Interim Agreement and the 1997 Hebron Accord, and he facilitated the 1994 Israel-Jordan peace treaty.
Ross also served for two years as special assistant to President Obama and as senior director of the National Security Council for the central region, and for one year as special advisor to Secretary of State Hillary Clinton focusing on Iran. He is now counselor at The Washington Institute for Near East Policy.
Ross is the author of several influential books on the peace process, including "Myths, Illusions, and Peace: Finding a New Direction for America in the Middle East" (Viking, 2009), coauthored with Washington Institute peace process expert David Makovsky, and "The Missing Peace: The Inside Story of the Fight for Middle East Peace" (Farrar, Straus and Giroux, 2004).
"Ambassador Ross is that rare figure who is respected by Democrats, Republicans, Israelis and Palestinians alike," said Sarah Cohen, a Middlebury sophomore who serves as Israel Action chair on the college's Hillel board.
Cohen, who helped organize the event, said, "He exemplifies diplomatic excellence through his unique ability to cross political and social lines, facilitate conversation between parties, and reach solutions."
She added, "Middlebury values these same ideals, and we are fortunate to be part of a campus community that fosters open and constructive dialogue on contentious and often emotional issues."
The event is co-sponsored by the Office of the President and the Rohatyn Center for Global Affairs. For more information, contact Tamar Mayer, director of the Rohatyn Center for Global Affairs, at mayer@middlebury.edu or 802-443-5568.