Admitted students experience Middlebury College academics, social life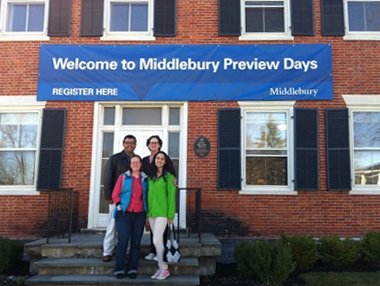 MIDDLEBURY, Vt.—More than 400 high school seniors who were admitted to the Middlebury College Class of 2017 attended Campus Preview Days, April 17-19.
Visitors to Middlebury were greeted by cool, crisp weather with spring flowers popping out of the ground as the staff of the Admissions Office, the senior admissions fellows and the entire college community was eager to meet new students.
Dean of Admissions Greg Buckles said, "We are pleased that attendance for our 2013 Preview Days mirrored that of our applicant pool, in that it was a record number of visitors, and it reflected the most racially, geographically and socio-economically diverse group in the college's history. And, the weather was great too!"
With a schedule of more than 60 activities spread over three days, the college made certain that there would be plenty for new students and their families to do.
On the academic side there were class visits, the Spring Student Symposium and presentations by the Language Schools, Education in Action and the environmental studies colloquium. Middlebury President Ronald D. Liebowitz gave an opening address and answered questions. There were panel discussions on "Feb" admissions and gap-year opportunities, an information session on financial aid, a green tour of campus, and a for-parents-only conversation with residence-life staff.
Throughout Preview Days there were numerous social events including a Quidditch demonstration, swing dancing practice, an a capella jamboree, storytelling with the Middlebury Moth, a club sports (rugby, cycling, ultimate Frisbee, etc.) info fair, bonfire at the organic garden and Riddim World Dance Troupe rehearsal. Three organizations — Socially Responsible Investing, the environmentally minded Sunday Night Group, and Divest for Our Future — held a joint meeting to discuss with admitted students the social and environmental movements on campus.
Admitted students have until May 1 to make their final decisions about attending Middlebury College.
-Story by Robert Keren