Middlebury College mourns loss of Kathryn Wasserman Davis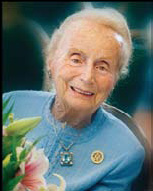 MIDDLEBURY, Vt. — Middlebury College has lost a person close to its heart, and the world has lost a champion for peace who used her fortitude and financial resources to advance cultural understanding around the globe.
Kathryn Wasserman Davis, the noted philanthropist and scholar who founded a program that funds college students' peace projects and for whom the Davis School of Russian at Middlebury College is named, passed away on Tuesday, April 23, at her home in Hobe Sound, Fla. She was 106 years old.
"We are saddened by the loss of Mrs. Davis, but we know that the many people whose lives she touched, both at Middlebury and around the world, will always smile when they hear her name," said Middlebury President Ronald D. Liebowitz. "During the past decade, hundreds of students in the Language Schools, at the Monterey Institute of International Studies, and in the undergraduate college have been the beneficiaries of Mrs. Davis's vision and generosity. Mrs. Davis challenged today's students, whom she referred to as 'the real movers and shakers' to do what previous generations could not do, which was to work effectively toward lasting peace in the world. And she did not stand by and watch, but rather demonstrated her commitment to this cause by becoming a true champion of international education and a force for the greater good."
An explorer of far-off places throughout her life, the adventurous Davis first visited Russia in 1929, traveling through the Caucasus Mountains on horseback with famed anthropologist Leslie White. The dangerous journey included a run-in with bandits who stole the group's food and horses.  
"We ate wild berries for breakfast and spit-roasted mountain goat for dinner," she told the Moscow Times in 2002. "And I couldn't have been happier." During her lifetime she returned to Russia more than 30 times, deepening her passion for its people, history and culture and developing friendships that included former Soviet President Mikhail Gorbachev, who was her dinner partner at her 95th birthday party.
After the terrorist attacks of 2001, Davis turned her philanthropic mission toward her vision for world peace and, in recognition of her efforts, received the 2006 Woodrow Wilson Award for Public Service from the Wilson Center in Washington, D.C., and the EastWest Institute's 2006 Peace and Conflict Prevention Award in Potsdam, Germany.
In a surprise appearance by Davis at the Middlebury Language Schools commencement in 2006, four remarkable events occurred. The 99-year-old philanthropist announced the creation of "100 Projects for Peace," a program for college students that fully funds their summer projects aimed at conflict prevention, resolution or reconciliation anywhere in the world. Middlebury students have conducted 13 such projects. She also announced the creation of "100 Summer Scholarships for Peace" to cover the full cost of attendance in the Middlebury Language Schools. The program is now called the "Kathryn Davis Fellowships for Peace: Investing in the Study of Critical Languages."
Also at the 2006 Language Schools event, the college conferred on Davis an Honorary Doctor of Humane Letters degree, and announced that the summer Russian School, which had been founded in 1945, would be renamed The Kathryn Wasserman Davis School of Russian.
"Some people think Russian studies aren't important anymore–don't ask me why!" Davis said in 1998. "The more people know about each other, the better, and this is what I am hoping will happen. And hopefully that will lead to world peace, which is my main goal."
Born in Philadelphia on Feb. 25, 1907, Davis was educated at Miss Madeira's School in Washington, D.C. She received a bachelor's degree from Wellesley College, a master's in international relations from Columbia University, and a doctorate from the University of Geneva, Switzerland. In addition to her honorary degree from Middlebury, she holds honorary doctorates from Columbia University and Wheaton College.
In 1934 her doctoral thesis, "The Soviets in Geneva," was published and became a best-selling book in Europe when her controversial prediction that the Soviet Union would join the League of Nations proved both timely and correct. She went on to write numerous articles on foreign affairs for publications ranging from the Readers Digest to The United States in World Affairs, a publication of the Council on Foreign Relations.
It was a shared interest in world affairs that first drew her to her husband of 62 years, the late Shelby Cullom Davis, who was the United States ambassador to Switzerland from 1969 to 1975, and later headed the New York investment firm that bears his name.
Kathryn Wasserman and Shelby C. Davis met on a train headed for Geneva in 1930 and discovered they had both recently traveled in Russia. After returning to New York and completing masters' degrees at Columbia University, and following a courtship at International House where they both resided, they were married on Jan. 4, 1932. They would return to Switzerland, first to complete their doctorates in 1934 and again during the years that Mr. Davis served as ambassador.
After her husband's death in 1994, Davis dedicated herself to philanthropy, primarily focusing on education and international affairs but also embracing a wide range of other causes. She was devoted to her alma mater, Wellesley College, serving on its board for many years and supporting numerous projects. Her passion for Russian studies impelled her in 1996 to make a sizeable gift to the Russian research center at Harvard University, which is now known as the Shelby C. Davis Center for Russian and Eurasian Studies.
Davis is survived by her daughter Diana Davis Spencer of Washington, D.C.; her son Shelby M.C. Davis of Jackson, Wyo.; eight grandchildren, including Lansing Davis, a member of the Middlebury Class of 2001; and 11 great-grandchildren.