Reproductive biologist Catherine Combelles wins Perkins Award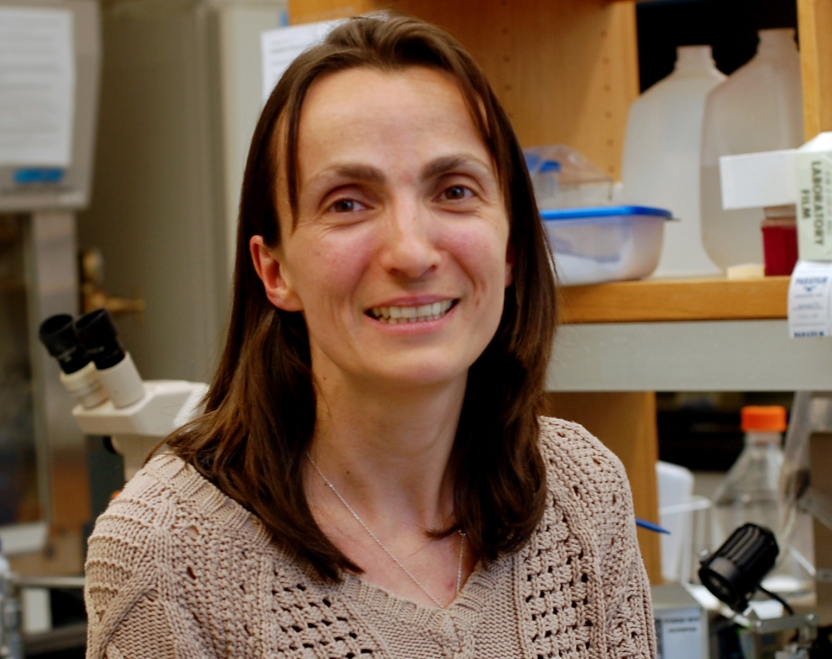 MIDDLEBURY, Vt. — Middlebury College has awarded the 2013 Perkins Award for Excellence in Teaching to Catherine Combelles, an assistant professor of biology who combines her passion for teaching with her cutting-edge research into oocyte development.
Leading a team of Middlebury undergraduates, Combelles is currently studying the effect of antioxidents on oocyte development under the aegis of a grant funded by the U.S. Department of Agriculture. (An oocyte is the cell from which an egg develops.) Combelles and her students have also frozen human oocytes to help young cancer patients preserve their fertility, and later this year she will submit a proposal to the National Institutes of Health for a major grant to study the effect of obesity on fertilized oocytes.
The Perkins Award recipient will be honored at a ceremony and reception open to the college community on Thursday, April 4, at 4:30 p.m. in Room 104 of McCardell Bicentennial Hall.
Combelles, who is originally from Toulouse, France, and who moved to the United States at the age of 18 to study marine biology, was recently promoted by Middlebury College to the rank of associate professor without limit of tenure (effective July 1, 2013).  She arrived at Middlebury in 2004 after earning her B.S. in biology at the College of Charleston, M.S. in zoology at the University of Hawaii at Manoa, and Ph.D. in cell, molecular and developmental biology at Tufts University.
She also was a postdoctoral fellow in the Department of Obstetrics and Gynecology from 2002 through 2004 at Brigham and Women's Hospital in Boston where she was a clinical embryologist assisting physicians and working with fertility patients.
"I truly enjoyed my daily work at the Brigham," Combelles recalls, "but I missed the academic environment. I missed going to lectures and teaching students and the rhythm of the academic schedule. That's when I realized that working at a liberal arts college would be the perfect way for me to combine my research with teaching. 
"At Middlebury I don't have to give up one for the other; I can do both. It's like I always tell my students, 'If you are happy doing something that you love, you'll be committed to it and much more productive,' and that's the case with me."
Combelles has published over 25 articles in peer-reviewed journals, including several that she co-authored with Middlebury students in publications such Reproduction, Fertility, and Development and The Journal of Assisted Reproduction and Genetics. She recently published an article entitled "The association between severe obesity and characteristics of failed fertilized oocytes" in the November 2012 issue of the journal Human Reproduction. 
The Perkins Award is provided by the Professor Llewellyn R. Perkins and Dr. Ruth M.H. Perkins Memorial Research Fund, and it was made possible by a gift from Ruth Perkins, Middlebury Class of 1932, in memory of her husband, Llewellyn, who taught at Middlebury from 1914 through 1941. Professor Perkins founded and chaired the mathematics department.
Their children, Marion Perkins Harris '57, a science teacher, and David Perkins, a physician, augmented the fund and expanded the scope of the award to honor their mother, Ruth, as well as their father. The award supports the recipient's faculty development. It is presented in even-numbered years to a member of the mathematics or computer science department, and in odd-numbered years to a faculty member who teaches in the natural sciences.
With reporting and photography by Robert Keren