Bill McKibben Wins Sophie Prize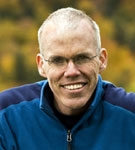 Author and activist Bill McKibben is this year's winner of the Sophie Prize, one of the world's major environmental awards, the Norway-based prize jury announced today.
The jury cited McKibben, the founder of 350.org, for "pioneering new methods of social protest," from internet-based organizing to the widespread civil disobedience confronting the Keystone XL pipeline. Past recipients of the award include Nobel laureate Wangari Mathaai, and Orthodox Patriarch Bartholomew.
"This is really an award for the millions of people who make up the growing climate movement," said McKibben, Schumann Distinguished Scholar at Middlebury College.
The Sophie Prize was established in 1997 by the Norwegian author Jostein Gaarder, in the wake of his novel "Sophie's World," an international bestseller. "It's a special pleasure that this honor has literary roots," said McKibben, whose 1989 book "The End of Nature" is generally regarded as the first book for a general audience on climate change. "It's also a delight because my only child is named Sophie!"
"In certain ways this has been a depressing spring," said McKibben. "We've watched the planet's carbon concentrations move beyond 400 parts per million for the first time since the evolution of humans. Against that, however, there's real solace in the emergence of a global movement. At least humans are starting to fight back against the fossil fuel industry."
McKibben has won several other prizes this spring, including the Gandhi Prize (first awarded to Eleanor Roosevelt in 1948), the 2012 literary prize of the American Academy of Arts and Letters, and the "Steward of God's Creation" award from the National Religious Coalition on Creation Care. In addition he's received honorary degrees at commencement ceremonies at Eckerd College in Florida and the Rhode Island School of Design, the Dean's Medal from the University at Buffalo, and the Anvil of Freedom Award from the journalism school at the University of Denver.