Class of 2013 Celebrates Commencement
On an unusually wet and chilly Memorial Day weekend, Middlebury College welcomed 557 members of the class of 2013 to its alumni community. For the first time in 21 years, the ceremony was forced indoors after several days of relentless rain, wind and raw temperatures. Inside Nelson Recreation Center, graduates processed down the center aisle, flanked by 45 flags representing the nationalities of the graduating class.
See the speakers from commencement
Commencement speaker Jonathan Safran Foer
[video:http://vimeo.com/67020188 width:280 ratio:16/9]
Student speaker Bronwyn Oatley
Author Jonathan Safran Foer gave the commencement address to the packed house. Foer's first novel, "Everything Is Illuminated," an international best seller, was published when he was not much older than the graduates sitting before him. That book was a summer reading assignment for the class of 2013 before they arrived on campus in 2009. This year the class nominated Foer to be their commencement speaker.
By turns funny and deeply thought provoking, Foer offered a cautionary tale about the growing intrusion of technology on both human experience and memory. He asked the students to consider whether the ways we communicate with each other are eroding meaning from our lives.
Foer said that, as he prepared for his talk at Middlebury, he naturally thought back to his own college graduation 15 years ago. He noted that he could remember nothing of the speaker at his own commencement. Then he predicted that in 15 years, the class of 2013 would "remember" every word of his speech — not because of his brilliance, but because of technology. "You won't remember these words because you won't need to," he said, "because everything will be remembered for you. In that way, all that ever happened will be at your fingertips."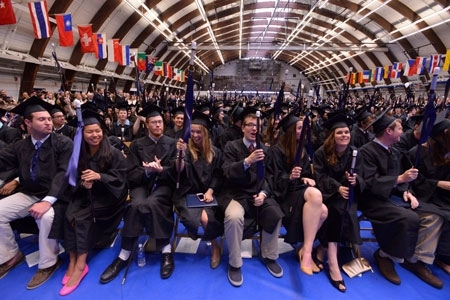 Graduates raise their canes in the air.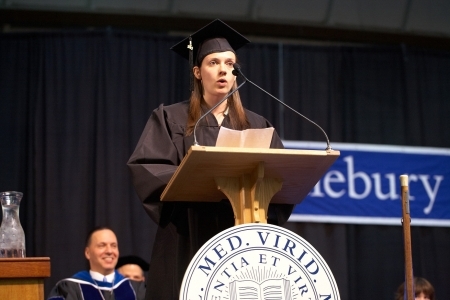 Student speaker Bronwyn Oatley.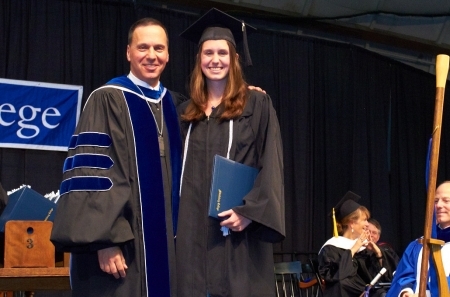 President Ron Liebowitz with valedictorian Dana Callahan. (Salutatorian Jordan Ricigliano received her degree in absentia.)
Photos by Todd Balfour and Brett Simison
The emotional depth of our experiences is lessened by proliferating communications technologies, said Foer.  "Each step forward in technological communication has made things more convenient. But each step has also made it easer, just a little bit easier, to avoid the emotional work of being present. To write 'LOL' rather than to actually laugh out loud; to send a crying emoji rather than actually crying; to convey information rather than humanity. It's never been easier to say nothing."
Foer noted that many technologies, which began as conveniences, have evolved into new ways to retreat from the most difficult aspects of human relationships. He urged graduates to embrace these challenges and be present. "This is the work of being human. It can be messy and painful, and almost impossibly difficult, but it is not what we give; it is what we get in exchange for having to die. And it is beautiful."
Earlier in the ceremony, student speaker Bronwyn Oatley spoke to her classmates. Oatley, a reporter and photographer at the student newspaper since her first year, invoked the George Bernard Shaw quote, "…all progress depends on the unreasonable man."  She noted with pride that if Shaw got a look at today's graduating class, he would find plenty of unreasonable people.
Oatley said she had taken the occasion to look back through issues of the Middlebury Campus over her four years and saw many headlines detailing the remarkable achievements of this class. But what inspired her more, she says, were the quieter, less visible achievements — students who coped with the loss of a parent; students who were the first in their family to attend college; students who struggled with mental illness.
"For all of us, this weird little extraordinary community has provided the foundation upon which to we could explore our intellectual, athletic, artistic or spiritual selves," Oatley said.
Among the senior class was one student familiar with the challenges that follow college. A member of the Class of 1970, Howard Sorett is a sociology/anthropology major who left Middlebury having completed all his academic work except for his thesis. Deciding that he wanted his degree, Sorett fulfilled his remaining requirement this year and proudly accepted his diploma with the Class of 2013 at age 64.
Foer received an honorary Doctor of Letters Degree. Four other distinguished men and women also received honorary degrees including: internationally celebrated artist and photographer Edward Burtynsky received an honorary Doctor of Arts Degree; Megan Camp, vice president and program director at Shelburne Farms, received a Doctor of Letters Degree; Jacqueline Novogratz, founder of the nonprofit global venture fund, Acumen, received a Doctor of Humane Letters Degree; and Middlebury alumnus Stuart Schwartz '62, the George Burton Adams Professor of History at Yale, received a Doctor of Letters Degree. More detail about the honorary degree recipients can be found here: http://www.middlebury.edu/newsroom/archive/524638/node/448486
In keeping with tradition, the first two diplomas were presented to valedictorian Dana Goodwin Callahan, a neuroscience major from Essex, Conn., and salutatorian Jordan Lynn Ricigliano (in absentia), a sociology/anthropology major and environmental studies minor from Outlook, Wash.
           
Reported by Stephen Diehl