Middlebury College Statement on Natural Gas Pipeline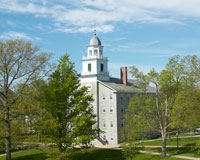 Note: President Ron Liebowitz sent the following statement to the college community on May 6.
During the past few weeks, a number of members of the Middlebury community have expressed their opposition to the construction of a natural gas pipeline from Colchester, VT, which is north of Burlington, to Chittenden and Addison counties in Vermont. Middlebury College wrote a letter of support in March 2011 for what is now referred to as Phase I of the pipeline project, and while we have been asked to withdraw that support, we continue to believe that the pipeline will benefit the region and the College in numerous ways for years to come.
While we continue to listen to, and understand, the arguments against the pipeline, we believe that they do not fully take into account the economic needs of the communities around us, or the lack of sufficient alternative sources of comparable energy in the near term. Ultimately, we believe the pipeline will contribute to the economic welfare of the region and that it would be unacceptable for us to stand in the way of real and measurable progress toward goals broadly shared in our community.
Phase I of the Addison Natural Gas Project is a 41-mile natural gas transmission pipeline, with associated facilities in Middlebury, New Haven and Williston, Vermont. The project will allow for the distribution of natural gas to about 2,000 homes and businesses in Middlebury, and another 1,000 in Vergennes. For the first time, these homeowners and businesses will have the choice of converting their current fuel-oil heating systems to cheaper, cleaner natural gas. The Middlebury Select Board and Middlebury Planning Commission both support the extension of natural gas service to the town of Middlebury, as does Vermont Governor Peter Shumlin. Cabot Creamery, one of the area's largest employers, strongly supports the pipeline and says it will save the farmers' cooperative hundreds of thousands of dollars a year while benefitting the environment. Cabot's cheese-making facility in Middlebury employees 120 workers and produces 55 million pounds of cheese a year.
Homeowners who are able to connect to the natural gas distribution network stand to save between $1,500 and $2,000 each year. For businesses in the area, the savings they achieve can create the opportunity for new jobs, or make the difference between staying in business, moving to another state or shutting down altogether, which has happened too often in recent years. For public institutions such as schools and healthcare facilities, it means reduced costs at a time when funding streams are stagnant or being cut. Middlebury College has a long history of working closely with our community to support and stimulate economic activity. We know that many families and businesses in our region are struggling. The pipeline can provide them with a less expensive and cleaner burning alternative to high-carbon fuel oil.
The proposed pipeline is meaningful to the College and the local farming economy for another reason. To help fulfill the College's goal of reducing our own carbon footprint, as well as our ambitious commitment to becoming a carbon-neutral campus by 2016, we hope to launch a bio-methane gas project that will create renewable natural gas using manure from local dairy farms and food waste from area businesses. The project, which will connect to the pipeline, will allow the College to reduce our use of fuel oil by approximately 640,000 gallons a year. We also are hopeful that the existence of the pipeline will encourage and support other bio-methane projects in the area as a way to diversify and increase farm revenues.
One of the primary complaints being voiced against the pipeline is that some of the natural gas it transmits may be extracted through hydraulic fracturing, also known as fracking. Unquestionably, this is true. The natural gas that Vermont Gas transmits to Vermont currently, and that would pass through the pipeline to Middlebury, originates in western Canada, and some portion of it is fracked.
We understand that fracking is a controversial issue and that many people object to fracking in all circumstances. However, the steep increase in the amount of fracked natural gas in the North American distribution system means that it is virtually impossible to ensure delivery of only unfracked natural gas. It is important to note that the same is true for fuel oil and the gasoline used in automobiles, both of which are products of crude oil, which increasingly is extracted using hydraulic fracking.
We are concerned about the environmental impact of fracking and support efforts at the local, state and federal levels to ensure that extraction of gas and oil is done safely and responsibly. We also support efforts to develop and distribute energy produced by renewable technologies that reduce the use of fossil fuels. The College has been a leader on this front and has embraced the use of alternative energy sources such as biomass, solar and wind.
Middlebury remains committed to reducing its carbon footprint and to achieving carbon neutrality on our campus by 2016. We are equally resolved to increasing the use of clean, renewable energy. We believe that our support for the natural gas pipeline to Middlebury is consistent with Middlebury College's long-standing commitment to the environment and to the economic well being of the community around us.
Ron Liebowitz