Middlebury Students Earn National Fellowships and Scholarships
Note: Spring is the time of year when national foundations, organizations and agencies announce the recipients of fellowships, scholarships and awards. The Communications Office will continue to update this story as more announcements are made.
MIDDLEBURY, Vt. — Barbara Ofosu-Somuah, a senior from the Bronx, N.Y., is the recipient of the Thomas J. Watson Fellowship — a year of fully-paid, independent, purposeful exploration and travel outside of the United States to enhance her capacity for resourcefulness, imagination, openness and leadership, and to foster her humane and effective participation in the world community.
Ofosu-Somuah is a joint psychology and sociology major who immigrated to the United States from Ghana at the age of nine. During her "Watson year" she plans to explore the role of hair in Black, Latina and multiracial cultures in Brazil, Dominican Republic, South Africa, Suriname and Jamaica.
"I will focus on engaging in conversations with women of African and African-influenced cultures to understand how hair is not simply a physical feature, but can hold strong cultural connections tied to traditions and beliefs," Ofosu-Somuah wrote in her proposal. "I recognize that hair, just as race and gender, is a point of cultural inquiry."
A total of 40 Thomas J. Watson fellows were selected this year from a field of over 700 candidates. 
---
Daniel Loehr, a junior from Andover, N.H., is the recipient of a 2013 Truman Scholarship. Established by Congress in 1975 to honor the 33rd president, the Harry S. Truman Foundation selected Loehr on the basis of his academic record, his leadership skills and his "likelihood of becoming a public service leader." Truman Scholars receive up to $30,000 for graduate study in addition to leadership training, specialized counseling and internship opportunities within the federal government.
In his application to the Truman Foundation, Loehr said he plans to attend an American law school "so I can legally advise and represent low-income immigrants. A law degree will also help me draft legislation. While I firmly believe in service work that alleviates the negative affects of the current immigration system on people, I am primarily committed to addressing the root of the problem with better policy."
Although he will not be applying to law school for at least another year, Loehr listed New York University, Berkeley, Columbia and Northeastern as his top choices for earning his degree in law.
The Truman Foundation selected 62 new Truman Scholars in 2013 from among 629 candidates nationwide.
---
The Fulbright Program is the flagship international educational exchange program sponsored by the U.S. Department of State. Founded by the late U.S. Senator J. William Fulbright, it is designed to increase mutual understanding between the United States and other countries. The program offers fellowships for U.S. graduating college seniors, graduate students, young professionals and artists to study, conduct research or serve as an English teaching assistant abroad for one academic year.
Seven Middlebury seniors have received Fulbright award notifications this year. They are:
Emily Ashby, an international studies major from San Antonio, Tex., has been awarded a Fulbright grant to be an English teaching assistant in Portugal next fall. Emily spent some of her childhood years in Portugal and later returned to Lisbon for her study-abroad experience. While minoring in Portuguese at Middlebury, Emily was also an admissions fellow and a member of MOQA, Juntos and the Equestrian Club. 
Maria Benjamin, from Fairfield, Conn., majored in religion and minored in Arabic, and will be in Jordan next year studying the intersection between Islam and Jordanian law. Maria studied abroad in Amman, Jordan, with the C.V. Starr-Middlebury School in the Middle East where she wrote a paper on "The Role of Religion in the Arab Spring" and was a faculty research assistant on a project relating to Christians in the Middle East
Nathaniel Brown, an international politics and economics major from Charlotte, N.C., will return to China for his Fulbright year to examine how the pottery industry affects cultural preservation and economic stability. Nathaniel, who studied in Taipei, has worked as a journalist in Taiwan, an editorial intern in Beijing and an English teacher in Shijiazhuang. His proficiency in the Mandarin language earned him third place in the Hanban Chinese Speaking Competition.
Steven Dunmire, a sociology major from Orefield, Pa., has been chosen for a Fulbright grant to serve as an English teaching assistant in Mexico. With his minor concentrations in education studies and Spanish at Middlebury, and with his impending Fulbright experience, Steven will be well positioned to teach in underserved communities with the ultimate goal of affecting policy to improve educational opportunities and outcomes for disadvantaged students.
Cody Gohl, from Carrollton, Tex., is an English and American literatures major who was awarded a Fulbright grant to be an English teaching assistant in Thailand next year. Cody pursued multiple outlets for creative expression while at Middlebury. He co-founded the Middlebury MOTH storytelling program, coached the Poor Form Slam Poetry Team, wrote for and edited MiddBlog and the literary magazine Sweatervest, and wrote and directed the play "If." He also tutored Somali-Bantu refugees in Vermont and taught English and theatre in Spain.
Nathan Goldstone, a Russian major from Delafield, Wisc., was chosen to receive a Fulbright grant to return to Russia to conduct biographical research on the writer Aleksandr Vampilov, who is considered by some in Russia to be a "modern Chekhov." The aim of Nathan's research is to enhance his current project, which is to complete a translation of Vampilov's first collection of short stories. An accomplished writer himself, Goldstone won a full scholarship to the 2012 Bread Loaf Writers' Conference.
Hannah Postel, from Madison, Wisc., is an international politics and economics major who will travel to Zambia on her Fulbright grant to study the economic, social and political integration of the Chinese migrant community there. With her Chinese language skills and deep interest in transnational migration and immigration policy, Hannah previously studied Chinese migrants in Chile, worked as an intern for the Committee on Foreign Affairs and assisted the State Department in China.
---
Three Middlebury students — seniors Daniel Egol and Emma Loizeaux, and sophomore Phillip Chang – have been awarded 2013 U.S. Department of State Critical Language Scholarships.
Established as part of the "U.S. government effort to expand dramatically the number of Americans studying and mastering critical foreign languages," the State Department-sponsored program provides fully-funded, seven-to-10-week intensive language and cultural enrichment experiences to participants who plan to apply their critical language skills in their future professional careers. In 2013 a total of 610 undergraduate and graduate students received the scholarships to study at prescribed language institutes.
Daniel Egol, from Briarcliff Manor, N.Y., will study Chinese this summer in China; Emma Loizeaux, from Hyattsville, Md., will study Hindi in India; and Phillip Chang, from Orinda, Calif., will study Korean in South Korea.
In addition to Chinese, Hindi and Korean, the State Department considers Arabic, Azerbaijani, Bangla, Indonesian, Japanese, Persian, Punjabi, Russian, Turkish and Urdu on its list of 13 "critical languages."
---
Gillian Lui, a senior environmental studies major from Palo Alto, Calif., has been awarded the Keasbey Fellowship for one year of graduate study at the University of Cambridge in England. Funded by the Keasbey Memorial Foundation, Gillian will work toward a master's degree in plant sciences by studying with the Department of Plant Sciences in the Forest Ecology and Conservation Group. 
Gillian has completed extensive research on carbon sequestration in her senior thesis at Middlebury, during a research experience for undergraduates at Stanford University, and as a laboratory intern at the Lawrence Berkeley National Laboratory on the campus of UC-Berkeley. While at Middlebury Gillian studied abroad at Yunnan University and completed an independent research project on environmental issues in China. She was a member of both the 2011 and 2013 Solar Decathlon teams, and she coordinated a new student organization called Xiao Pengyou (meaning "little friends") in which students of Asian backgrounds are paired with adopted Asian youth in rural Vermont.
The Keasbey Fellowship is available on a rotating basis to graduating seniors at  12 highly competitive American colleges, including Middlebury. It provides funding for up to two years of tuition, fees and living expenses at one of four universities in the United Kingdom: Cambridge, Oxford, Edinburgh and the University of Wales.
---
April Dodd, a member of the Class of 2013 from Lexington, Ky., has been awarded an English teaching assistantship from the government of France and will be an instructor in the city of Lyon for a year. April, an independent scholar in linguistics with a minor in Russian, is TESOL (Teaching English to Speakers of Other Languages) certified and served as an ESL (English as a Second Language) volunteer tutor with Juntos, the student organization that assists migrant workers in Vermont. Dodd also worked as a world languages teacher at the Bridge School in Middlebury, an interpretation intern at NYU Langone Medical Center, and as an interpreter at a hearing and speech center in Lexington.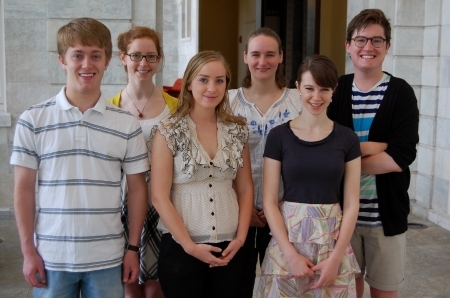 Fellowship recipients (from left): Steven Dunmire, April Dodd, Emily Ashby, Maria Benjamin, Hannah Postel, and Cody Gohl. 
Reporting and photography by Robert Keren