Trustees Grant Tenure to Two Faculty Members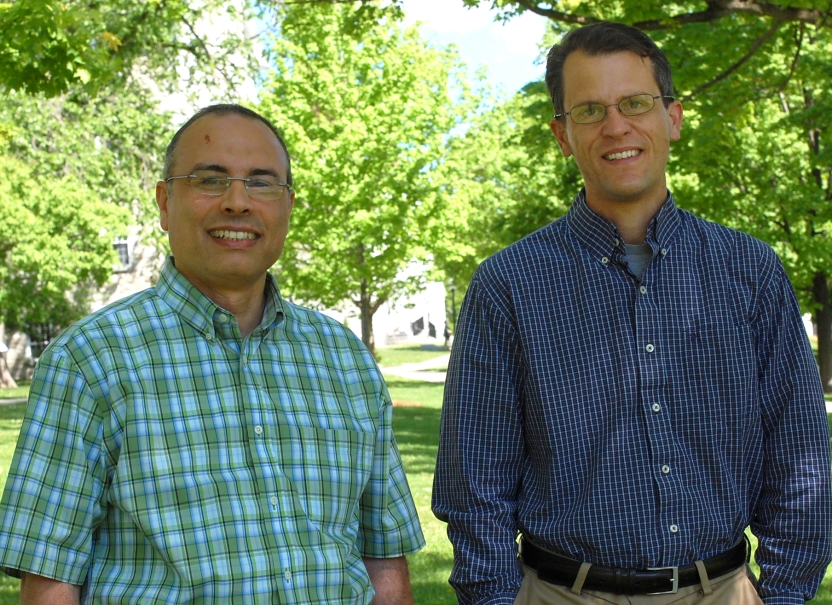 MIDDLEBURY, Vt. – Two members of the Middlebury College faculty have been promoted to the rank of associate professor without limit of tenure.
The board of trustees, at its meeting in May 2013, accepted the recommendations of President Ronald D. Liebowitz and the board's educational affairs committee in promoting: Usama Soltan (Arabic and international studies) and Mark Spritzer (biology).
Their promotions from assistant professor to associate professor will take effect on July 1, 2013.
Usama Soltan is Middlebury's first tenured faculty member in the Arabic program. Since his arrival at Middlebury in 2006, Soltan has taught courses in beginning, intermediate and advanced Arabic, introduction to linguistics, and Arabic sociolinguistics. Students give him glowing evaluations for his commitment to their learning, and an external reviewer said his scholarship in Arabic theoretical linguistics "demonstrates an unusual ability to integrate theory and empirical research, and to present results with clarity and lucidity." Soltan earned his bachelor's and master's degrees at Ain Shams University in Cairo, Egypt, and his doctorate in linguistics from the University of Maryland. At Middlebury he has assisted in developing the college's nascent linguistics program and served on the advisory board for the C.V. Starr-Middlebury School in the Middle East.
Mark Spritzer joined the Department of Biology in 2006 after earning a bachelor of arts degree from the University of Montana, a master of science degree at the University of Florida and a doctor of philosophy in biology from Miami University. Spritzer is broadly interested in how selective pressures have shaped behavioral traits and in the underlying physiological mechanisms that lead to individual differences in behavior. One external reviewer termed Spritzer "an important contributor in the fields of behavioral neuroscience and behavioral endocrinology," while another said his research, which has implications for the treatment of dementia, is "groundbreaking and important from a human-health perspective." Since arriving at Middlebury he has taught courses in vertebrate biology, endocrinology, animal physiology and neuroplasticity, and has served on both the health professions committee and the institutional animal care and use committee.