Town of Middlebury and Middlebury College Announce Commitment to Fund Local Initiatives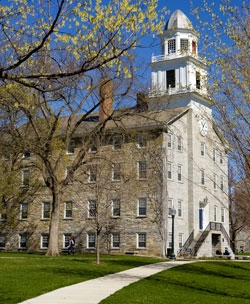 MIDDLEBURY, Vt. – The town of Middlebury and Middlebury College today announced a commitment to a series of projects that promise to create an even more vibrant downtown in this historic community.
The town and college have agreed to jointly fund the construction of a new town hall and a new town recreation facility, pending approval at a future Middlebury town meeting. The total cost of the two projects, including razing the existing town hall and gymnasium, will be $7.5 million. Middlebury College will contribute $5.5 million toward the project and the town of Middlebury the remaining $2 million.
The new town offices will be constructed at 77 Main Street, adjacent to Ilsley Public Library, on the site partially occupied today by Osborne House. The new recreation facility, which will include a gymnasium, will be built at Rec Park (Memorial Sports Center), consolidating the town's primary athletic and recreation facilities in a single location.
The plan will create a new triangular public park and green space on the land currently occupied by the town hall and gymnasium. That land will be owned by Middlebury College.
"Middlebury College has been the town's college for more than two centuries and our futures are inextricably linked," said Middlebury College President Ronald D. Liebowitz. "We are committed to the view that what is good for the town is good for the college and vice versa."
As part of the plan, Osborne House will be moved to a vacant town-owned property on the corner of Cross and Water streets. Title to that property will be transferred to Middlebury College.
The town hall and recreation center project culminate a decade-long effort by the town of Middlebury to replace those two aging facilities.
"It became clear in late 2012 that the town office and recreation project would be too much for the town to manage alone," said Dean George, chair of the Middlebury Selectboard. "We are grateful for the generous financial support from Middlebury College. We now have an opportunity to move ahead and we look forward to the public's participation and support for the project."
The town and college also announced today that they are working together on two other downtown projects:
•    Middlebury College will acquire and transfer to the town the vacant Lazarus property, which will allow for the widening of Printer's Alley to allow for two-way traffic. This will improve pedestrian, bicycle and vehicular access to the riverfront and Marble Works area just to the west of Main Street.
•    The town will transfer to the college the title to town-owned portions of the property behind Ilsley Library, which will be joined with land already owned by the college into a single parcel that can be developed as envisioned by the town's Economic Development Initiative, which was endorsed by the Vermont Council on Rural Development.
"I'm delighted to see how the town and college have been able to come together to find ways to improve the vitality of our downtown," said Liebowitz. "This is a partnership that I believe can stand as a model for any college community."