College Honors Four Staff Members for Excellence on the Job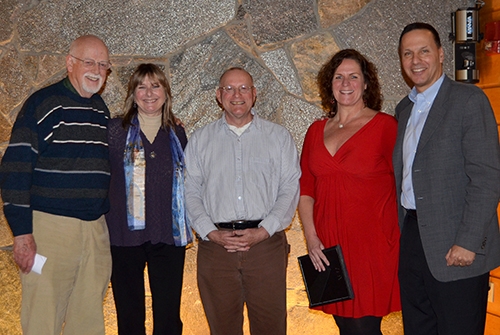 MIDDLEBURY, Vt. — Four members of the staff at Middlebury College were honored as the 2013 recipients of the Staff Recognition Award at a noontime reception and ceremony on Oct. 30 in McCullough Student Center.
Nominated by their peers and selected by a committee of previous recipients of the award were Margaret Burns, director of internships, Center for Careers and Internships; Nancy Parsons, catering and convenience foods coordinator, Retail Food Operations; Tom Sheluga, laboratory stores manager, Sciences Technical Support Services; and Mary Carr Stanley, space manager, Facilities Services.
The annual award recognizes excellence on the part of staff members in four areas: leadership, stewardship, attitude and community service. It was established through the generosity of Rudolf K. Haerle, Jr., professor emeritus of sociology, to honor outstanding members of the Middlebury College staff.
Approximately 100 people, including Prof. Haerle, gathered in the Crossroads Café as President Ronald D. Liebowitz introduced each recipient, read a citation and presented each with a plaque.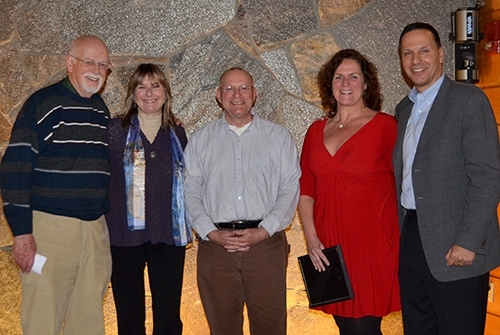 Left to right: Prof. Emeritus Rudolf K. Haerle., Jr., Peggy Burns, Tom Sheluga, Mary Stanley and President Ronald D. Liebowitz. Missing from photo: Nancy Parsons. 
Margaret "Peggy" Burns was saluted for the "deep respect she shows to students, for her abiding care for the college community and her unmatched collegiality in her interactions with others." President Liebowitz said, "Peggy touches the lives of students in a deep and meaningful way, and exhibits spirit, determination, focus and grace under pressure."
Nancy Parsons was recognized for her "leadership, can-do attitude and dedication to her job for customers at The Grille, at Wilson Café and in Midd Express," the college's convenience store. Nancy "truly believes that our customers, especially the students, benefit the most when all of us strive to do our best work every day," the president stated.
Tom Sheluga was nominated for his award by faculty and staff in McCardell Bicentennial Hall who said, "Tom brings an upbeat vibe to work every day with his positive attitude, witty good humor, unflappability and technical problem-solving ability." Tom is conscientious in his mentoring of student workers and plays a huge role in the daily operations of his building, Liebowitz noted.
Mary Carr Stanley was lauded as "well organized, responsive, thoughtful and creative," and was nominated for her "uncanny ability to find innovative solutions to the problems and requests" that arise when faculty and staff are asked to move to another office space. Mary is "an unsung hero at the college" as she coordinates the details involved in outfitting new and renovated spaces at Middlebury, Liebowitz said.