College Statement Regarding September 11 Incident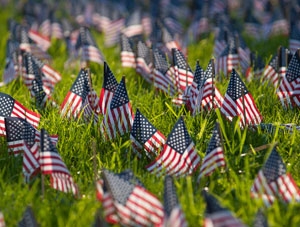 On the afternoon of Sept. 11 a small group of individuals pulled from the ground and placed into garbage bags nearly 3,000 American flags that had been placed on the lawn in front of Mead Chapel by Middlebury College students to commemorate the anniversary of the Sept. 11 2001 terrorist attack on the United States, and the deaths of 2,977 people. The tradition of placing these flags in a prominent position on campus began several years ago.
According to interviews with witnesses, five individuals participated in the act. One was identified as a Middlebury student who later acknowledged her participation. Another was a Canadian national and political activist who had been invited to the campus by the Middlebury student. The identities of the other three are unknown. We have no evidence that any of them are Middlebury students.
During the incident, several Middlebury students confronted the individuals and following a brief confrontation were able to retrieve some of the flags. Those flags were returned to their positions. Other students purchased additional flags and added those to the commemorative memorial.
On Sept. 24, the College convened the Middlebury Community Judicial Board to consider disciplinary charges brought against the student. The board found the student responsible for violating the following College policies: General Conduct Standards, Respect for Persons, and Respect for Property. It imposed a sanction of a one-year suspension, which was upheld on appeal on Oct. 9.