New Squash Center Set To Open This Month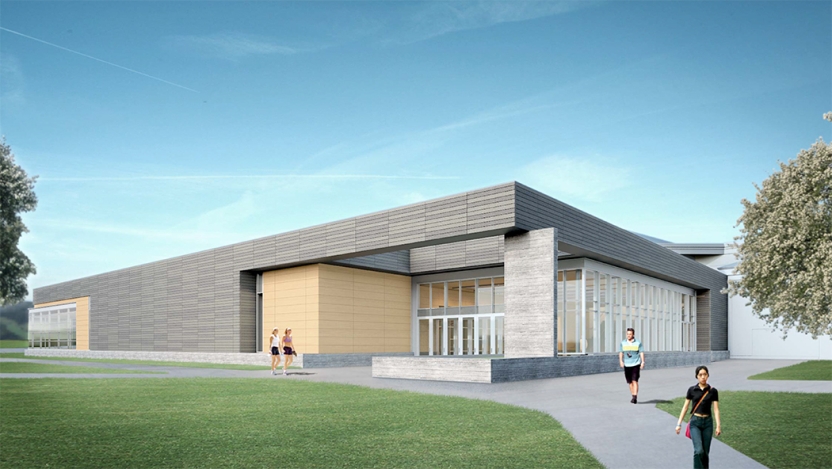 MIDDLEBURY, Vt. – Middlebury College's new nine-court Squash Center will open in time for the first official day of men's and women's varsity squash practice on Nov. 1, and will host its first intercollegiate match two weeks later.
Designed by ARC/Architectural Resources Cambridge and built by Engelberth Construction of Vermont, the 18,000-square-foot Squash Center will replace the five courts formerly located in the now-defunct Bubble and will give the college community a modern structure dedicated to the sport.
John Illig, now in his seventh season as Middlebury's squash coach, said the new center will be "one of the finest collegiate squash venues in the country." Visitors will be able to see into all nine courts from the center concourse, there will be seating for hundreds of spectators, and the expansiveness of the space will allow Middlebury to host more home matches and tournaments.
The Squash Center "will help us to continue to attract outstanding players, to work with more players in the program, and to increase intramural, junior varsity and recreational opportunities for all," Illig added. "It's an extremely comfortable space with its own fitness room and rest rooms, and its nine courts will bring the Middlebury squash program up to speed with the other excellent athletics facilities at the college."
Work is now complete on the construction of the maple flooring inside each of the nine courts. Over a base of concrete and a layer of moisture-resistant material, the contractor positioned strips of three-quarter-inch plywood with rubber nipples on the bottom to give the surface a measure of springiness. Crisscrossing that layer are half-inch plywood planks topped with the final course of unfinished three-quarter-inch maple flooring.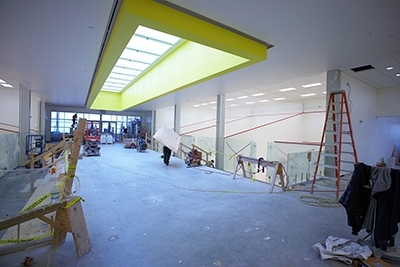 The interior of the Squash Center is nearly completed.
Connected to the southeast end of the Peterson Family Athletic Complex, the nine squash courts are arranged around a central corridor covered by a skylight to allow filtered, natural light into the space and provide the building with a distinctive architectural element.
Last week, as the grand opening of the center drew near, dozens of construction workers were busy at the site installing fixtures and signage, laying carpeting and rubber flooring, and putting in benches and display cases.
The Squash Center will be unveiled on Saturday, Oct. 26, during Homecoming weekend. The building is expected to qualify for LEED certification from the U.S. Green Building Council.
With reporting by Robert Keren and photo by Todd Balfour.