Middlebury Welcomes 99 New Students to Campus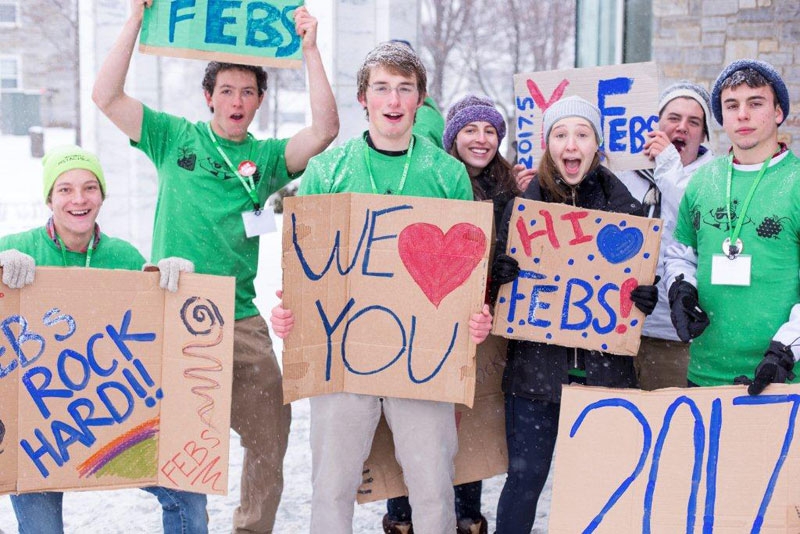 With snow falling steadily outside, Middlebury College rolled out the welcome mat for the 99 new members of the Class of 2017.5 as they arrived on campus February 5 for orientation, which takes place February 5-9. Known as "Febs" because they arrive this month, the new first-year students represent about 14 percent of their class.
"I loved not being a student for a short time, but now I'm so excited to be a student at Middlebury," said Anna Dennis, who was checking in at the welcome center. Between high school and Middlebury – students often describe this time as a "Febmester" – Dennis studied Spanish in Costa Rica, then volunteered in Peru, building stoves and water filters.
Orientation activities include convocation, a square dance, meetings with advisers, and a trip to one of the College's two ski areas—the Snow Bowl for downhill skiing or Rikert Nordic Center for cross country. Also on the schedule is the Voices of the Class Dinner Theater, where a group of sophomore "Febs" act out scenes inspired by the younger "Febs'" admissions essays.
Coming from 27 states, Washington, D.C., and six countries, the new
students include athletes, outdoor enthusiasts, and volunteers. During high school, one student spent a semester in the winter trekking and canoeing 300 miles in northern Vermont and New Hampshire. Another founded the girls ice hockey program at her high school, an effort that included raising money and convincing the local school board to give its approval. Also among the "Febs" is a student who started an organization that raises money to buy mosquito nets for people living in Senegal and another who volunteered at a chimp refuge shelter in the Congo.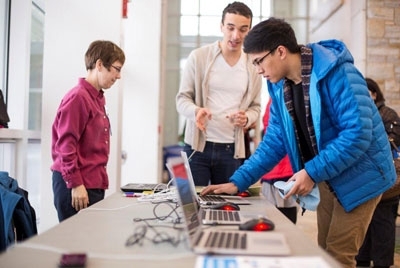 A new "Feb" registers at the orientation welcome center in Axinn.
Along with their high school experience, many "Febs" bring with them to Middlebury a new perspective from traveling, working, or volunteering before starting college. Matt Floyd studied at the University of St. Andrew's in Scotland while August Laska worked as an intern at a Broadway production company in New York. Sarah Dohan taught English in a school in Nicaragua.
"Feb" orientation takes place during the February break. Classes for the second semester begin on Monday, February 10.