Oscar-Winning "12 Years a Slave" has Middlebury Tie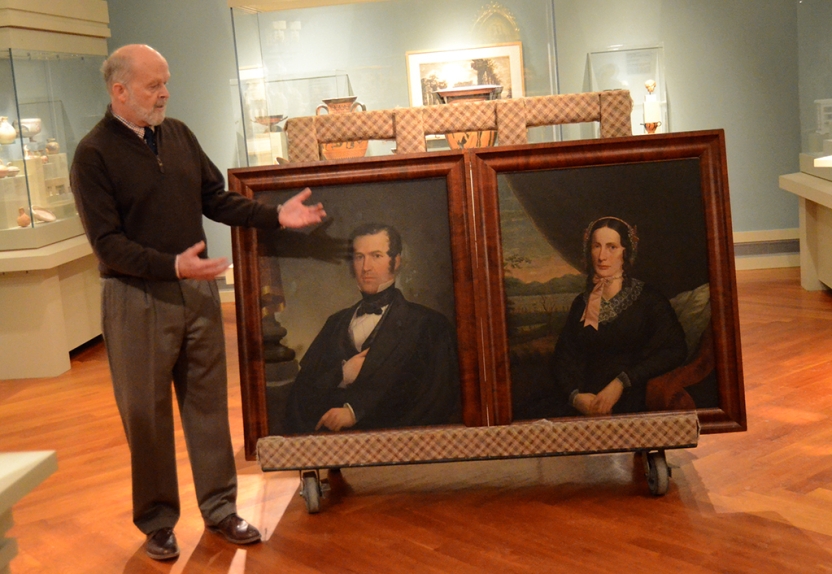 MIDDLEBURY, Vt. – Middlebury College has acquired two oil paintings from the 1830s that represent a surprising Middlebury connection to the Oscar-nominated film "12 Years a Slave," and to the man who rescued the main character from bondage in Louisiana.
In the film a shopkeeper from upstate New York rescues Solomon Northup, but in the memoir written by Solomon Northup and published in 1853, his rescuer was actually Henry Bliss Northup, a member of the Middlebury College Class of 1829 and a prominent upstate attorney.
The two men – the freeman who was illegally enslaved for 12 years and the Middlebury graduate who rescued him – share the same last name because their families were linked: in the late-18th century Henry Bliss Northup's relatives owned members of Solomon Northup's family.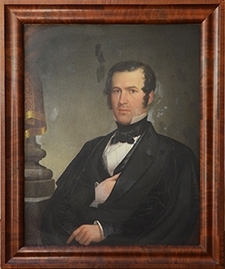 liss_northup-225" title="henry_bliss_northup-225" width="225" height="269" />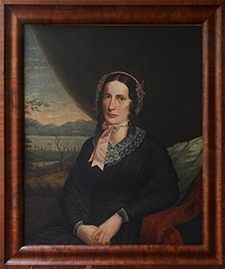 em></p>" title="electa_taylor_northup-225" width="225" height="269" />
The College recently acquired portraits of Henry Bliss Northup, who graduated from Middlebury in 1829, and his wife, Electa.
The paintings (at left) are portraits of Henry Bliss Northup and his wife, Electa Taylor Northup. They were donated to the College by the descendants of Edward Northup Hay, and curators, historians and art enthusiasts at Middlebury were delighted to receive them just days before "12 Years a Slave" goes up for nine Academy Awards.
Acknowledging that the paintings are in need of conservation, Richard Saunders, director of the Middlebury Museum of Art, said, "Normally we would not show new acquisitions in this condition to the public." The last time they were professionally cleaned was in 1946.
But with Oscar Night (March 2) fast approaching, the museum held a reception on Feb. 25 to unveil the portraits and invite Associate Professor of History William Hart to discuss the film, the book and the lives of Henry Bliss Northup and Solomon Northup.
Hart, who studies race, religion and identity in the 17th-, 18th- and 19th-century, researched Henry Bliss Northup (1805-1877) and determined that he was "a good and decent man" whose family originated from North Kingstown, R.I. Records show that Henry Bliss Northup's great uncle owned Solomon Northup's father some 25 years before Henry was born in Hebron, N.Y.
H.B. Northup enrolled at the College in 1825, one of 25 men in his entering class. Northup earned a bachelor's degree in 1829, and "we know he checked out quite a few books from the library," said Hart, "but the numeric notation system used in the 1820s no longer exists," so it's not known what books he borrowed.
He would have taken the typical course load at the time, Hart explained, including "Greek and Latin and perhaps other languages, theology, law, mathematics, natural philosophy, natural history, chemistry, minerology and geology."
Henry Bliss Northup sought a life in politics and it was those aspirations, Hart theorized, that delayed his journey to Louisiana in 1852 (with legal documents in hand) to free the man who had been kidnapped and sold into slavery. In August 1852 Solomon Northup managed to send letters to friends in the Saratoga Springs area beseeching them for help. We know the letters came to Henry Northup's attention in September, Hart said, but the Middlebury graduate was busy running for the U.S. Senate that autumn. He eventually lost the race and set off for Louisiana in December 1852 to prove that Solomon Northup was a free man.
Shortly after Solomon returned home to his wife and children in New York, a writer named David Wilson proposed they pen a memoir together. The book "12 Years a Slave" sold 8,000 copies when it was published in 1853, Hart said, and within three years it was a best seller with 30,000 copies in print. (Its complete title is: "Twelve Years A Slave: Narrative of Solomon Northup, A Citizen of New-York, Kidnapped in Washington City, and Rescued in 1853 from a Cotton Plantation near the Red River, in Louisiana.")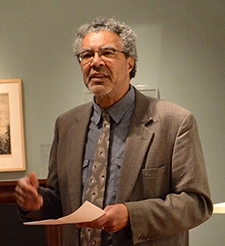 t="hart_0878-225" title="hart_0878-225" width="225" height="246" />
Associate Professor of History William Hart
Solomon sold his rights to Wilson for $3,000, "which was not a paltry amount for its time, and he lived on that for the next few years," Hart explained. "We don't know exactly when Solomon died. Historians have been unable to find an obituary and we can't find a grave for him just yet, but we think he died about 1857."
H.B. Northup, on the other hand, lived until November 1877, and his wife Electa, the subject of the other portrait, lived until 1882. They made their home in Sandy Hill (now Hudson Falls), N.Y., and were buried in nearby Fort Edward.
"We don't know if Henry ever read Solomon's memoir, but I would like to think that he did," Hart commented.  "So for now, until we know more about Henry and his wife Electa, we have these two fine portraits to remember them by and we have the story of Henry Bliss Northup being Solomon Northup's redeemer – a story that should make us and the Middlebury community very proud."
In a few days the Middlebury Museum staff will ship the 36-inch by 28-inch portraits to the Williamstown Art Conservation Center where they will be taken out of their mahogany frames, cleaned and restored. In the meanwhile Richard Saunders, the museum director, will pursue his "educated guess" that they were painted by Ezra Ames, a popular portrait painter in the Albany, N.Y., area in the early-19th century.
But one burning question remains: Why did Steve McQueen, the director of the film "12 Years a Slave," omit H.B. Northup from the story?
"I think the director was probably afraid that it might confuse the audience," is Prof. Hart's opinion. "If the rescuer had the same last name as Solomon did, then viewers might think that Solomon's master had come to secure him, which we know was not the case."
Elizabeth Marsland Hay Haas of Houston, Tex., and Jennifer W. Smith of Oak Park, Ill., direct descendants of Henry Bliss and Electra Taylor Northup, donated the portraits to the College. The paintings had been in the Northup family's possession for nearly two centuries.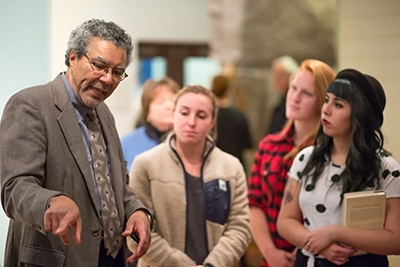 ents_northup-400" title="bill_hart_students_northup-400" width="400" height="267" />
Bill Hart discussed the portraits with Middlebury students.
Written by Robert Keren, with photos by Keren and Matt Lennon '13