Snowmaking Expands Season at Middlebury's Rikert Nordic Center
RIPTON, Vt. - The snow is great and the trails offer something for everyone, according to officials at Middlebury College's Rikert Nordic Center. In a winter that has been stingy on snow, but generously cold, Rikert's recently added snowmaking operation has allowed the center to operate more than 78 days so far this season, whereas it would only have been open seven or eight days without snowmaking.
"Rikert's average opening date over the past five years is December 16," said Rikert director Mike Hussey. "This year, snowmaking allowed us to open on November 16, adding 30 operating days to our calendar at the beginning of the season when the snow is most valuable."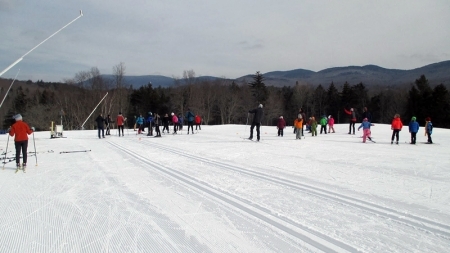 Skiers get ready to head into the woods at Rikert Nordic Center.
Rikert, which is open to the public with 50 kilometers of trails, has completed major renovations of its trails and lodge over the past three years. The upgrades, which included the new 5K Tormondsen Family Trail designed by legendary trail developer John Morton, enabled the College to host the 2013 NCAA Skiing Championships. Snowmaking is installed on 10 percent of the trail system, including the new 5K course.
"We've found that folks are really enjoying the manmade snow and realizing that they can count on Rikert being open with really good skiing even in low snow conditions," said Hussey.
Hussey says the new 5K trail is an internationally sanctioned race trail, though it is designed with elements for all levels of skiers. The snowmaking system is the largest of its kind in North America. Rikert expects to be open through March weather permitting.
About Rikert Nordic Center
The Rikert Nordic Center is a cross-country ski and snowshoe area located at the Bread Loaf campus of Middlebury College in Ripton, Vt. Bordered by the Green Mountain National Forest, these woodlands provide unspoiled natural beauty near the top of the Green Mountain range. Just 12 miles east of Middlebury on Route 125 and one and one-half miles west of the Middlebury College Snow Bowl, a downhill ski area, Rikert offers 42 kilometers of prepared trails for every level of ability. Rental equipment includes classic skis, skate skis and snowshoes. Repairs and waxing rooms are also available. A full-time staff of professional ski instructors offers lessons on a private and group basis.
For More Information