Conference Examines Global Youth Unemployment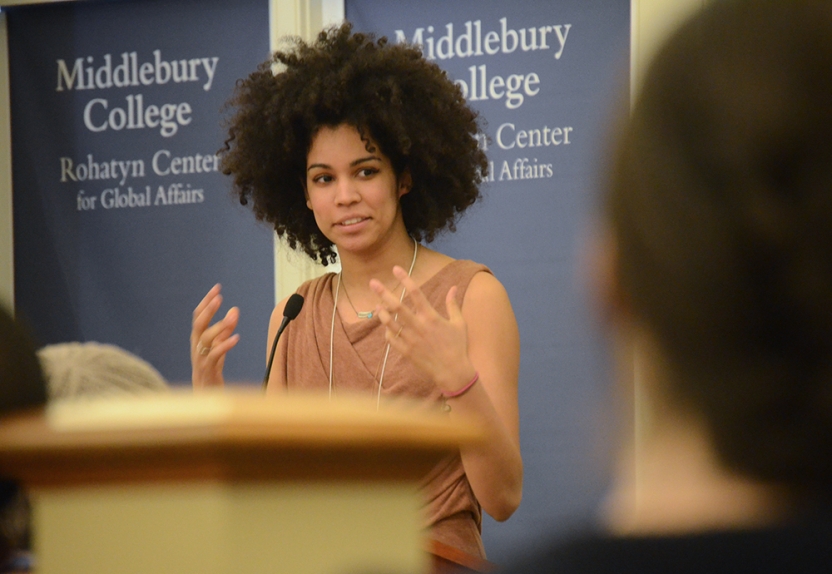 MIDDLEBURY, Vt. – The global problem of youth unemployment was the focus of an annual international and interdisciplinary conference hosted by the Rohatyn Center for Global Affairs on March 13-15. Titled "The Young and the Jobless: Youth Unemployment in Times of Crisis," the gathering of students, scholars, and alumni examined questions about youth unemployment in the United States and nine other countries.
"There is no other single issue that is experienced at all geographical scales, everywhere in the world, all at once which has such grave social, economic, and political ramifications as unemployment," said Professor of Geography Tamar Mayer, the director of the Rohatyn Center and organizer of the three-day event. "I hope that the conference will start a critical discussion about the culture and the politics of employment and unemployment, and that the comparative perspectives will enable a discussion on the ways to combat the crisis."
Among the 22 presenters in eight sessions were four members of the Middlebury faculty: Juana Gamero de Coca of the Spanish department ("Unemployment and Violence"), economist Robert Prasch ("On the Political Economy of Youth Unemployment"), and anthropologists Svea Closser ("Volunteers, Unemployment and International Action in Pakistan's Health Sector") and David Stoll ("Youth Unemployment in a Mayan Indian Town in Guatamala").
With an approach that cut across disciplines and national boundaries, the conclave explored youth unemployment from the perspectives of displacement, migration, gender inequality, public policy, immigration, organized labor, and volunteerism.
The conference also pointed out that young Middlebury alumni, who typically enjoy high levels of employment and job satisfaction, are not immune to problems of unemployment and underemployment. In the session titled "Pounding the Pavement: Voices of Recent Alumni," four graduates in their early 20s described the gap between their expectations for employment and the reality of post-graduation life.
Ashley Guzman, who double-majored in French and women's and gender studies, landed a job after graduation as an assistant accountant doing data entry, but the reality of office life soon set in. "At Middlebury we have this idea that we can speak our minds. But when you are the one [in the office] calling people out for making homophobic comments, sexist comments, or racist comments, suddenly you become the difficult person to work with."
Another alumni panelist, Barrett Smith, did not find job satisfaction with his first job either. The classics major was a tutor with a Boston charter school where, at first, he admired the "everyone does the dishes ethos" of the place. But Smith soon realized that he was expected to work eight-hour days and put in additional time at night tutoring middle-school students, many with special needs.
Due to the long hours and low wages – tutors received an annual stipend of $7,500 – some of Smith's colleagues resorted to food stamps and food banks, and discontent among the staff prompted the Boston Globe to cover the story. Smith eventually left the charter school and returned home to Cincinnati where he has learned to operate a forklift truck.
Guzman, the 2013 graduate who witnessed verbal abuse in the workplace, left that position and now holds down two part-time jobs in New York City. She hopes to pursue a master's degree in social work, if she can afford to do so.
The experiences of Guzman and Smith represent a fraction of the recent graduating class. According to a survey conducted six months after graduation by the Center for Careers and Internships, 55% of the Middlebury Class of 2013 is employed, 15% is searching for jobs, 12% is in graduate school, 11% is engaged in travel, volunteer work, or other, and 7% have fellowships or internships.
Several of the presentations from this year's conference are available on video. Guest speakers came to Middlebury from a wide range of institutions including: Bucknell University, Bard College, University of Witwatersrand (South Africa), University College-Dublin, Wayne State University, C.V. Starr-Middlebury School in Africa (Cameroon), University of Córdoba (Spain), University of Colorado, and University of Wisconsin.
The Rohatyn Center for Global Affairs promotes the College's goal of advancing global understanding that radiates from a core linguistic and cultural competency. The Center hosts scores of lectures, panels, and symposia each year that are free and open to the public.