Middlebury College Offers 1,422 Students Acceptance to the Class of 2018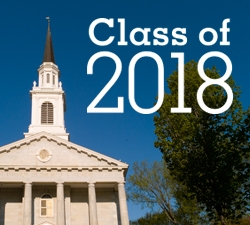 Middlebury College has extended offers of admission to 1,422 students — 17.3 percent of its applicant pool — for its Class of 2018. They include 327 students who were admitted through early decision last December, or in early February. This year a total of 8,196 students, the fourth largest in the College's history, applied to Middlebury. While that number represents a drop in comparison to the last three years, the College also is accepting fewer students due to the unexpectedly high number of admitted students who chose to enroll last year.
"After doubling our applicant pool during the last decade, we expect to experience intermittent decreases," said Middlebury College Dean of Admissions Greg Buckles. "Fortunately the candidates we selected from this year's applicants are as strong or stronger than ever in many areas, including academics, extracurricular activities, and socioeconomic diversity."
According to Buckles, many of Middlebury's peer schools as well as a number of institutions across the spectrum of higher education also saw a decrease in applicants this year. But no single factor has emerged as the cause. "It's a combination of changes to the Common Application and some technical glitches associated with that rollout, as well as a drop in the number of high school-aged students—a demographic change occurring in the US and around the world," he said. This year Middlebury received 10 percent fewer applications than the record-high 9,112 submitted last year.
The students accepted to the Middlebury Class of 2018 hail from all 50 states, Washington, D.C., Puerto Rico, and 82 countries. The five states with the most admitted students, beginning with the largest group, are Calif., N.Y., Mass., Conn., and Ill.
Offering a range of talents and interests, the students admitted include  the captain of the US Jr. National Cycling Team and a musher who has completed the 1,000-mile Iditarod sled dog race in Alaska.
Middlebury plans to enroll about 575 students in September 2014 and another 85 in February 2015 as members of the Class of 2018. The college will award about $9.6 million in need-based financial aid to the class, and more than 40 percent of the students will receive these funds.
Students learned of their admission by logging onto a special website starting at 8 a.m. Eastern Time on Saturday, March 22. The College mailed letters to their homes Friday, March 21.
The college will provide admitted students with an opportunity to learn more about Middlebury during Campus Preview Days on April 16-18, when those accepted through regular decision are invited to come to campus and experience the Middlebury community, meet current students and faculty, and attend various events.
Admitted students have until May 1 to accept Middlebury's offer.