New Piano Takes Center Stage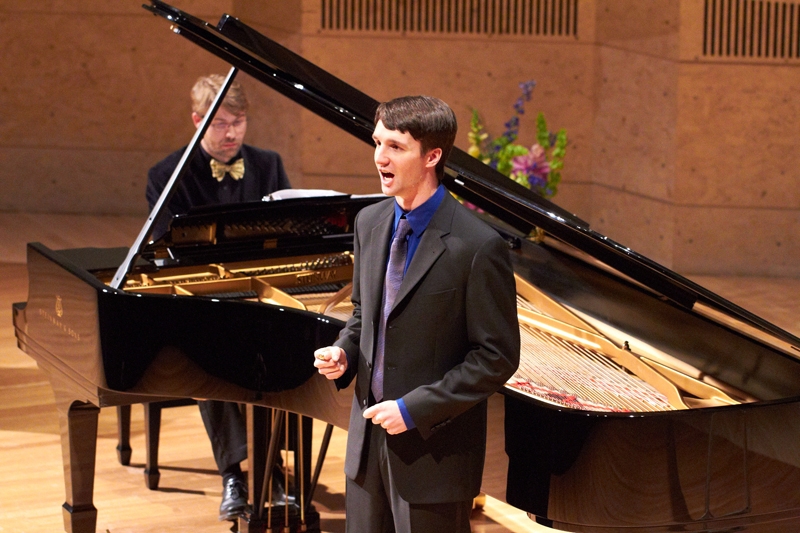 The beauty and complexity of a world-class concert piano were on full display during a concert at Middlebury's Mahaney Center for the Arts Saturday evening. The concert was the second part of a celebration dedicating the college's new Steinway concert grand piano in honor of Jessica and Ron Liebowitz. The piano was a gift of Ray and Meredith Rothrock, whose son Nathaniel graduated from the college in 2013. Earlier in the day, Joseph Polisi, president of the Juilliard School, gave a lecture titled "The Arts, Education, and the Human Experience."
Director of the Arts Pieter Broucke started the evening with a thank you to the Rothrock family. "Their generous and broad support strengthens Middlebury as a culturally stimulating place for all our students," said Broucke. "Tonight's diverse performances by students, faculty, and alumni will showcase the versatility and the unique sound of this magnificent new instrument."
Following Broucke's remarks, a short film told the story of selecting Middlebury's piano from the Steinway factory in Queens, New York. A selection committee that included Middlebury Affiliated Artist Diana Fanning '71, early music specialist Gwendolyn Toth '77, and Steinway artists Richard Goode and Paul Lewis, met up at the factory last October and played five pianos that had been pre-selected to match Middlebury's concert hall. At the end of their day of testing, they compared notes and agreed unanimously on the piano that ended up on the Mahaney stage.
Two Middlebury students were first to take the stage Saturday evening. Cameron Toh '17 and Shannia Fu '17 played Samuel Barber's "Excursions" and Claude Debussy's "La Fille Aux Cheveux de Lin," respectively. David Heschel Liebowitz, the 10-year-old son of Ron and Jessica Liebowitz, then performed Erik Satie's "Gymnopédie No. 1."
Felix Klos '14 and Dick Forman, director of jazz activities, play jazz piano four hands.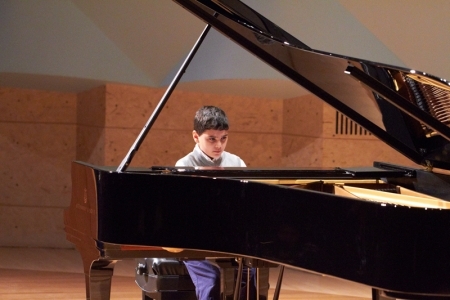 David Heschel Liebowitz performed Erik Satie's Gymnopédie.
Gwendolyn Toth '77, whose professional work focuses on early music and keyboard, gave a short talk, illustrated with video clips, on the history of the keyboard and its evolution to the concert piano as we know it today. Toth then played a movement from Beethoven's Piano Sonata No. 25 in G Major.
Affiliated Artist Dick Forman, who directs jazz programs at Middlebury, changed gears when he brought out his piano student Felix Klos '14 and a second piano bench. Invoking the spirit of the late great jazz pianist Marian McPartland, the two collaborated on a set of jazz for four hands.
Associate Professor of Music Jeffrey Buettner and Nathaniel Rothrock '13, son of Ray and Meredith Rothrock, wrapped up the evening with a set of songs for piano and voice. Rothrock, a bass/baritone, sang Schubert's "An die Musik," followed by a couple of Broadway favorites: Lerner and Lowe's "C'est Moi" from Camelot and "Being Alive" from Stephen Sondheim's Company.
Broucke noted that the dedication concert was the culmination of a nearly two-year process. As a result of the Rothrock gift, each of the college's major performance venues now hosts a Steinway. "I know this piano will inspire a long legacy of artistic discoveries," said Broucke, "and the celebration of those discoveries begins tonight."
By Stephen Diehl, Photos by Todd Balfour
For More Information