'Pentecost' Earns Numerous Kennedy Center Awards Including Outstanding Production
MIDDLEBURY, Vt. — "Pentecost," the epic drama by David Edgar produced by Middlebury's Theatre Department last fall, has been recognized with numerous national honors from the Kennedy Center American College Theater Festival (KCACTF). Middlebury was recognized for Outstanding Production of a Play; Outstanding Director of a Play - Professors Richard Romagnoli and Cheryl Faraone; Outstanding Scenic Design - Professor Mark Evancho; Distinction in Costume Design - Artist in Residence Jule Emerson; Outstanding Performance and Production Ensemble; Distinguished Performance by an Actress – Tosca Giustini '15; and Special Commendation for the performances of Professor Alex Draper '88 and Jeffries Thais. 
"I was completely floored," said Professor Richard Romagnoli, who learned about the awards while traveling. "I think the recognition that the students are receiving is a tribute to their talent as well as their willingness and ability to work together. As a director, nothing is more exciting to watch."
Pentecost tells the story of a young museum curator in post-Soviet Europe who has discovered an ancient fresco in an abandoned church. As she tries to convince Western art experts of the painting's authenticity, a group of desperate, armed refugees bursts into the church, taking hostages and setting up a tense, gripping plot.
Middlebury's production, which was funded by the Middlebury College Arts Council, featured a cast of 28 that included students, professors, and professional actors — one of the largest companies in the history of the theatre department. The play itself features 12 different languages.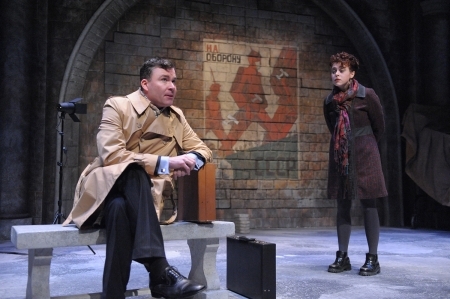 Tosca Giustini '15 as art curator Gabriella Pecs and professional actor Jeffries Thaiss as British art historian Dr. Oliver Davenport.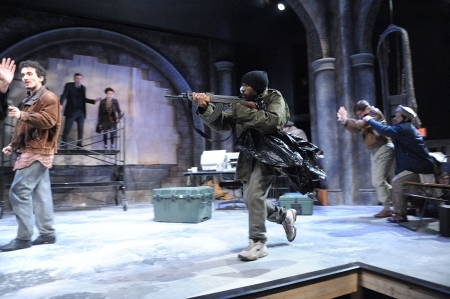 Asylum-seeking refugees storm the church where a group of art historians is analyzing an ancient fresco.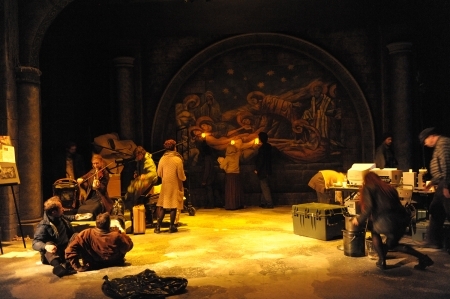 As the play progresses, more of the fresco is revealed from behind a brick wall.
"What was particularly extraordinary about the well-deserved ensemble and performance award is that nearly half the cast was composed of international students," said Professor Cheryl Faraone, who co-directed the play with Romagnoli. "We have students from Turkey, Algeria, Poland, and Russia — most of whom had not previously acted, or at least acted in English."
In January, Middlebury participated in the KCACTF's New England regional festival, one of eight regional festivals from which the national awardees were selected. Romagnoli, Faraone, and scenic designer Mark Evancho will represent Middlebury at the 46th annual Kennedy Center American College Theater Festival on April 19, where the awards will be formally presented.
"Pentecost is a difficult, complex masterpiece of dramatic literature and the Middlebury production brought it to passionate life," said Gregg Henry, Artistic Director of the festival. "I am very grateful that they shared this production with the regional festival audience and proud to recognize its artistry on a national level."
Middlebury has a strong history with KCACTF, having previously brought three productions to the Kennedy Center (due to cost, the festival no longer invites shows to D.C.). Previous productions invited to the national festival include "Scenes from an Execution" by Howard Barker in 1995, "The Last Supper Restoration" by Dan O'Brien '96 in 1997, and "The Bewitched" by Peter Barnes in 2006.
This summer Pentecost will be performed in New York by PTP/NYC, the College's affiliated Off-Broadway professional theatre company, co-founded by Romagnoli, Faraone, and Jim Petosa. Heading into its 29th year, PTP/NYC offers Middlebury students a chance to work side-by-side with accomplished professional actors in contemporary theatre works during its five-week summer season.
The PTP/NYC cast for Pentecost will include four members of the original cast plus new student actors and eight professional actors, several of whom are Middlebury alumni.
Developed in 1969 by Roger L. Stevens, the Kennedy Center's founding chairman, the KCACTF encourages and celebrates the finest and most diverse theatrical productions from colleges and universities nationwide. Since its establishment 46 years ago, KCACTF has reached millions of theatergoers and made important contributions to the professional development of countless college and university theater students nationwide.
Video: Preview from Fall 2013 Production
Stephen Diehl; Photos by Stan Barouh
For More Information