Hauschka's Secret to Success: Relaxation
MIDDLEBURY, Vt. – Maintaining a strict routine and meditating to cope with stress are two of Middlebury graduate Steven Hauschka's keys to becoming a successful placekicker in the National Football League.
In addition to his talent and his sheer determination to play in the NFL (he was cut by five teams), the 28-year-old neuroscience major told a full house in the McCullough Social Space that his ability to "hyperfocus," shut out all distractions, and relax during a game has led to his career as a professional athlete and member of the 2014 Super Bowl-winning Seattle Seahawks.
"When you are heading out onto the field, you don't want to be thinking, 'Oh, this is a Super Bowl kick. There are 200 million people watching and if I miss this kick, it's a big deal.'"
"You could take that train to a really bad place," he said. "So it's important as a kicker to stick with your routine and do the same things over and over." From the instant his center snaps the ball, Hauschka and his holder have 1.3 seconds to get the kick away, hence the three of them practice their roles every day so "in a game I can forget everything else going on around me."  
"I run onto the field, take my steps back and my steps over, and then, almost like a horse with blinders, I focus on the ball and where I want to kick it." Last season Hauschka connected on 33 out of 35 field goal attempts (including eight for eight in the playoffs) and made every extra point he tried.
Clearly he is a kicker who concentrates on concentrating. "Simple meditation techniques like deep breathing are the best way to access that calm and shut out all of the thoughts in your head. That's how I get to a high-functioning mental state, because when your brain is spinning you don't recover and you don't sleep well," he said. "Especially in football I meditate a few times a week. It helps me handle the stress really well."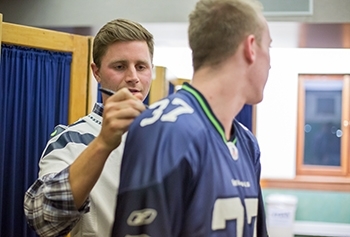 t="hauschka_2441" title="hauschka_2441" width="350" height="237" />
The guest signed pictures, posters, tickets, balls, and jerseys.
The 2007 cum laude graduate, who was originally headed to dental school when NFL teams started calling, returned to Middlebury on April 17 with his wife and college classmate, Lindsey, to visit friends, talk with students in Professor Paul Sommers' economics class, and have a public conversation on stage with Sports Illustrated senior writer Alexander Wolff.
Hauschka also signed autographs, greeted every person who wanted a one-on-one with him, and put in an appearance at the high school on April 18.
At Middlebury he spoke with Wolff for half an hour, screened a video he shot during Super Bowl week, and then took 23 questions from the audience. He responded to queries about his life as a rookie in the NFL ("the best thing you can do is just keep quiet"), how he met his wife ("at a party in the Atwater suites"), his favorite team growing up (the Needham, Mass., native was a Patriots fan), and why he enrolled at Middlebury ("I got in early decision" and "Bicentennial Hall looked like a great place to study science").
His "welcome to the NFL moment" was when he walked into the Minnesota locker room on his first day and saw Adrian Peterson and three others Vikings playing dice "with 10 or 20 thousand dollars on the floor."
In one of the final questions of the evening, seven-year-old Luke Bleich of East Middlebury approached the microphone and said, "My mom doesn't want me to play football. What should I say to her?" After about 10 seconds of audience laughter and applause, Hauschka smiled and replied: "Tell her you want to be a kicker or a punter, and then you can play football and not get concussions."
With reporting by Robert Keren and photos by Matt Lennon '13