Middlebury Voices in the News: Chlorine Bombs, John Oliver, and Why We Dance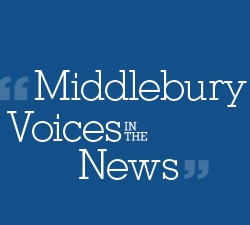 "The C.W.C. (Chemical Weapons Convention) prohibits the use of any chemical on the battlefield to achieve military purposes," Amy E. Smithson, a chemical weapons expert from the Monterey Institute of International Studies told the New York Times in an article about Syria's alleged use of chlorine-filled bombs. "The telltale sign of responsibility in this instance may be the reports that this stuff was delivered by air," said Smithson. "Only the Syrian government has helos and aircraft."
"I like the play of the rough rock against the quarried stone and the way that creates a dialogue between nature and culture," said Professor of History of Art & Architecture Kirsten Hoving in an article featuring her photography in The Independent (U.K.). Hoving's photos of Vermont marble quarries were the subject of an arts feature in the U.K. paper.
Did Jesus Really Rise from the Dead? Professor of English and Creative Writing Jay Parini once again proved the power of Jesus to stir emotions with his opinion piece posted to CNN during Holy Week. Parini's column has received more than 12,000 comments.
Everything you thought you knew about why President Obama was re-elected is probably wrong, argues Political Science Professor Matthew Dickinson in an article for the political science journal, PS. "Does Obama's election point to a changing electoral dynamic, one in which traditional economic factors will play a smaller role? The short answer is no."
Professor of Dance Andrea Olsen was the featured guest on Vermont Public Radio's "Vermont Edition" for their program titled, "Why We Dance." The full program is available online.
"There's a long tradition of people from another nation being able to present their cultural criticism or satire as having a distance that a native seemingly doesn't have," Jason Mittell, professor of American Studies and Film & Media Culture told the Boston Globe about the Daily Show's British comedian John Oliver. "It feels like Oliver understands us differently than we do because he wasn't born here. He's seeing America as this other thing that he can hold at arm's length. It creates the illusion of a perspective that he does a good job of playing up. He captures this outraged confusion at whatever crazy thing he's talking about in current events."