Molière Comedy Unites a Remarkable Class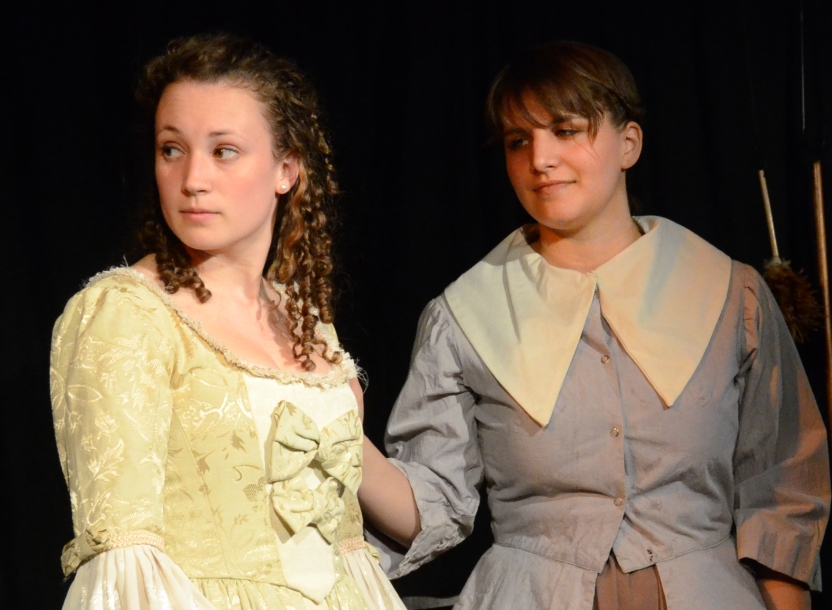 MIDDLEBURY, Vt. – The students in Professor Charles Nunley's theatre production class learned how to stage a Molière comedy in French this semester, and they gleaned some valuable life lessons along the way.
Working together to achieve a common goal has been "one of the strongest and most meaningful takeaways for everyone involved in the course," Nunley explained, and what made the experience even more remarkable was that six of the 11 members of the class are international students: two from Senegal and one each from Burundi, France, Japan, and Morocco.
"I've had the pleasure to work with native or near-native French speakers before, but this semester I found myself in a situation where several [international students] chose our production class as their first course in French at Middlebury," said Nunley, who directed "Le Malade Imaginaire" on April 18 and 19 at Le Château.
"I sense that students coming to us from countries where there is a heightened interest in French language and culture are unequivocally passionate about sharing with the college community a bit of their home culture," he said. They also adapted to a demanding rehearsal schedule, mastered their lines and cues, "and developed a strong sense of collaboration and camaraderie that has been striking and deeply impressive." 
A few days before opening night Aissatou Gaye, a sophomore from Senegal with long box braids in her hair, was excited about her part as Toinette, the maid servant. "This play will give Middlebury students insight into Molière as a playwright and into the values of the time. Some of the issues he raises about power and money and social class are applicable to society today."
Gage, who enrolled in the 300-level course to enhance her proficiency in "academic French," said the first few days of rehearsal were "scary and stressful, but now I am confident in my classmates and in my part." An economics major, she hopes to work in finance post graduation.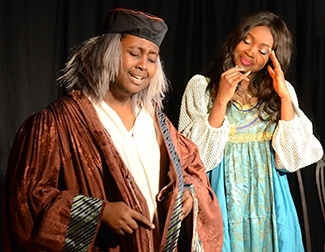 moliere_1063-325" title="moliere_1063-325" width="325" height="252" />
Armel Nibasumba and Ciré Sarr
The student from Burundi, Armel Nibasumba, is one of the first undergraduates from his East African nation to attend Middlebury College. And although he is majoring in biochemistry and hopes to become a doctor, portraying the hypochondriac Argan in "The Imaginary Invalid" has given him a chance to use his second language and expand his love for acting.
"Theatre is a medium that transcends language," the sophomore said. "You start out with a character you don't know very well, but you have to pretend to be that person and connect with your fellow actors. In time you become your character, and they become their characters, and it becomes a communal learning experience for everyone."
In addition to theatre and biochemistry, Middlebury has afforded Nibasumba the opportunity to be a Burundian social entrepreneur. Last summer he and Betty Kobia '16 (from Kenya) received a grant from Middlebury's Center for Social Entrepreneuship to organize and conduct a week-long peace-building camp for high school and university students in the capital city, Bujumbura.
"This course provides a particularly effective context for students to give back to the College their own cultural richness by expressing who they are and where they come from," said Nunley. "There is a real esprit de corps among all the students in the course," he noted, "whether they're from the U.S. or elsewhere."
With reporting and photography by Robert Keren