Symposium Explored "Sexual Straightjackets and Queer Escapes"
MIDDLEBURY, Vt. – The 2014 Gensler Symposium on April 14-18 provided the Middlebury community with a multidisciplinary, transnational examination of the intersection of feminist and queer scholarship and the continued relevance of both in a liberal arts environment.
Via lectures, performance, poetry, video, and discussion "the symposium was organized to present an overview of issues central to contemporary queer studies," said Professor Sujata Moorti, chair of Middlebury's program in gender, sexuality and feminist studies. "As students explored their personal experiences of gender and sexuality on campus, invited speakers analyzed how existing institutions such as marriage, family, the military, and the state limit liberatory experiences."
The symposium titled "Sexual Straightjackets and Queer Escapes" opened with an event hosted by the student organization MiddQUEER in which participants discussed the question, "What is your sexuality and how do you know?"
The following day Nikki Young, an assistant professor of women's and gender studies at Bucknell University, gave a talk entitled "I am NOT that Hungry: Creative Resistance, Black Queers, and Family." Middlebury's Professor Moorti said it was "a tantalizing account of how queer blacks in the U.S. are formulating different kinship structures to move beyond the restrictions of family, religion, and local culture."
Slam poets Denice Frohman and Dominique Christina presented a workshop on the afternoon of April 16 and gave a performance that evening exploring the Civil Rights Movement and the "in-between-ness in all of us."
Another visiting scholar, Professor Suzanna Walters, a Northeastern University sociologist, spoke on "The Tolerance Trap: How God, Genes, and Good Intentions Are Sabotaging Gay Equality." She provided an account of why recent "progress markers" such as gay marriage and repeal of don't ask/don't tell "should be seen as stifling gay equality rather than as victories for queer movements," Middlebury's Moorti said.
At the Mahaney Center for the Arts in conjunction with the exhibit "Guerrilla Girls: Art in Action," one of the feminist masked avengers – Guerrilla Girl Frida Kahlo – spoke about gender and racial discrimination in the art world. She pointed to the lack of female artists in museums worldwide and declared, "Less than five percent of the artists in the modern art section [at the Metropolitan Museum of Art] are women, but 85 percent of the nudes in the museum are female." She discussed the Guerrilla Girls' efforts to have women's artwork better represented in public spaces.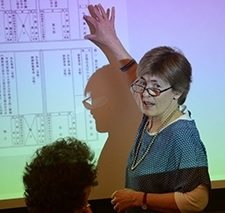 r_white_1174-225" title="gensler_white_1174-225" width="225" height="213" />
Prof. Linda White
Linda E. White, an assistant professor of Japanese studies at Middlebury, spoke on the topic "What's in a Name? Identity, Marriage, and Family Law in Japan" on April 18. She instructed her audience about the government's imposition of family values on society through the century-old practice of koseki, the document in which Japanese citizens are required to report gender, birth order, parentage, etc.
"The koseki actually constructs what family is in Japan," White said. "The document tells you; you don't tell the document 'I am a single mother household' or 'I am a queer hosuehold' or 'I am a straight household.' And if you don't fill out the document, you are invisible in many ways."
The Gensler Family Symposium on Feminism in a Global Context was established in 2008 by Drue Cortell Gensler '57, a former trustee of the College. This year's event concluded with a fifth birthday party celebration for Middlebury's Queer Studies House.