Astronomy Welcomes New Experts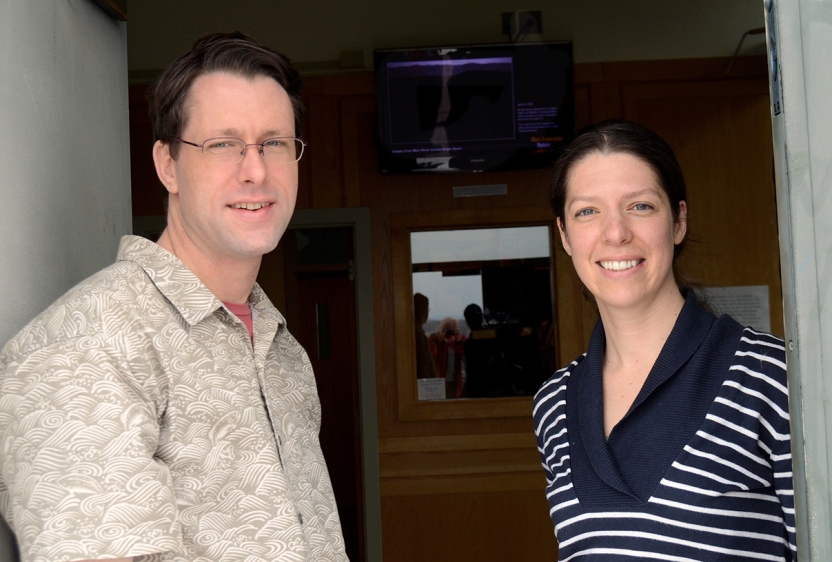 MIDDLEBURY, Vt. – Good news for watchers of the night sky: the College Observatory atop McCardell Bicentennial Hall will resume its public-viewing sessions this summer after a two-year hiatus.
The reopening of the Observatory to the public comes at a time when astronomy is on the rise at Middlebury. The Department of Physics has hired astrophysicist Eilat Glikman as a tenure-track faculty member, and the College has created and filled the new position of telescope specialist with Jonathan Kemp, an experienced astronomer.
Assistant Professor Glikman earned a Ph.D. in astronomy at Columbia and has done postdoctoral work at Yale and California Institute of Technology. She studies quasars and their role in the formation and evolution of galaxies, or as she said: "The overarching question of my life is: 'How do black holes grow and influence their host galaxies?'"
"I explore AGN (active galactic nucleus) demographics by data-mining large multi-wavelength sky surveys and conducting follow-up observations," explained Glikman, who conducts some of her research at the Palomar Observatory. Middlebury undergraduates will have the opportunity to assist in the next phase of her research, which is funded by Research Corporation for Science Advancement.
In her first semester at Middlebury the new astronomy professor taught An Introduction to the Universe (Physics 155), and is now teaching Cosmology (Physics 370) and co-teaching Quantum Physics (Physics 202). Next winter she will offer Ancient Astronomy as her first J-Term course, a class for which she is excitedly preparing the syllabus.
Glikman is Middlebury's resident expert in astronomy now that Frank Winkler, professor emeritus, retired in 2013 after 44 years on the faculty.
The College Observatory "is an exquisite facility with features that you don't see at many larger observatories, like our solar telescope with an H-alpha filter or our guider scope co-aligned with the main telescope," she said.
"And now the Middlebury Observatory has a person uniquely qualified for the job of telescope specialist," the Rutgers alumna continued. "Jonathan Kemp has operated telescopes all over the world. He knows how they operate, how to make them operate better, and how to engage college students. The Observatory is in good hands."
Kemp, a Columbia graduate (B.A. in astronomy), came to Middlebury in 2014 from Hawaii where he was the telescope system specialist at the Joint Astronomy Centre (Maxwell Telescope and U.K. Infrared Telescope) for 11 years. He made observations and recorded data, coordinated the activities of scientists and engineers, and maintained the telescopes and computer systems.
He also served as science operations specialist at the Gemini Observatory in Hawaii, was coordinator of astronomy programs at the Biosphere 2 Center in Arizona, and has been a visiting observer for the past 20 years at leading observatories in Chile, South Africa, Arizona, and Texas.
"Since I do not have the demands of a faculty member," Kemp said from his lab on the seventh floor of Bicentennial Hall, "I can dedicate my time to making the telescope equipment accessible for curricular and research purposes. I am here to support students and faculty throughout the year, and to conduct outreach events."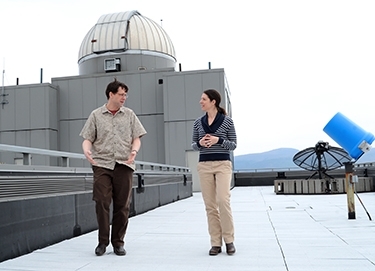 rvatory_1222-375" title="observatory_1222-375" width="375" height="271" />
Middlebury's new astronomers visit the roof of Bicentennial Hall with its Observatory dome.
The Observatory includes a massive 24-inch reflecting telescope inside the dome, three smaller reflecting scopes mounted on the rooftop, a radio telescope, and several other instruments.
Under Kemp's direction the Observatory held a dry run – an open house during Preview Days for members of next September's first-year class. The clouds parted just as his visitors arrived, and Jupiter, Mars, and an abundance of stars were visible. Now Kemp is training a corps of student assistants and planning a series of Observatory Open House nights for the public this summer.
The telescope specialist position is funded by the Michele and David Mittelman Family Foundation. Mr. Mittelman '76 is a Middlebury College trustee who studied with Frank Winkler, later built a nonprofit observatory in Colorado, and now wants to ensure that students, faculty, and members of the community utilize the College Observatory.  
"Middlebury has a beautiful facility," Mittelman said, "but it is impossible for one person to run an observatory, which requires being up late at night, and then teach college classes during the day. Astronomy gets a lot of media coverage with major new discoveries regularly, and I think Middlebury has the opportunity to inspire a lot more interest in the field through use of the Observatory."
The chair of the physics department, Professor Noah Graham, agrees that astronomy is inspiring to others. "Astronomy is the pathway into science for many people," he said. Unlike other sciences that require specialized equipment or advanced knowledge, anyone can go outside and make observations of the sky. "It's right there every night," said Graham. "Many important scientists throughout history got their start through an interest in astronomy."
With reporting and photography by Robert Keren