College Grants Tenure to Four Faculty Members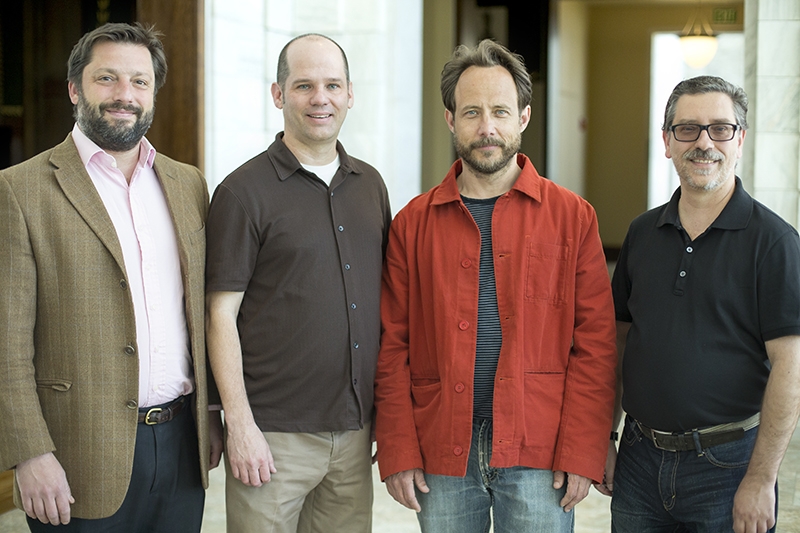 MIDDLEBURY, Vt. – Four members of the Middlebury College faculty have been promoted to the rank of associate professor without limit of tenure.
The board of trustees, at its meeting in May 2014, accepted the recommendations of President Ronald D. Liebowitz and the board's educational affairs committee in promoting: Alexander Draper (theatre), Samuel Liebhaber (Arabic), Steven E. Viner (philosophy), and Fernando de Sousa Rocha (Portuguese).
The four promotions from assistant professor to associate professor will take effect July 1, 2014.
Alexander Draper is a professional stage, film, and television actor who graduated from Middlebury in 1988 and earned a master of fine arts degree from Yale School of Drama in 1991. A member of Actors Equity Association, he performed on the New York stage in revivals of  "Golden Boy" and "Waiting For Lefty" directed by Joanne Woodward, and in "Oedipus" starring Billy Crudup and Frances McDormand. His other New York stage credits include roles in "Scapin," "The Seagull," "Saint Crispin's Day," and a dozen other plays. He has appeared in 11 films including the Bollywood hit "Kala Pani," the Golden Globe-winning HBO mini-series "John Adams," and the television programs "Law & Order," "Sex and the City," and "The Good Wife." Draper joined Middlebury's theatre faculty in 2005 and teaches courses in acting, the creative process, and modern American drama. A founding member in 1987 of the Middlebury-affiliated PTP/NYC (formerly Potomac Theatre Project), he has performed in 14 PTP plays, led classes and workshops, and is currently the theatre company's associate artistic director.
Samuel Liebhaber, a member of the Middlebury faculty since 2007, offers courses in beginning, intermediate, and advanced Arabic, the modern Arabic novel, and a literary approach to Arabia. His acumen for teaching literature has enriched the program's offerings so students grow to appreciate the literary and cultural heritage of the Middle East, as well as the primary language of the region. As a scholar of Mahri poetry, Liebhaber is well respected for his groundbreaking research published in peer-reviewed journals. (Mahri is a Semitic language indigenous to Yemen and southern Arabia.) A summa cum laude graduate of Dartmouth where he majored in Latin and Greek, Liebhaber holds an M.A. in comparative Semitics and a Ph.D. in Arabic literature, both from the University of California, Berkeley. He has received fellowships from the National Endowment for the Humanities, Fulbright Foundation, and Mellon Foundation, and while attending graduate school he served two summers as the bilingual assistant in Middlebury's Arabic School. Liebhaber is the College's second tenured faculty member in Arabic.
Fernando de Sousa Rocha is Middlebury's first tenured faculty member in Portuguese. He brings to his teaching a creative energy and sharp critical eye that students find infectious. Both as a teacher and as a scholar he is admired and respected for the wide range of intellectual and cultural interests that animate his work. His book "Subaltern Writings: Readings on Graciliano Ramos's Novels" (Peter Lang Publishers, 2013) has made a significant contribution to the study of modern Brazilian literature, and his peers admire his ability to illuminate the complex relation of key signifiers, such as national identity, race, and gender, with the process of writing and authorship. A member of the faculty since 2008, Rocha teaches beginning and intermediate Portuguese, Portuguese for Spanish speakers, and courses on Brazilian poetry, popular music, literature, and cinema. He has a B.A. from Universidade Federal de Rio de Janeiro, M.A. from Pontifícia Universidade Católica de Rio de Janeiro, and both an M.A. and Ph.D. from University of Southern California.
Steven Viner is a philosopher with a marked ability to guide his students through discussions of complex moral problems. He enables students to feel that their in-class debates belong to them, and that they are responsible for engaging the issues and questions they encounter. Students say that Viner's courses give them a sense of having learned how to think differently – a hallmark of the liberal arts. His primary area of research arises from moral issues as they pertain to the law, including international laws and conflicts. He co-edited the book "The Morality of War: Classical and Contemporary Readings" (Pearson Prentice-Hall, 2006), which has been translated into Chinese. Viner has a B.A. from St. John's University (Minn.), M.A. from Marquette University, J.D. from William Mitchell College of Law, and Ph.D. from Washington University in St. Louis. He writes about the morality of law in international conflicts, and is working on a project concerning the punishment of combatants who fight on the unjust side of a war. Viner, who came to Middlebury in 2007, was a practicing attorney before returning to graduate school to study philosophy.
In addition to granting tenure to the above members of the faculty, the board of trustees in May promoted three associate professors to the rank of professor. They are Jason Arndt (psychology), Noah Graham (physics), and Tatiana Smorodinska (Russian). Their appointments to full professor will take effect July 1, 2014.