Phi Beta Kappa Chapter Elects 61 New Members from the Class of 2014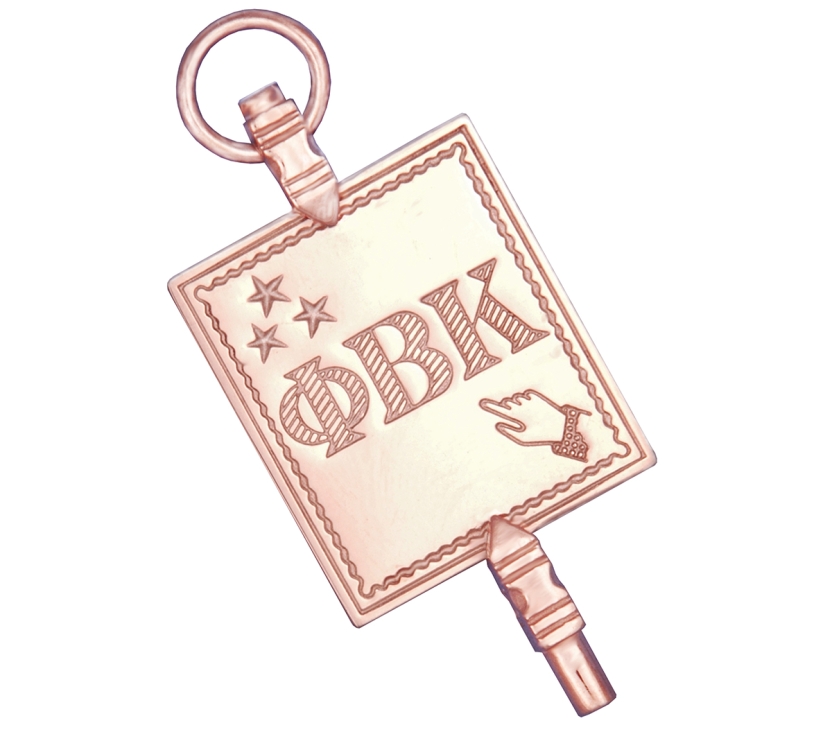 MIDDLEBURY, Vt. — At a ceremony over Commencement weekend, Don Wyatt, the John M. McCardell, Jr. Professor of History, welcomed 50 new members to the Middlebury chapter of Phi Beta Kappa. The newest members joined 11 of their classmates, who had been elected last year as juniors for a total of 61 members from the class of 2014.
Phi Beta Kappa is the nation's oldest and most prestigious academic honor society. The first chapter of Phi Beta Kappa was established at the College of William and Mary in 1776. Each year the Middlebury chapter elects up to 10% of the senior class to membership: 2% of the class is elected in August, on the basis of six semesters' work, and up to an additional 8% is elected in May, on the basis of work completed over eight semesters. 
As one of the charter chapters, the Middlebury chapter is free to establish its own criteria for the election of students to Phi Beta Kappa, and is not governed by election rules established by the national society. The members of the Middlebury chapter are those members of the Middlebury faculty who were themselves elected to Phi Beta Kappa by their undergraduate institutions.
Prof. Don Wyatt tells the newest Middlebury Phi Beta Kappa members about Jeremiah Atwater's historic key during the induction ceremony May 24 at the Mahaney Center for the Arts.
The Middlebury College chapter, the Beta chapter of Vermont, was established in 1868. Middlebury's is the 13th oldest Phi Beta Kappa chapter in existence, and was one of the founding members of the United Chapters of Phi Beta Kappa in 1883.
Members of the class of 2014 elected to Phi Beta Kappa in May:
Emily Elizabeth Auran, Mary Katherine Behan, Luke Carroll Brown, Peter Joseph Cahill, Cailey Anne Cron, Madeleine Therese Dai, Elaine Maria Dellinger, Hai Son Do, Shannon Terese Fiedler, Christina Alicia Fox, Andrew Colman Freeman, Joanna Elizabeth Georgakas, Madeline Besse Gilbert, Samantha Carolyn Gluck, Katherine Margaret Harris, Jeffrey Schnabel Hetzel, Jeremy Qi-Cheng Ho, Toby Rose Israel, Kirstie Fisher Jones, Max Ivan Kagan, Caroline Ruth Kahlenberg, Molly Stafford Kalter, Sinead Mchugh Keirans, Rachel Hannah Kogan, Alison Tate Lewis, Robert Roderick James MacDonald, Alec Benton MacMillen, Hanna Hemenger Mahon, Linnea Ellen Meyer, Kelsi Marie Morgan, Rebecca Jean Myhre, Charlotte Louise O'Herron, Will Shallcross Peckham, Rachel Michaela Percelay, Annie Kinser Pruitt, Mary Kirtley Righi, Molly C. Rose-Williams, Tianze Shan, John McKay Sheftall, Alena Shish, Brandt Silver-Korn, John Connor Stoll, Samantha Pascal Strom, Joseph Alexander Tamposi, Brittany A. Taylor, Xiyue Tu, Mari Lissa Vial-Golden, Rebecca Alice Wasserman, Rachel Catherine Woods, Charlotte Katherine Zelle
Members of the class of 2014 who were elected last year as juniors:
Ellery Matsuko Berk, Emily Amanda Colton, Rebecca J. Crochiere, Lindsey Derrick Hunt, Alexandra Kathleen Kennedy, Madeline Wren Mailly, Sarah Henry Pollnow, Mary Katherine Robinson, Connor Daniel Wakayama, Tian Xue and Lindong Zhou.
By Stephen Diehl; Photo by Trent Campbell