Student Government Honors Yeaton, Barrett
MIDDLEBURY, Vt. – The Student Government Association honored one faculty member and one staff member at a reception in the Crossroads Café of McCullough Student Center on May 7.
Dana Yeaton '79, a playwright and visiting assistant professor in the theatre department since 1998, received the Marjorie Lamberti Faculty Appreciation Award, and Paul Barrett, a public safety officer at the College for the past three years, accepted the Rodney and Beverly DeGray Staff Appreciation Award.
With more than 75 people in attendance, Rachel Liddell '15, the president of the SGA, introduced the recipients and presented each with a plaque and a bouquet of flowers.
Liddell said the SGA selected Yeaton for the passion he brings to his teaching, for the way he empowers students, and for the oratorical skills he urges them to master. In accepting the faculty award Yeaton said Professor Lamberti's lectures were legendary when he was a student. She demonstrated "enormous intellectual energy. We were in awe of her and I still am. Having an award in her name is like receiving a lifetime achievement award — while there still might be time to deserve it."
Yeaton saluted the courage of today's Middlebury students. "Everywhere you look you see students who can't resist a challenge and professors who are happy to oblige them. That's the culture here. So this award says to me and to all Middlebury faculty: 'Thank you for the challenges. Keep 'em coming!'"
The SGA president said Officer Barrett has demonstrated "unprecedented tact," shown a keen interest in the well being of every student he encounters, and strives to keeps students safe "even when we don't want to be."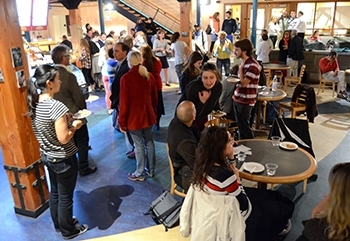 The awards reception was held in Crossroads Café – the space that once contained the Arthur Brown Swimming Pool.
After the ceremony Barrett said: "It is very special to me to be recognized by Middlebury College students, especially for someone in my role. And being able to share the moment with friends, family, co-workers, and the college community made everything even better."
Renowned for her teaching, Marjorie Lamberti was a member of the history department from 1964 to 2002 and continues to be a daily fixture on campus performing her research and conversing with faculty, staff, and students. She is the Charles A. Dana professor emeritus of history.
Rodney and Beverly DeGray are longtime staff employees at the College. Rodney started in dining in 1947 and was a full-time employee for more than 50 years, while Beverly held a number of positions in dining and at the College bookstore. An inspiration to many staff members, the Salisbury residents still work part time at Middlebury when needed during the busiest times of year.