Middlebury Voices in the News: Iraq, Swordfishing, and Election Surprises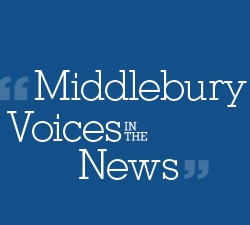 "There are very few opportunities and the U.S. seems like the better of several not-so-great options," said Moyara Ruehsen, associate professor at the Monterey Institute of International Studies in a story about foreign-owned U.S. businesses for NPR's Marketplace.
"At a time when all manner of nonsense is being written about Iraq, wisdom comes from odd corners, including Rand Paul and a Palestinian poet," said Professor Jay Parini in an opinion piece for The Daily Beast.
"House reelection rates are high – 95 percent or more – not because the incumbents don't worry about losing. They are high because all most of them do is worry about losing," said Professor Matt Dickinson, in an opinion piece by Robert Schlesinger '94 for U.S. News about Eric Cantor's startling defeat in the Virginia congressional primary.
"There are billions of different jobs out there. You feel kind of obligated to find out what they are," said Astrid Schanz-Garbassi '12, in an article by Matthew Phillips for Bloomberg BusinessWeek on the economic outlook for 23-year-olds — the single largest age group in the U.S.
In a story for PBS NewsHour, Michael Vincent McGinnis, associate professor at the Monterey Institute of International Studies, spoke about the controversial subject of gill-net fishing off the coast of California, and what a ban would mean for the economy of that area. "What happens in our jurisdiction may have an important part of a role in protecting species, but other countries are still fishing and they're still using gear types that are indiscriminate and have a high level of by-catch."