New England Review Publishes First Issue Under Editor Carolyn Kuebler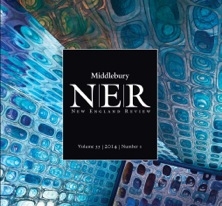 Middlebury, Vt. - New England Review recently published its first issue under the direction of editor Carolyn Kuebler, who assumed her new responsibilities in January 2014, when former editor Stephen Donadio stepped down.
In the current issue, a startling array of new voices accompanies works from established authors, among them Kelli Russell Agodon, David Guterson, Carl Phillips, and Elizabeth Spires. Essays range in topic from Phillip Larkin to Flemish painting, Richard Wagner to the Cocteau Twins, and the very haircut that desegregated the barbershop at Phillips Exeter in the 1950s. Translations of prose by Valeria Luiselli, Juan José Saer, and Esther Tusquets reveal three very different Spanish-language authors from three countries, and cover artist Raïssa Venables contributes a photograph that disorients even as it invites readers inside.
Published by Middlebury College, New England Review is a nationally recognized literary journal that cultivates artistic excellence and innovation in contemporary writing and engages readers deeply in the literary arts through its quarterly publication, dynamic web presence, and quarterly public reading series.