Student Proposes New Use for Historic Frost Cabin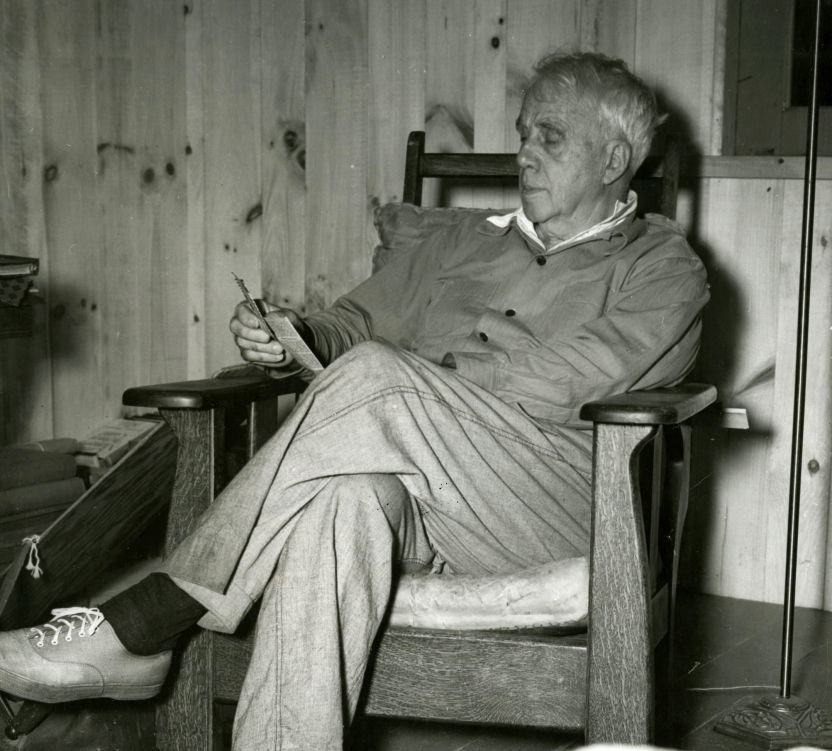 MIDDLEBURY, Vt. – A recent Middlebury graduate says the College should transform the Robert Frost cabin in Ripton into a resource for writers and students, and her idea is starting to gain traction.
Rebecca Hartje '14, of Chattanooga, Tenn., calls the cabin "a forgotten treasure" that's been overlooked ever since Middlebury College acquired the Homer Noble Farm in 1966. The poet had spent a portion of nearly every summer from 1939 to 1962 at the rustic cabin located on a 150-acre tract west of the College's Bread Loaf Mountain campus.
Hartje (pronounced "Hart-gee") is the first graduate of the Middlebury's museum studies track, a new area of specialization within the history of art and architecture major, and her senior thesis makes an impressive case for revitalizing the cabin as a place where scholars and writers could go to appreciate Frost's life, his work, and his craft.
The alumna recommends presenting the cabin as a writer's home – a distinct offshoot of historic house museums, she says – partly because it's unrealistic to think that most or all of Robert Frost's original items could be returned to their respective places inside the pine-paneled structure. The isolation of the site, the harsh winter weather, concerns about security, and the simple fact that many of Frost's belongings – most notably his books – are not in Middlebury College's possession have led Hartje to advocate for the cabin's revitalization as "an inspirational setting for learning and reflection" versus a museum for casual and serious visitors alike.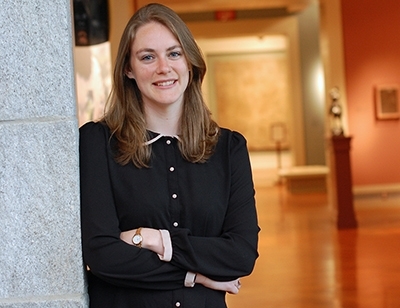 7-400" title="hartje_7867-400" width="400" height="308" />
Rebecca Hartje '14 was the Robert Reiff intern at the Museum of Art. 
(The College has maintained the structural integrity of the cabin, but has made few improvements over the decades.)
Instead of having the cabin open to the public on a regular basis, Hartje proposes the space be reserved for poetry classes, field trips, and special programming. Frost's iconic Morris chair from the cabin, which is on permanent display in Special Collections at Middlebury's Davis Family Library, is too valuable to relocate in the cabin, yet Hartje says a replica of the chair could be installed in its original place inside the cabin to give visitors the same sensory experience as the Pulitzer Prize-winning poet.
The interior design of the cabin including Frost's former collection of books could also be replicated. Where bookshelves now stand empty and cold, Hartje would like to see the poet's original library reconstructed. The College cataloged Frost's books before they left Vermont, and the recent graduate says it would be feasible to create a replica of the poet's collection. (The books were donated by Frost's heirs to the Jones Public Library in Amherst, Mass., where there is a collection of about 12,000 Frost items.)
In his cabin Frost kept works by Byron, Emerson, Dickens, Thurber, Pound, Whitman, Baudelaire, Tennyson, Shakespeare, Keats, Cather, and Auden. He also had 20th-century novels, reference works, classical writings, histories, and biographies. Dozens of books are inscribed to Robert Frost, many contain Frost's own "winding road" bookplate, and several copies contain notes scribbled in pencil by the author himself.
"Replacement copies of similar editions could be acquired," Hartje explains, "to fill the empty bookshelves and remedy the visually jarring effect the absence of books has on one's experience inside the historic cabin."
Many of Hartje's ideas developed over the course of the year she spent researching and writing her thesis with guidance from advisors Jay Parini, Axinn professor of English, and Richard Saunders, director of the Middlebury Museum of Art and professor of history of art and architecture.
The summer before her senior year Hartje received an academic outreach grant from the College to visit writer's homes and museums. She traveled to Frost Farm in Derry, N.H., Frost Place in Franconia, N.H., and Frost Stone House Museum in South Shaftsbury, Vt., and also visited Emily Dickinson Museum in Amherst, Mass., Margaret Mitchell House in Atlanta, Carl Sandburg Home in Flat Rock, N.C., and the site of Henry David Thoreau's cabin on Walden Pond in Massachusetts.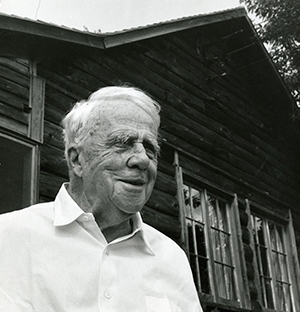 1-300" title="frost_outside_1961-300" width="300" height="312" />
Frost in 1961 on the steps of his cabin.
The visits led Hartje to conclude: "The Frost cabin has the potential not just to commemorate Frost's legacy of teaching, but to perpetuate it. To utilize the cabin as an educational space for poetry appreciation, it should include interpretive materials." She suggests a detailed analysis of a Frost poem combined with scholarly criticism and a clip of the poem being read aloud "for auditory understanding and personal interpretation."
And since the College has recordings of Frost's lectures and readings, his own voice could be heard inside the cabin again, Hartje says. Audio would provide visitors with "an interpretive tool without compromising the interior's simple, rustic aesthetic essential to the preservation of the cabin's atmosphere."
Film footage of Frost walking at Bread Loaf has been digitized by Special Collections and could also be put to use in an exhibit at the cabin.
Hartje proposes the College form an oversight committee to consider a thoughtful redesign of the interior, the development of cabin-related programming, and a plan for the future.
Pieter Broucke, professor of history of art and architecture, has agreed to create the committee with representatives from Bread Loaf School of English, Facilities Services, Committee on Art in Public Places, and academic departments. He says Hartje "did an incredibly thorough job" and "got us going on a truly exciting project."
"The cabin could easily be transformed from an undervalued piece of history into an educational tool," contends Hartje, who just started her new job at the Shelburne (Vt.) Museum. "By recognizing its potential as a resource rather than treating it as a forgotten possession, the College could honor Frost's legacy, perpetuate an appreciation for poetry, and provide the community with a space for inspiration and creation."
Written by Robert Keren with archival images courtesy of Special Collections and a photo by the author.