Language Schools Alumni Offer Career Advice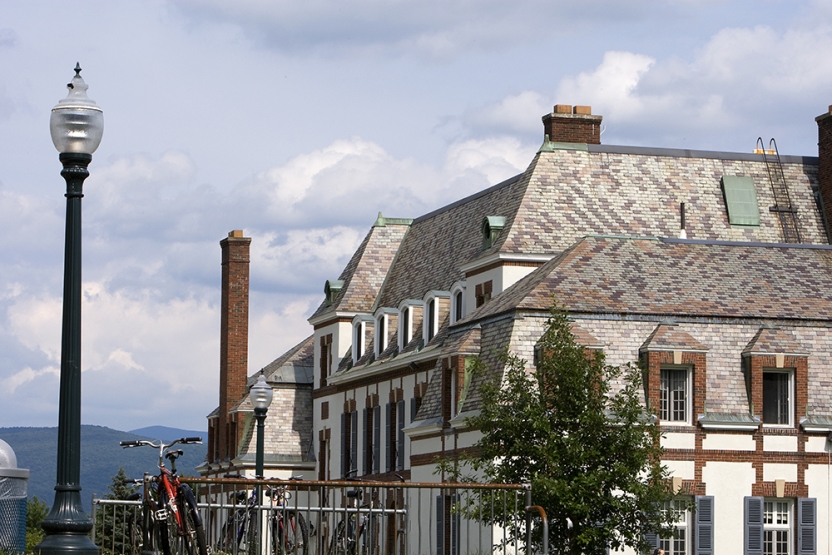 MIDDLEBURY, Vt. – Language Schools alumni said their proficiency in foreign languages and insight into other cultures "separated them from the job-seeking pack," during a panel discussion about careers on July 18 on campus.
Phoebe Knowles, who holds a master's degree from Middlebury's Spanish School, has found "there is a premium placed on people who speak other languages, possess cultural literacy, and have an awareness of other cultures" within the hospitality industry. Knowles is the vice president of a 130-room boutique hotel in midtown Manhattan.
"I firmly believe that the experience you are getting here in the Language Schools helps prepare you for a career in tourism management" working for a restaurant, hotel, casino, trade show, or any other business dependent upon travel or tourism, Knowles said
"I use my Spanish every day in my job," the hotelier added. She uses it to speak with guests as well as with her employees. "The Spanish-speaking population in my business is almost 50 percent… I do a lot of my coaching and counseling and meetings with my employees in Spanish."
Scott Markowitz, a managing director with the Bank of New York Mellon, is another New York City denizen whose foreign-language skills and cultural understanding have played a major role in his career.
Markowitz, who has a bachelor's degree from William and Mary, a master's in East Asian Studies from Washington University of St. Louis, and an MBA from University of Rochester, attended the Japanese School in the summer 1999 specifically to improve his proficiency in the language.
"I now use my Japanese in ways I never thought possible," he said. "Negotiating contracts in Japanese. Conducting meetings in Japanese. Everything I do with my Japanese clients is in Japanese."
On the other side of the country is Maggie Peters, the associate director of alumni relations at Monterey Institute of International Studies. Previously a counselor at the institute's Center for Advising and Career Services, Peters said, "I don't use my foreign language skills in my profession now, but for the past three years I advised MIIS students on how they can use their language skills" to gain a foothold in the marketplace.
Most of the students at MIIS are multi-lingual and cross-cultural, Peters said. "Cross-cultural communication is not just the ability to speak another language; it is the ability to understand the culture you are working with" and operate effectively in the language.
Lara Mones majored in East Asian studies at Middlebury, attended the Japanese School for one summer, and graduated in 2004. She lived and worked in Japan for two years, and then refined her career focus by earning an M.A. in arts administration from American University.
Now employed in New York as the program officer in the performing arts division of the Japan Society, Mones interacts with Japanese speakers in person, on the phone, and by email, and said her office "is always looking for eager, young interns."
With an M.A. in Spanish from Middlebury, panelist Ludy Soderman-Roman is enrolled in the French School this summer to broaden the language skills she needs as director of multilingual family support programs for the School District of Philadelphia. The recipient of a Katherine Wasserman Davis Fellowship, she develops and facilitates programs on language and literacy for immigrant and refugee families.
Soderman-Roman's message was twofold: that by learning about other cultures, you learn more about yourself; and by speaking another person's language, you build trust and develop relationships.
The audience of about 100 people – the majority of whom were Language Schools students on temporary reprieve from the Language Pledge – were welcomed to the career panel by Vice President Michael Geisler.   
"One of the most important takeaways of the career panel is that you have incredible cultural skills, problem-solving skills, and the ability to adjust to difficult environments" – all as a result of immersing oneself in the Language Schools.
"It's not just that you are proficient in language," Geisler said. "It's important for you to understand" – and convey to prospective employers – "the full range of your talents and skills."
Reported by Robert Keren