College Establishes Endowed Professorship Honoring Frank Winkler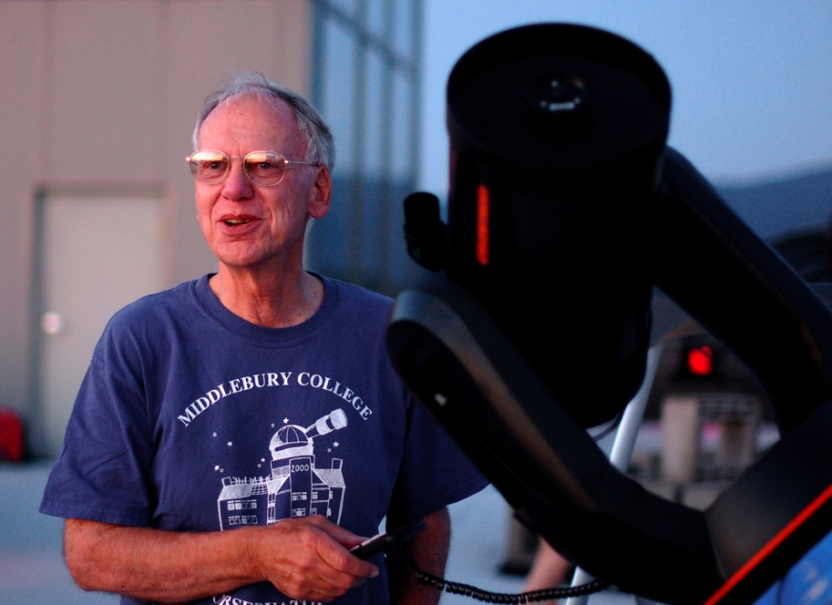 MIDDLEBURY, Vt. – Middlebury College has established the P. Frank Winkler Professorship in Physics, named for Gamaliel Painter Bicentennial Professor Emeritus of Physics Frank Winkler. Astrophysicist Eilat Glikman, an assistant professor of physics who joined the Middlebury faculty in 2013, will hold the first Winkler professorship as the Winkler Fellow in Physics.
The endowed professorship was made possible by the Michele and David Mittelman Family Foundation. David Mittelman '76 is a Middlebury trustee who has founded observatories in Eagle, Colorado, and Dover, Massachusetts.
"This generous gift from the Mittelman Family Foundation helps support the most important aspect of our mission: excellent faculty devoted to undergraduate teaching," said Middlebury President Ronald D. Liebowitz. "Dave's and Michele's support of this professorship is a wonderful tribute to Frank. He not only inspired scores of science and non-science students alike for more than four decades but was also the driving force behind the planning and construction of Bicentennial Hall, which elevated significantly the place of science teaching and research at Middlebury."
Winkler joined the Middlebury faculty in 1969 and has taught nearly every course in the physics curriculum during his 45 years at the College. He earned his bachelor's degree from the California Institute of Technology and his PhD from Harvard University.
He responded to the announcement saying, "I am truly honored and deeply touched by this generous gift from the Mittelman family. It has been my pleasure to have three Mittlemans from two generations – David '76, Jamie '10, and Melissa '13 – take my Introduction to the Universe (PHYS 155) course."
Winkler's research centers on supernovae, supernova remnants, and the interstellar medium. As Winkler describes it, "I am interested in how stars blow up, what is left after they do, and how they enrich the cosmos in heavy elements like oxygen, carbon, silicon, iron, etc.—the elements that play a crucial role in the development of planets and life on them."
"We're thrilled that this professorship will honor Frank's long and distinguished career at Middlebury," said Professor Noah Graham, chair of the physics department. "Frank has shaped and guided our department through a period of remarkable progress. His excellent teaching, nationally recognized research program with strong undergraduate participation, and commitment to interdisciplinary teaching and community outreach epitomize the goals that all of us in the department aspire to attain."
The donor, David Mittelman, said, "I took astronomy with Professor Winkler in the 1970s, and the power and implications of his teaching have stayed with me ever since. The concepts of how much can be learned through the analysis of light were stunning intellectual revelations that have bounced around in my mind for years.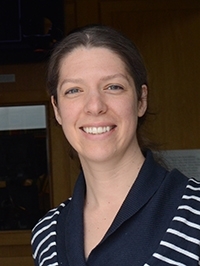 0-200" title="glikman_1250-200" width="200" height="266" />
Assistant Professor Eilat Glikman
"Much of our future lies with decoding and understanding the mysteries of our universe," Mittelman continued, "and with this new professorship we hope to ensure that others at Middlebury will become intrigued by the study of astronomy. Modern science has an important role to play in preparing students of the liberal arts for the real world after graduation."
Professor Glikman, the newly named Winkler Fellow, earned her PhD in astronomy at Columbia University and did postdoctoral work at the California Institute of Technology. She was also a National Science Foundation fellow in astronomy and astrophysics at Yale University. Glikman's research focuses on quasars and their role in the formation and evolution of galaxies—or, as she puts it in more colloquial terms, "how black holes grow and influence their host galaxies."
The honoree, Prof. Winkler, added, "I congratulate Eilat, who is bringing new energy to astronomy at Middlebury, and is an excellent choice as the first recipient of this new fellowship."
The Mittelman Family Foundation also supports the position of a telescope specialist at Middlebury, a post now filled by astronomer Jonathan Kemp.