Symposium Highlights Work of Summer Research Assistants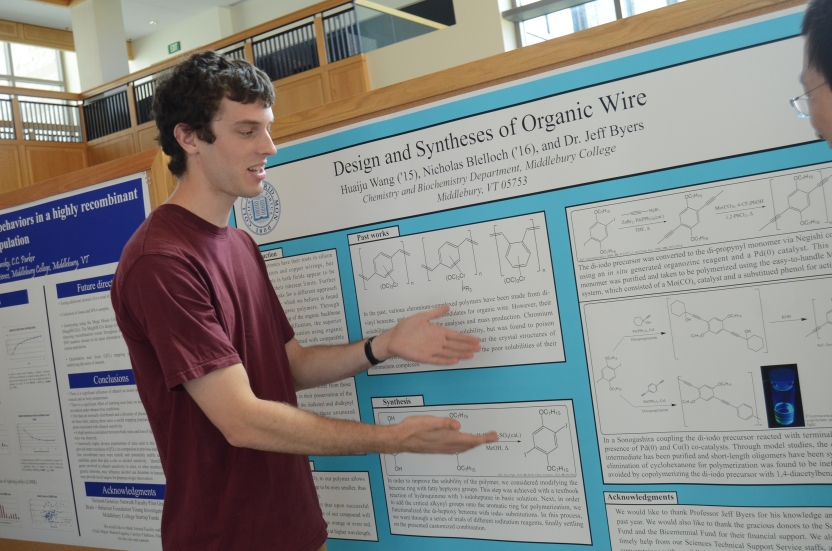 [view:embed_content==480975]
MIDDLEBURY, Vt. — More than 60 students who spent the summer conducting research presented their work at a poster session on July 31 in the Great Hall of McCardell Bicentennial Hall. The Summer Research Symposium is one of two annual events designed to showcase student research and creative projects—the other takes place during spring semester.
"The symposium is a great opportunity for students to emerge from the labs, library, and field work where they've been toiling all summer, and share what they've been working on with the larger campus community," said Lisa Gates, associate dean for fellowships and research. "It also gives students a chance to gain some of the skills professional researchers need, such as writing abstracts, designing posters, and developing their persuasive speaking."
In total, 106 students participated as summer research assistants, most of whom received stipends to work with faculty mentors. The summer research projects, while heavily science-focused, included work from 16 different academic departments. Gates said that the student researchers worked an average of 39 hours per week over the 8-1/2-week session. 
Funding for the students comes from a variety of sources, including grants, college funds, and support from alumni, parents, and friends of the College.
"Engaging students in research is a phenomenal educational experience," said Gates. "They learn so much about how to conduct research in their field and what the work of a research scholar or scientist is like. It's enormously beneficial, not just from an academic perspective, but also from a personal perspective as they think about possible pathways after college."
For more information about student research opportunities at Middlebury, contact the Undergraduate Research Office.
— By Stephen Diehl; photography by Robert Keren
For More Information