Middlebury Voices in the News: Weaponizing Ebola, Digital Community, Acting French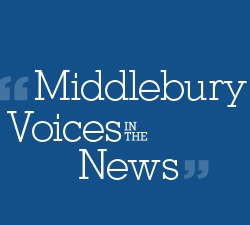 Could terrorists weaponize the Ebola virus? It's unlikely, according to experts in a recent New York Times story.  Raymond A. Zilinskas, director of the chemical and biological weapons nonproliferation program at the Monterey Institute of International Studies, told the Times that attempts by the Soviet Union to weaponize Ebola did not work. "You are talking about highly capable people working on it for years," he said. "That's not terrorists."
Ta-Nehisi Coates, a writer for The Atlantic, attended Middlebury's French School this past summer and wrote an in-depth reflection of his experience at Middlebury, "Acting French," that looked at language, culture, and race relations in the U.S. He also recorded before and after videos of his French speaking skills.
In an opinion piece for CNN, Jay Parini, D.E. Axinn professor of English and creative writing, laments the recent death of a shooting instructor by a 9-year-old girl with an assault weapon. Parini says misinterpretation of the second amendment has been used to justify gun ownership in the U.S. "There just is no right for the individual to bear arms in the Bill of Rights," Parini wrote. "You have to belong to a well-regulated militia, such as the National Guard, if you want to bear arms." 
Jason Mittell, professor of film and media culture and American studies, was a guest on Vermont Public Radio's daily public affairs program, Vermont Edition, discussing "Community in the Digital Age." Mittell noted that the digital media "footprint" can be beneficial for accountability since you can go back and see what people have said, but that it can also be dangerous when private communications suddenly become very public. "With any format we need to be careful and thoughtful and deliberate in how we engage in conversation."
Easy access to rich data on elections and congressional votes has a number of political journalists taking a second look at how political scientists view American politics, says Matthew Dickinson, professor of political science, in an opinion piece for the Christian Science Monitor.