Squash Center Earns Highest Honor for Sustainability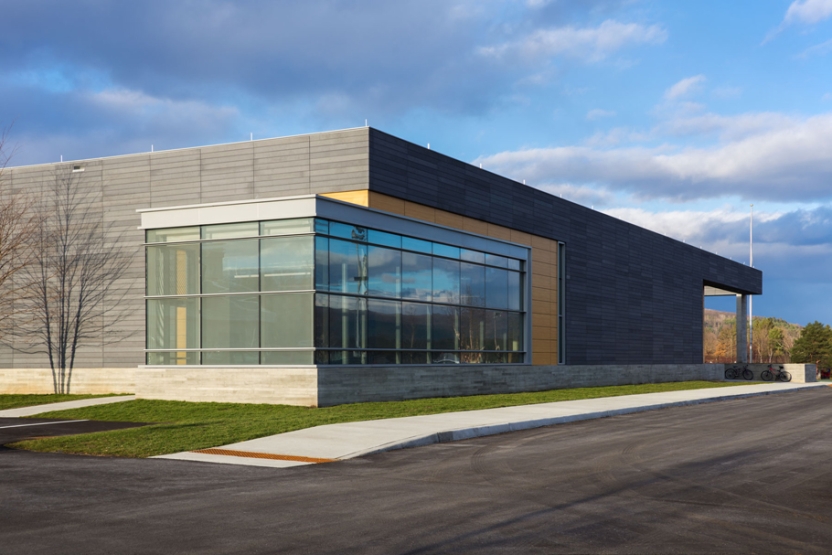 MIDDLEBURY, Vt.—The U.S. Green Building Council (USGBC) this month awarded its highest level of certification, LEED platinum, to Middlebury for its 18,000-square-foot Squash Center that opened 11 months ago.
The selective LEED rating system (Leadership in Energy and Environmental Design) promotes buildings that are designed, constructed, maintained, and operated for environmental safety and human-health protection.
This is the second time Middlebury has gone through the LEED certification process, and the second time the institution has received the platinum designation. The other LEED-certified building on campus is the Franklin Environmental Center at Hillcrest, which reopened in 2007.
"LEED certification holds us to the highest standards and gives us the confidence that a building will function sustainably for many years to come," said Dean of Environmental Affairs Nan Jenks-Jay. "By going through the certification process, Middlebury is able to construct buildings that reflect our deep commitment to the environment and to sustainability."
For Mark Gleason, Middlebury's project manager on the Squash Center project, LEED certification "serves as proof that a building has been designed for sustainability on a universally and globally accepted standard. It provides third-party verification that Middlebury—along with our architect, engineer, and contractor—has constructed a building that meets predefined standards for environmental and sustainability criteria."
8-400" title="sqush8-400" width="400" height="267" />
The building is filled with natural light.
The application procedure for LEED certification includes the submission of performance data for the building, extensive documentation, and two review processes before the final determination. Projects need to earn at least 40 points on the USGBC's scale to be LEED certified. Fifty to 59 points receives LEED silver; 60 to 79 points earns LEED gold; and 80 and above points achieves LEED platinum.
Middlebury's LEED-platinum Squash Center has nine courts arranged around a central corridor covered with a skylight to allow filtered, natural light into the space. Connected to the southeast end of the Peterson Family Athletic Complex, the $7.8-million building replaces the previous arrangement of five squash courts inside the now-defunct Bubble.
From a sustainability standpoint, some of the key design elements of the Squash Center are its supremely efficient mechanical and ventilation systems, its insulated building envelope, and its high indoor-air quality achieved through the use of construction products that are both low-emitting and environmentally friendly. The building contains wood from forests that are certified as responsibly managed and a green roof covered with thousands of living sedum plants.
In its application, Middlebury also received points for using renewable energy in the building from its solar array and biomass plant, and for diverting away from landfills 97 percent of all construction waste. Additional points were earned by reusing five of the original squash courts from the Bubble.
With the goal of being carbon neutral by the year 2016, the Middlebury community is always thinking about ways to achieve sustainability, and LEED platinum certification is a testament to that commitment.
"Buildings are a significant undertaking and need to be built to last for many generations," said Jack Byrne, Middlebury's director of sustainability integration. "By designing and building the new Squash Center to meet a standard as high as LEED platinum insures and verifies that we are doing the best we can in that regard."
For More Information