Teammates, Friends Remember John Illig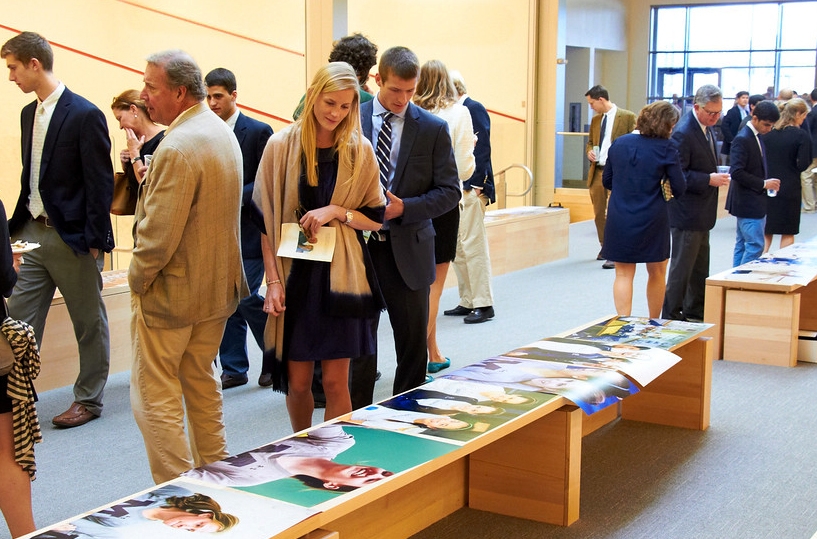 MIDDLEBURY, Vt. – John R. Illig was memorialized on September 14 as the fearless leader and beloved coach of squash teams at Middlebury and Bates Colleges, and as an intrepid outdoorsman "who saw an opportunity in every crisis."
Illig's colleagues and players remembered him as someone who empowered others to be different, cared deeply about them as individuals, and whose unpredictable sense of humor touched everyone who knew him. 
One of his former Bates players, Sean Wilkinson, now the Princeton varsity squash coach, recalled how John convinced one of his athletes to dress in a prison outfit, wear a ball and chain, and pretend to be a convict for his match against Dartmouth. The player lost the match 9-5, 9-0, 9-2, "but that was John. He loved being part of the group and was always trying to get us to think about the bigger picture.
"Life for John was about much more than winning and losing, or following any sort of conventional method, or keeping up with appearances. His primary goal as a coach and mentor was to provide his players with a platform to enable each of us to flourish as people. He encouraged us to make mistakes," the 2008 Bates graduate said, "but firmly believed in a method that was honest, gracious, and above all, fun."
The 50-year-old coach died on August 3 in a catastrophic fall at his home in Lincoln, Vt., that he shared with his wife, Lolly. At the memorial celebration, speakers talked about that home because it epitomized John's zest for life.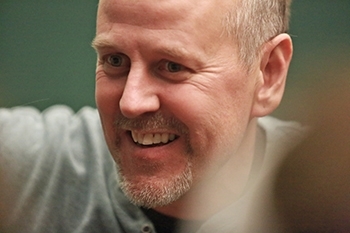 oseup" title="illig_closeup" width="350" height="233" />
John Illig had an unparalleled enthusiasm for his athletes.
The log home is situated on 11 acres alongside the New Haven River at the edge of the Green Mountain National Forest. To reach the house one has to ride on a two-wheeled platform along a 130-foot steel cable suspended over the river.
"Our cars are on one side of the river and our home is on the other," Illig wrote in the introduction to his unfinished book, The Tram House. (Illig published three others.) It's a house "surrounded by a moat with no drawbridge," the coach wrote. "It's the first and only house I have ever owned. It's the one I have been searching for my whole life. I plan to grow old and die here."  
David Cromwell '16, one of Illig's squash players, read the introduction at the celebration and said Illig loved sharing his home with the players, and both he and Lolly had the team to Lincoln on numerous occasions.  
See a gallery of images from the event here.   
Middlebury's athletic director, Erin Quinn '86, remarked that Illig was the only coach who ever missed a meeting because he couldn't get across a river due to lightning. Quinn also revealed that Illig was such a strong candidate for the men's and women's squash coach's position in 2007 that he was the only person interviewed for the job.
In preparing to speak about Illig, Quinn paid a visit to the late coach's office in the Squash Center. "There I found the essence of John—photos of John hiking with his team in the Adirondacks." One photo "said it all" for his close friend and athletic director. It was a picture of John "in his funky hiking gear and walking stick" reaching out his hand to help one of his players cross a river. "The image of John helping a student to cross a river was perfect. I was looking for inspiration and I had found it."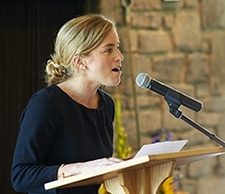 d-225" title="hatfield-225" width="225" height="194" />
Sarah (Sally) Hatfield, Class of 2009
Sally Hatfield '09, a former player who now teaches school and coaches squash in New York City, told the story about how John came to be associated with the word "Caw!"
"We asked him, 'John, how are we going to reach you?' since he refused to use technology to communicate with us. His response was, simply, 'Caw.' From then on, caw became our little language, whether it was caw? CAW! or caw. It still hasn't gotten old. I know I will see him again someday," Hatfield said. "And until then I know his spirit will remain with me."
The college chaplain, Laurel Macaulay Jordan '79, said the sharing of memories enables us to "pour love into that deep well of heartache or, to put it another way, by sharing our stories the heavy burden of grief becomes at least a little bit lighter."
President Ronald D. Liebowitz extended his condolences to Illig's family, friends, and athletes at the event, and announced the creation at Middlebury of the John R. Illig Squash Coaching Chair.
More than 200 people attended the memorial celebration, which lasted under an hour at the Kirk Alumni Center. It was followed by a reception in the Squash Center where refreshments were served, images of John Illig and his squash players were displayed, and people shared stories—some laughing, others crying—about the friend and mentor who died way too soon.
Reported by Robert Keren with event photography by Todd Balfour
For More Information